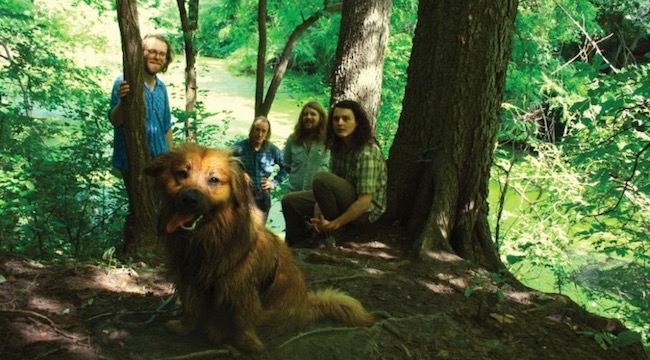 Nebraska native David Nance has been kicking around the fringes of the rock scene over the last few years, rolling out a steady stream of new projects under a variety of different circumstances, for a number of different labels. On October 5, he will roll out his next full-length album titled Peaced And Slightly Pulverized under the name of The David Nance Group, which is comprised of several other musicians from his Omaha hometown. Today, the band has dropped the lead single from that record, and the album's opening track "Poison."
If you're a fan of Neil Young's most blistering work with his backing group Crazy Horse, odds are you're going to love what you hear on "Poison." Nance has kicked the fuzz pedal on to full tilt, letting loose with a savage, yet controlled array of solos that compliment the rollicking pace and uplifting vibe of the overall track. It's a tremendous first-taste that will leave you begging for more.
Peaced And Slightly Pulverized is out on October 5 via Trouble In Mind Records. Check out the album artwork, tracklist and the group's upcoming slate of tour dates below.

Tracklist
1. "Poison"
2. "Ham Sandwich"
3. "110 Blues"
4. "Amethyst"
5. "In Her Kingdom"
6. "When I Saw You Last Night"
7. "Prophet's Profit"
Tour Dates
09/08 — St. Louis, MO @ Pü Fest
09/15 — Chicago, IL – Empty Bottle @ Trouble In Paradise Festival
09/29 — Memphis, TN @ Gonerfest 15
10/12 — Omaha, NE @ Reverb Lounge
10/24 — St. Louis, MO @ RKDE
10/26 — Nashville, TN @ Third Man
10/27 — Birmingham, AL @ The Fire House
10/28 — Hattiesburg , MS @ house show (ask a punk)
10/29 — Atlanta, GA @ 529 Club
10/30 — Orlando, FL @ Will's Pub
10/31 — Asheville, NC @ Fleetwood's
11/01 — Chapel Hill, NC @ The Cove
11/02 — Harrisonburg, VA @ Pale Fire Tap Room
11/03 — Philadelphia, PA @ Jerry's
11/04 — Brooklyn, NY @ Union Pool
11/05 — New Haven, CT @ State House
11/06 — Cleveland, OH @ Happy Dog
11/07 — Columbus, OH @ Café Bourbon Street
11/09 — Indianapolis, IN @ State Street Pub
11/10 — Louisville, KY @ Zanzabar
11/11 — Iowa City, IA @ Trumpet Blossom Cafe