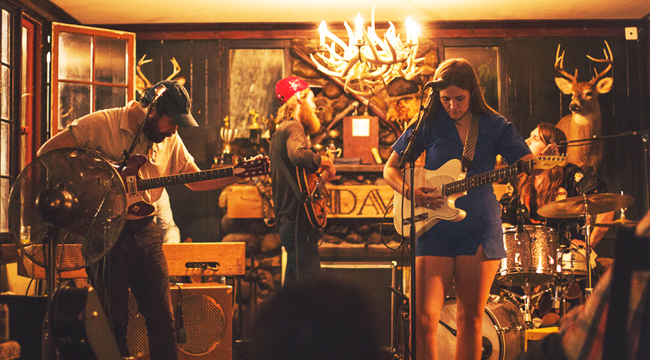 All day, the band and crew plays with accents. We represent several continents and regions — the UK, Australia, the American South, my own upper Midwest. We imitate each other, the collection of exaggerated and displaced impressions contributing to the feeling that I'm in some dream location that exists outside geography.
I'm in Elkhorn, Wisconsin to see rising country-folk star Erin Rae perform at Camp Wandawega, a vintage resort/camp about an hour outside of Milwaukee. Rae, who was signed to Single Lock Records by John Paul White (formerly of The Civil Wars), is one of the first musical guests Wandawega has booked to play the venue. The campers — other musicians, record label execs, public relations crew, and other industry representatives — are buzzing with excitement. It's cool and rainy for late June, like the sky got the hint that it's Rae's day to shine.
Rae was booked to do an intimate fireside show at the camp, but the day of rain meant that the show had to be moved indoors, to the camp's main lodge. Rae, her full band, and opener Good Buddy perform on an assortment of vintage rugs, framed by a fireplace and several taxidermy deer mounts. I sit on a blanket on the floor, next to a stuffed raccoon that makes blistering (but not unfriendly) eye contact with me for Rae's entire set. The show is small enough that Rae knows everyone she is playing to by name; we all spent the day together at camp shooting arrows, throwing axes, and whistling the chorus to Santana's "Smooth."
Apart from small and intimate (Rae sits on a blanket in front of me during Good Buddy's set), Wandawega is an especially unique venue. The camp, before its current owners purchased it from the Catholic Church, used to be a refuge for Latvian priests, and before that, a speakeasy and brothel. The family who owns Wandawega watches the show with us, and their sleepy Labrador puppy leans against my back.
Rae recorded her sophomore album, Putting On Airs, in a similarly storied place. Listening to it, you hear a natural reverb, a sense that it was made somewhere big and echoing and timeless. Rae recorded in the Refuge, a former Capuchin-Franciscan monastery in Appleton, Wisconsin — like Wandawega, right on the river, and like Wandawega, isolated from the noise out in the rest of the world.
"We were pretty secluded. I think that did the trick," Rae says. "I think the getaway aspect really allowed us to immerse ourselves in the music."
But, also like the Wandawega getaway, there is community in the seclusion. Putting On Airs is an incredibly personal record, with songs about mental health, sexuality, and overcoming personal difficulties. Rae's songs sound at home in a room full of friends and people close to her, guitars bouncing off the walls of the storied venue and finding a home in the ears of people who have been with her for her whole musical journey. It's a treat to hear songs like "Bad Mind" — Rae's bandmate Jerry Bernhardt (and my) favorite track off the album — performed among friends.
Rae knows the challenges of being different in a small town. She calls her current home of Nashville a "progressive pocket of the South," but a progressive pocket implies that the place might be surrounded by towns that aren't as accepting. Rae wrote "Bad Mind" about her family — specifically one formative experience growing up, seeing the Alabama courts rule that her aunt was an unfit mother because she was gay. Being so young and still figuring yourself out, experiences like these can shape your ability to express yourself and your identity.
But Rae is comfortable being vulnerable, and she has an eye toward those not living in such progressive pockets. "It feels like I'm sharing a part of my experience, not like I'm exposing a part of myself, like a raw nerve."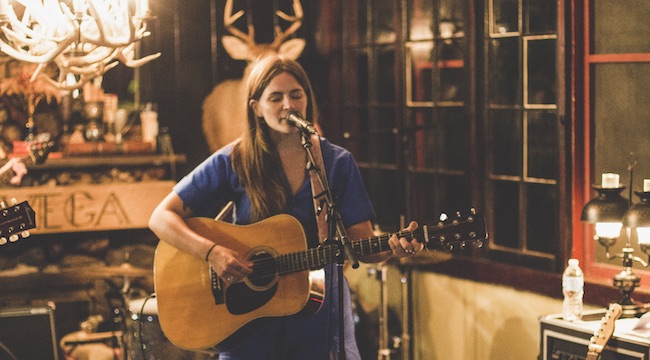 And the act of turning her concerns and hopes into songs is therapeutic. Rae elaborates, "It doesn't feel like I'm talking about my current state of being, so it doesn't feel uncomfortable. It's got kind of a third person point of view, like 'that was an experience that I had.'"
Singing about things that are so close to her heart turns her experiences into a story — one that others can find comfort and community in. I listen to "Bad Mind" and think of the Midwestern small towns I spent most of my life in, the Illinois and Wisconsin hills and woods that don't look all that different from Tennessee or Texas.
"It's not like I'm reading my diary," Rae smiles. "It's like an invitation."
Putting On Airs is available via Single Lock Records. Get it here and stream it below. Also check Erin Rae's upcoming U.S. and UK tour dates here.
[protected-iframe id="c94532b16c7a6e90a83177ea52afbefd-60970621-76566046″ info="https://open.spotify.com/embed?uri=spotify:album:1LK9gWKqJTOSPE0sHYPVBJ" width="650″ height="380″ frameborder="0″]
Uproxx was hosted by Camp Wandawega for this story. You can read our press trip/hosting policy here.