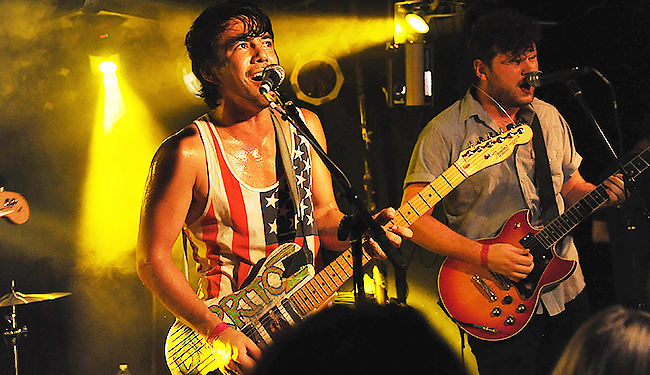 Upon finding out I was going to have the chance to talk with Zac Carper, I knew there was one question that absolutely had to be asked: What is your craziest party story?
"Oh man…" he replied, as he paused to take some time to think it over.
It shouldn't come as a huge shock that such a question might be a difficult one for the frontman of FIDLAR, the Los Angeles based garage/punk band that burst onto the scene with their 2013 debut. Carper – alongside bandmates Brandon Schwartzel and brothers Elvis and Max Kuehn – won scores of fans with a self-titled record comprised of songs that centered heavily on binge drinking, drug use, addiction, and the art of getting outrageously f*cked up.
After Carper reflected on what I could only assume was a bountiful supply of borderline disastrous and sleazy adventures, a light turned on. His party story was worth the wait.
"One time, we played this show in front of a trailer park or some sh*t like that. It was a long time ago. We played in front of a trailer at some house in L.A., in the backyard, and some girl – while we were playing – took her pants down and sh*t off the side of the trailer. I didn't notice it. I had no idea what was going on. The next day, somebody told us, and everybody was talking about it. They were like, 'Yo, did you see that girl that took a sh*t off the trailer while you guys were playing?' I was like… 'What?!'"
—
Two years after their studio debut, the band – whose name is an acronym for "F*ck It, Dog, Life's A Risk" – is getting ready to release their second record, Too, and with it come with some changes.
While the foursome hasn't completely moved away from the brazen party tracks they've become known for, Too sees a heavier focus on relationships and personal struggles, and there's good reason for the significant shift in lyrical themes.
"The first record was, like, Okay… this guy's got problems," copped Carper, referring to his drug and alcohol abuse. "There's a song on the new record called 'Overdose' because I overdosed three times in a month, and just kept going back to doing heavy drugs."
Carper insists he's finally quit those heavy drugs (meth and heroin, specifically) and is partying less these days because of his personal anxiety. He believes being semi-sober, along with growing up, has helped the band's songwriting mature.
"I started noticing all my songs were sounding the same. There might be different chords or different lyrics, but they're all about similar things – like saying, F*ck it, let's do some drugs, because I'm depressed." I kind of wanted to challenge myself and not write about that."
While pushing himself on the songwriting front, he also wanted to take a step back on the production side. The band's very loud and very raw first album was recorded in Carper's bedroom over the course of several months. Too, recorded in a Nashville studio in the span of two weeks, features a more refined and polished punk sound without sacrificing the band's signature attitude. That progression is due in large part to working with producer Jay Joyce, according to Carper.
"I drove myself f*cking nuts trying to do that first record," he said. "I was producing it. I engineered it. I wrote the songs and sang them and played guitar. Just thinking about it gives me shivers. It was crazy.
"The biggest difference [making Too] was probably having a producer… it was really nice going to a nice studio and just being, like, the musicians."
It was clear that the process of fully producing and creating the first album left Carper drained, but he also said he has no regrets.
"I suggest every band should produce a record themselves, just so they know that it's hard work and it takes a lot of time," he said. "You kind of learn what you like. You learn a lot about yourself."
So, what has Carper learned about himself since? Maybe more than anything else, that changes were necessary for FIDLAR (and Carper, personally) to have a successful future, or possibly even a future at all.
"I got hurt. I have a spine disorder now from partying, playing [music] a lot and skateboarding. I kind of realized that my body is not invincible. I think that's the thing with drugs – you feel like you're going to live forever, but it really humbled me and when I got hurt I was like, Sh*t, I gotta start taking care of myself."
As you might expect, the process of cleaning up wasn't an easy one for Carper, and that struggle clearly permeates through some of the lyrics on Too. The super-catchy bridge on "Sober" declares, "I figured out as I got older that life just sucks when you get sober / And I figured out when I got sober that life just sucks when you get older."
—
The band has already released three of Too's 12 tracks. One of those singles, "40 oz. on Repeat," was accompanied by a video that featured the foursome recreating more than dozen iconic '90s music videos with low-budget costumes and sets.
The video – with spoofs of The Beastie Boys, Eminem, Weezer, Green Day, Sugar Ray, Britney Spears, and more – was impressive and ridiculous enough to rack up more than 500,000 views in its first two months, and Carper says its purpose was to "show the ridiculousness of the '90s era" while also paying tribute to some of his childhood influences.
"I liked the things that were popular, but when you're a kid, the popular things were still cool. I just feel like when you get a little bit older – and especially you're in your early 20s – you get that kind of attitude where you're like I don't like anything on the radio, or some bullsh*t like that. I just think that's bullsh*t.
"I just started listening to things I grew up listening to again because it made me feel happy and I didn't really care if it wasn't cool or not."
The "40 oz. on Repeat" video isn't the band's first successful attempt at producing a bizarre music video, either. In 2013, they released a video for their song "Cocaine" that featured Parks & Recreation star Nick Offerman urinating all over Los Angeles with a prosthetic penis. Seriously.
Incredibly, the idea for that video actually came from Offerman, whose wife (actress Megan Mullally) performs in a band alongside Elvis & Max's dad.
"We got an email from [Nick], actually, and he was like, 'I have this idea,'" recalled Carper. Of course, when the one and only Ron Swanson reaches out to you to make a video starring him and his dick, you don't say no. "We spent our entire budget on a fake penis that shoots out water ridiculously strong."
Unfortunately, they didn't get to keep the dick. It went back to Offerman's tech guy, who apparently had to keep it around for other piss-blasting duties.
Another one of Too's pre-release singles is a track that veteran FIDLAR fans may recognize. "West Coast" originally appeared as a demo on their Don't Try EP from 2012, yet it managed to survive a full album cycle and was re-recorded for Too, mainly because of how much it meant to Carper.
"I didn't want it to get lost. It was such an important song to me. Sometimes when you take a break from a song for a long time, you come back to it and you work on it a little bit more, and it becomes something very special again. Out of all the demos that we have online, that one stuck to me the most."
—
Although "West Coast" originates from FIDLAR's early days, the song you'll hear on Too was recorded by a newer, sharper version of the band it was initially intended for. But, as is often the case, the progress did not come easily. What the frontman described as "a very dark path" had to be navigated, survived, and escaped for Too to even be possible.
Along with serious addiction, Carper admits struggling to overcome the pressure that comes with following up a successful debut record. A "sophomore slump," if you will.
"I kind of went through a phase where I wrote about 30 songs, to be honest, and the first 20 were just terrible," he said. "I realized that FIDLAR started because I wasn't thinking about FIDLAR. I just had songs, you know? And I needed to write. The first 20 songs [written for the second album] I was trying to write for FIDLAR.
"I put these kind of boundaries on [songwriting]. I finally started noticing that and I took a road trip up and down the coast with my surfboard and just slept in my car. That's when some melodies and some lyric ideas started coming to me because I was just writing for myself."