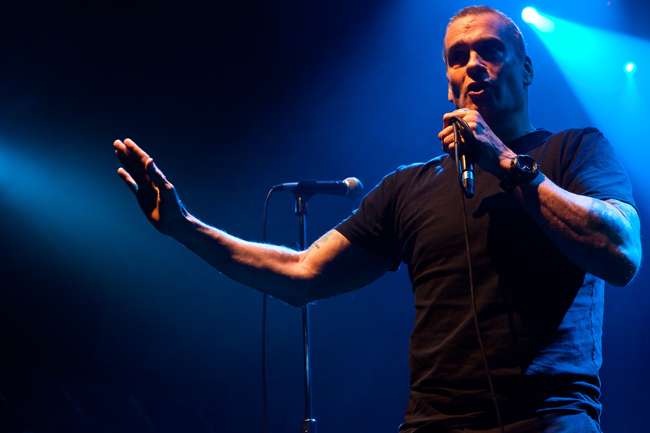 Henry Rollins is a lot of things: iconic hardcore punk figure, actor, occasional wedding officiator, and now he can say that he's made his mark on the world of science.
Rollins' name now serves as the name for a newly discovered breed of fireworms that were studied at Bristol's School of Earth Sciences. Dubbed Rollinschaeta myoplena, the worm is a marine relative of earthworms and leeches. Speaking about the worm with phys.org, Bristol PhD student Luke Parry stated:
"Fossil muscle tissue is rare and usually not described in any detail by paleontologists, but our discovery highlights that soft tissues preserved in fossils can offer details approaching what we can observe in living organisms. When choosing a name for our muscly beast, we decided to honor Henry Rollins, the legendary, muscular frontman of LA punk band Black Flag."
Dr. Jakob Vinther, a co-author of the study, expanded on this further:
"While carrying out the research, we informally referred to the creature as 'the muscle worm' due to its preservation in almost pure muscle. Part of the reason why it's preserved so well by muscle is that it was, in real life, a very buff little worm."
But the real question on everybody's mind: How did the fireworm get so buff in the first place?  "Fireworms are active during the daytime on coral reefs and other environments with strong currents which makes them much more muscular compared to most other bristle worms," Vinther said.
This isn't the first time a punk artist has had a fossil named after them. The Sex Pistols' Sid Vicious and Bad Religion's Greg Graffin both have their own fossils, too.
(Via Loudwire)