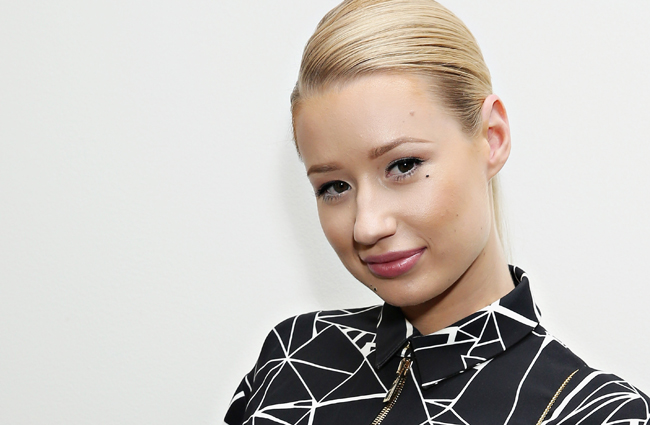 Iggy Azalea busted on the music with her hits "Fancy" and a collaboration with Ariana Grande, but she reveals in a new interview for Vogue's "shape issue" that modeling was actually her first goal when she entered the States from Australia. Azaela reveals that things didn't go so well when entering a few modeling agencies. From Vogue:
"When I first got to the States, people told me I should think about modeling," she says. "So I went to a few agencies, but once they measured my body"—she stands five feet ten inches—"they didn't like me anymore." Being told she should lose some weight and get a nose job had the predictable effect on her confidence: "I was looking in the mirror a little differently."
And then she obviously went to change everything about herself, start a weird romantic relationship with the guy who helped make her over, and then returned to conquer the modeling world. Right? Nah, but it did probably help in her decision to get breast implants.
According to Complex, it has been rumored that Azalea had gotten breast implants back in December, something she confirms during her Vogue interview/ shopping excursion:
"I did change something: Four months ago, I got bigger boobs! I'd thought about it my entire life." She says she was sick of having to sew padding into her stage costumes and wanted to be able to wear lingerie without wiring. At first she resolved never to discuss this publicly; she didn't want girls—so many of her fans are barely high school age—to feel bad about their own bodies. "But then," she says, "I decided I wasn't into secret-keeping."
Good for her, right? Azalea also sat down to answer Vogue's 73 Questions, which just seem exhausting to think about. If you want to check out another perspective on her breast implants (or compare and contrast), check out The Smoking Section's take over here.
[protected-iframe id="555e73f5818ece2431a3f537ba6c7b5d-60970621-60064866″ info="http://player.cnevids.com/embed/5507193c61646d39e8030000/5176e90368f9daff42000014″ width="650″ height="400″ frameborder="0″ webkitallowfullscreen="" mozallowfullscreen="" allowfullscreen=""]