The very first thing Jay-Z does on the 13th album of his legendary career is kill Jay-Z. He's done it before in songs and in visuals, it's a symbolic trope that he's played with for years, but now, over 20 years into his career and closer to 50 than 40, it seems like he's finally and truly done the deed.
"Kill Jay-Z."
They're the first words on 4:44, and from there he unfurls 37 minutes of the most revealing music of his life, and surely the most in the past decade. Finally, after all these years, Jay was ready to give way to Shawn Carter, the man, as vulnerable and flawed as he's ever been. He once said "Regrets" from his debut Reasonable Doubt was the closest he's ever been to being Shawn Carter on a track, and now, he's done that for an entire album. On 4:44, he invites the world into his closet and allows them to see all the skeletons, either without shame, or no longer in fear of that shame.
There are a host of revelations: Infidelity, his mother's queer identity, mistakes, family secrets and lessons learned; Jay is remorseful and apologetic for his mistakes, but it isn't maturity or growth that has brought on that desire for atonement and remorse — it's perspective. At its core, 4:44 is the story of a man who had to have a daughter to realize exactly what it was to truly respect women and to see the faults in all his ways. It took having a daughter for Jay to see what it was to truly be a man. 4:44 is the daughter the demons of his past created, and Shawn Carter reaping all of what Jay-Z sowed.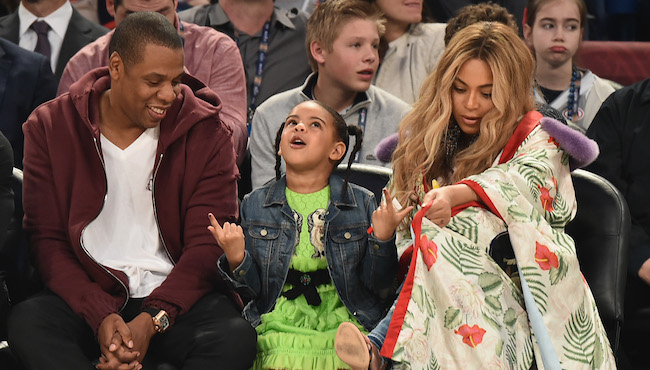 That development is the fulfillment of a prophecy that, even at his most omniscient, Jay-Z could have never known would prove so true when he uttered the words in 2006 on Kingdom Come's "Beach Chair."
"I got demons in my past, so I got daughters on the way."
It's jarring over a decade later to remember that line, isn't it? As he continues to peel back layers of the shiny fame armor that he's built up during the past twenty years in the limelight, Jay has realized exactly what he once feared, even if he knew it was coming no matter what he did. He'd committed his sins, and for each and every one of them his comeuppance was coming in the most fitting way imaginable. Those demons in his past delivered him the daughters he always knew were on the way, and those daughters brought about the maturity, humility and understanding that he'd always lacked. His daughter made him whole, and when she did, he had some repenting to do.
He offers his apologies most overtly on the album's title track, where he addresses Beyonce directly, using the word apologize seven separate times and admitting in one of those apologies that it "Took for my child to be born, (to) see through a woman's eyes." According to Jay, the song was a result of a late-night sudden burst of inspiration, telling iHeartRadio "I woke up, literally, at 4:44 in the morning, 4:44 AM, to write this song. So it became the title of the album and everything." He went on to call the song "a powerful song, and I just believe one of the best songs I've ever written."
Developing this perspective at nearly 50 years old is unfortunate, but a product of the life Jay has led up until this point. If the streets schooled him to spend his money foolish and bond with jewelers, it also helped teach him the value, or lack thereof, of women, and until he actually helped create one, he didn't see that he was wrong all along. Even with one of the most beautiful and successful women in the world on his arm, whilly dedicated to him, his mentality and immaturity continued to steer him into the worst directions possible. The birth of Blue Ivy enlightened him, and took the selfish and misogynistic man he once was, forever altered those sensibilities, and somehow made the superhero that is Jay-Z human.
The trick he pulled off on 4:44 is the realization that though Batman is a larger than life hero, Bruce Wayne has always been more interesting, more complex and more troubled character. Batman is one note, but Bruce and his flaws are fascinating, and while audiences enjoy the gadgets and Batmobiles, it's the nuanced and perplexing make up of Bruce that makes the story of Batman work, that gives the narrative its pulse. We enjoy Batman showing up in the superhero regalia when the world needed saving, but we watch closest to see what happens when Bruce Wayne needs saving, when he's dealing with his plight or trauma all alone with no superhero to step in and fix all the problems for him. On 4:44, Jay sheds the superhero suit and gives the world his most interesting work in a decade, reintroduces true emotion to his music that had become bogged down in trivial excess and reaches a peak few thought he could reach again.
Releases like this are therapeutic for the artist, and with as quickly and recently as the album was recorded, clearly Jay needed this. In the time between the gaudiness of Magna Carta Holy Grail and the agony of 4:44, he was reminded that even with the opulence that surrounds him in the current day he's still the tortured soul from Marcy Projects. 4:44 is the humanization of Jay Z and the therapy he needed at this very moment, and having Blue Ivy was the powder keg moment that helped him realize the Batman costume isn't an extension of the actual man, it's just a costume. Jay Z didn't die for Shawn Carter to exist, Jay was always Shawn, and on 4:44, thanks to the blessing the demons of his past assured he'd one day receive, he's finally realized that Shawn is his own superhero, Jay was just the way he hid that from the world.
Eventually he ends the album with another symbolic gesture after Blue asks what a will is, he proceeds to give away all of his belongings, as selflessly as ever. Finally, he's living for more than himself, in fact he's not living for himself at all, instead, more focused on what his legacy will provide to his loved ones. Selflessness is the final lesson fatherhood has taught him, and he wears it well, giving plenty to his wife and ending the first verse of "Legacy" by reflecting on his own mother and her selfless gestures during his childhood. "That was the sweetest thing of all time" he says, finally seeing those selfless actions for all they're worth, now that he's been provided with the perspective he always lacked, and finally, his growth is completed.
What all of that creates is the greatest rapper of all time, at the height of his popularity — yes, this is as big as he's ever been, oddly enough — crafting an upper-echelon album years after anybody believed he still could. At 47, Jay Z finally found the maturity to make this album, and at a time where meaningful rap has given way to more frivolous and carefree energies. 4:44 is a tortured soul rummaging through his demons on center stage, with the spotlight placed squarely on his face, and exactly that he's given the world a landmark album at a time when there is so much music to be consumed that landmark albums hardly exist anymore. In one fell swoop, he erased the doubts about what a middle-aged rapper is capable of creating, and has finally given the world the true Shawn Carter.
Thank you Blue.