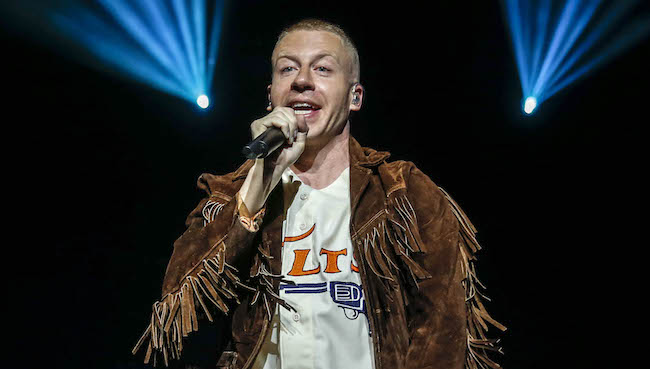 The Grammys are always controversial for rap fans, and even with new adjustments to the format that cater to rap trends, the award show will likely continue to spurn them each year as their favorites are overlooked. Well this year they won't have one culprit to worry about, the much-maligned but ever-successful Macklemore, and according to an AP source, that might be on his own accord.
Macklemore's latest album with Ryan Lewis, The Unruly Mess I've Made, wasn't nominated for any Grammys this year, but a new report indicates that it's because the album was never submitted for consideration. The album went gold, and the lead single "Downtown" eventually went platinum, so while it wasn't a rousing success like The Heist was, there still was an argument for some Grammy consideration for the duo this time around.
The decision to forgo the Grammys may seem curious at first, but after all of the flack Macklemore received in 2014 for winning major rap awards over Kendrick Lamar, it's understandable that he might have been miffed and decided to simply skip the party this time. Macklemore personally felt so much chagrin after winning Rap Album of the Year that year that he privately apologized to Kendrick for the victory. And while the gesture was nice, any goodwill it would have earned was likely tarnished once he posted it on Instagram for the world to see.
So there you have it, despite a successful album last year, the rap portion of the Grammys this year will be sans Macklemore, thanks to the man himself.