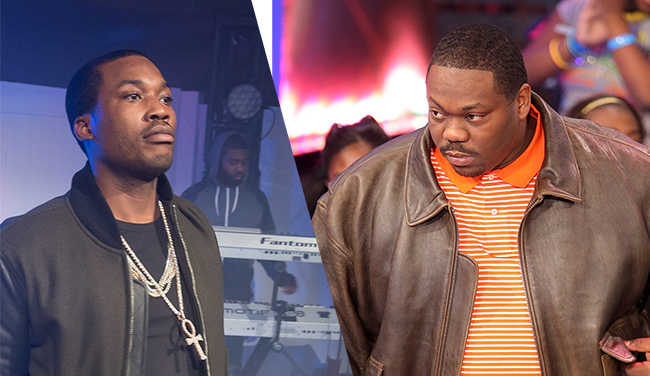 Quick recap. Meek Mill and The Game were beefing and then Beanie Sigel got in on the action because Meek is from Philly and when you beef with one Philly bull you beef with all the Philly bulls apparently. Then, Beans did a 180 and said he didn't have any problems with The Game and insinuated heavily that he helped Meek and Omelly with the "OOOUUU" diss. Beans then got knocked the hell out at the Bad Boy reunion concert by Dreamchaser affiliate Teefy Bey.
Fast forward to Tuesday and Beans does an interview with hip-hop beef instigator Taxstone. Mac claims his issues with Meek stem from a business deal gone bad. Beanie also got in a jab by claiming Meek only has a problem with Drake because of the Young Money rapper's closeness to Nicki MInaj.
Now Meek Mill is responding by exposing a lengthy text message Beans allegedly sent him about a week ago. In the text, the 42-year-old ailing rapper allegedly calls Meek's haters gay and shares plans to "put a lot of these undercover f*ggots in check just on some man shit." Beans allegedly hypes up Meek pretty heavily, adding that his foes only hate him because he's a "young fly Philly n*gga with a bad boss chick that stand for something."
Unfortunately, another rapper may find himself in the middle of this Meek Mill vs Everybody saga. In the midst of riding Meek's jockstrap, Beans allegedly throws in a stray shot at Lil Uzi Vert. Apparently, the young rapper is just too eccentric to rep them Philly streets. "On some Philly shit…you just the only one holding us down right now on some real shit," Beans praises before adding, "Lil Uzi can't do it. He wear pocketbooks with purple hair."
Meek Instagrammed Lil Uzi and told him not to mind the shot because "that how n*ggas talk when you winning!" It's still not clear whether or not the text message came from Beanie but it's pretty clear Meek's talking about the OG in the screenshot's captions.
ONE MIN THEY TALKING LIKE THIS BEHIND CLOSED DOORS THEN THEY TALKING LIKE THAT? I CANT BELIEVE "n#%gas" went out like that. THIS WHY I GOTTA CHANGE MY NUMBER LOL. I THINK EVERYBODY LOOKING AT THEY PHONES EVERYDAY ALL DAY IS DOING SOMETHING TO THE HUMAN BRAIN OR IT GOTTA B THE DRUGS …..HOW CAN THESE N#%gas THINK THEY THOROUGH. EVERYBODY ON THE "NEEDLE" that attention needle!
And that's where we are now. You're welcome.