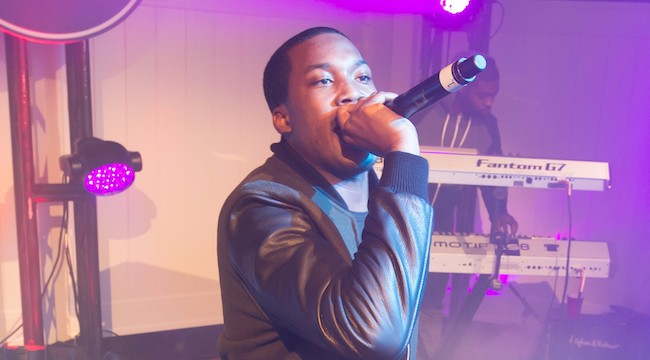 Meek Mill's legal team has maintained that the presiding judge in his case has been overstepping her place for the entire time he's been incarcerated on his most recent probation violation. Complex recently received documents that showcase a pattern of behavior that's "unusual" for a judge. The documents alleged that Genece Brinkley, who sentenced Meek Mill to a 2-to-4-year sentence in part because he "does what he wants," repeatedly violated Philadelphia's Judicial Code of Conduct.
In 2011 she had her personal secretary Carla L. Wilson compose a letter for her lawsuit against Philadelphia. The letter violated the code because courthouse officials are prohibited from working together on personal business. Brinkley violated the code again when inviting Wilson into her home to overhear a phone conversation with former Philadelphia Police Officer Richard Pacell, who she had terminated. Brinkley wanted Wilson to corroborate the conversation with the "irate" Pacell and be her witness in court – but that sort of interaction is also considered personal business.
Brinkley also toed the bounds of professionalism by visiting Meek Mill while he was doing community service at Broad Street Ministry in 2016. Brinkley was in tow with Wilson, and stated at his November probation hearing that she was there to ensure that he was feeding people experiencing homelessness. She expressed consternation that he was instead sorting clothes at the Ministry, as Philly.com reported in November.
While that's not a violation of code, the sight of a judge at a probationer's community service is rare according to Meek's lawyer Joe Tacopina. These revelations could serve to further chip away at the credibility of Brinkley, who Tacopina thinks is "infatuated" with Meek. Philadelphia-based defense attorney Samuel Stretton told Philly.com that Brinkley tends to take probation cases "very personally" and tries to play the role of "therapist."
In related news, Jacob Siev, another one of Meek Mill's lawyers, visited the Angie Martinez Show on New York's Power 105 with transcripts from Meek's court appearances. Meek's legal team believes the transcripts show a pattern of Brinkley, DA Noel Ann DeSantis and his probation officer implying that Meek's current Roc Nation management is inadequate. The comments by the three frequently reference Meek being more compliant with the terms of his probation while with manager Charlie Mack. The New York Post previously reported via a source that Mack told Meek he "knows the judge and could help him with his case," which Mack denies.
Notably, Siev didn't state the oft-reported allegations that Brinkley outright told Meek to leave Roc Nation or that she asked him to perform a Boyz II Men song for her. Brinkley stated at one point in the transcript that, "I don't want the record to suggest who your management is or not." His lawyers contend that she urged Meek to return to Charlie Mack's management in a private meeting. Perhaps we will know the full truth when the FBI investigation is complete.