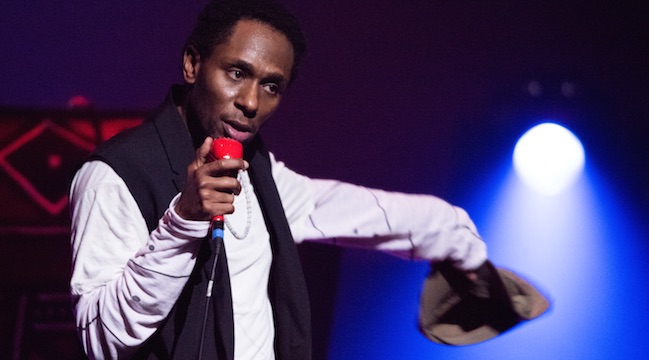 "It is truly an honor and a privilege to stand on this stage before you in this present time and in any time. Respect to all of the legends who has stood here before," says Yasiin Bey (born Dante Terrell Smith) a few songs into his performance at the Apollo Theater in Harlem Wednesday night. "Not nearly enough roses in each garden to cover it all up." As a sign of paying respect to his elders and the fallen, Yasiin took a minute before picking up his signature red microphone to bless the stage with handfuls of white and red roses, sprinkling them all over until he had no more to give.
And even during those first few minutes of his performance, the audience reciprocated the respect environment he created from the beginning. I enjoy most hip-hop concerts standing up with an alcoholic beverage in hand, either head-nodding from a far or in the thick of a mosh pit. Here at the Apollo, though, Yasiin established an aura fit for the theater. Nearly all his patrons quietly sat in their seats as they enjoyed the sights of his opening video "Basquiat Ghostwriter" and subsequent new material.
The crowd's politeness may come from the realization that Yasiin is serious about his retirement. In January, Yasiin was arrested in Cape Town for trying to leave South Africa with a world passport, a travel document that their government didn't recognize. He faced criminal charges for breaking immigration laws. After Yasiin issued an apology, he was permitted to leave the republic on Nov. 22. Yasiin has been teasing a retirement since his arrest, reconfirming his leave from music and acting when he announced final U.S. shows with the Apollo and the John F. Kennedy Center, where he's also performing a New Year's Dec. 31 to Jan. 2 run, in Washington D.C.
On this night, Yasiin sounded connected than he's ever been to his music. You can sense the enjoyment he was having to be back in New York again, performing in front of a hometown crowd on the release day of his new album, December 99th, produced by Ferrari Sheppard. The crowd — who were already on their feet by now — were treated to his first surprise, Pharoahe Monch. Pharoahe came out to perform "Oh No" and gave us a bonus with "Simon Says (Get The Fuck Up)." After this, he paused from the "vibrations" to speak with the crowd, addressing his plans for retirement. "I'm over it," he says of the industry. "If it's not a place to be earnest and real, I don't care. Ima do something else. Can't always be dazzling. Just wanna be."
Yasiin saved the final minutes of his performance to premiere songs from his next project, Negus: Natural Persons (emphasis on the "s"), saying, "I think this is the best album I've ever done. I'm not going to say too much more." The first experimental track, backed by guitar strums and pulsating blasts of electronica, finds Yasiin rapping abstract lines like, "Dreaming, flash city lights / Star in the sky in the countryside / I traveled so far, I feel right at home." But in an act of defying our smartphone-driven culture, he cut the song to tell us to put our "machines" away. He wanted us to use our other machines, our eyes, brains, and our hearts, to live in the moment. So for the duration of his Negus premiere, the crowd simply watched.
One breezy, sample-based song stood out for its concept of falling in love and relating that pain to being "punched in the face," accented by red house lights that Yasiin specifically requested for. The whole experience was cathartic. Another was a song he titled "Hemp." He utilizes vocalizing for emphasis on his lyrics, singing "life, nobody makes it out alive / Nobody really dies / Look around, staring into space / Focus."
Vibe's editor-in-chief Datwon Thomas called theNegus showing an "inspired, stripped down, tribal, balanced sonic experience." Like many of us who know the layers Yasiin puts into his music, it'll take some deconstructing to understand his true meanings behind his work. But I can say with full confidence that the production was light-years ahead of today's trends of bubblegum and trap.
So after such a welcomed return, is Bey really retiring? Just a little bit before curtain call at 11 PM, Yasiin instructed his DJ Abdul Rahman (a.k.a. "Gold Medal Man") to play just a jazzy arrangement (it sounded like his December 99th outro "Heri"). With his back turned to the stage, he slowly retreated into the darkness with a smile as he waved to his fans. Certainly the final show of the night, but unlikely forever.