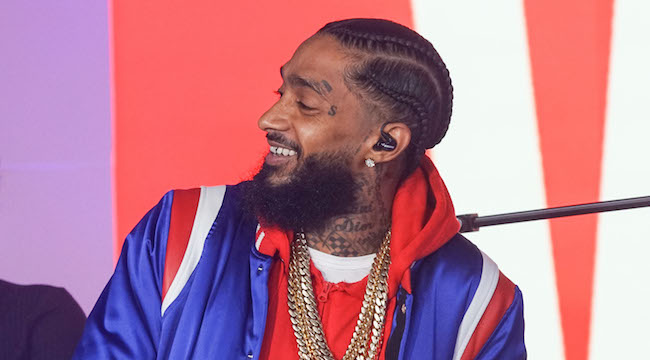 It took Nipsey Hussle ten years to finally release a major label debut album in Victory Lap. Incidentally, that's also how long it took for him to receive his first Billboard Hot 200 posting, a respectable No. 4. According to Billboard, the majority of his 53,000 units — 30,000, to be exact — came from traditional sales, while the remainder came from streaming equivalent figures.
Nipsey's prior appearances on the charts included a no. 61 peak on the Top R&B/Hip-Hop Albums chart for Crenshaw, his $100 mixtape from 2013, and a no. 18 for Mailbox Money, its $1,000 followup. His Proud 2 Pay initiative probably explains the prevalence of straight sales in his first-week numbers, as many of his fans have conditioned themselves to cop Nipsey's projects outright. He also has an old-school appeal that probably attracts more old-school, sales-first fans.
Of course, Nipsey faced some stiff competition from Black Panther: The Album, which came in at No. 1 for its second week, clocking 131,000 equivalent units, only a 15 percent drop from its first week. Surprisingly, the No. 2 slot was occupied by Migos' Culture II, likely receiving a boost from the group's participation in NBA All-Star festivities, including a halftime performance with N.E.R.D. that placed them squarely in the national spotlight. They jumped from No. 4 to No. 2 with 64,000 units.