Nipsey Hussle's Victory Lap is extending quite a bit, encompassing eleven cities across the United States as he takes his long-awaited "debut" album on tour this summer. The Los Angeles gangsta rap stalwart tweeted the tour dates Wednesday night and the tickets are currently available for presale, with general availability coming Friday at 10 AM, local time.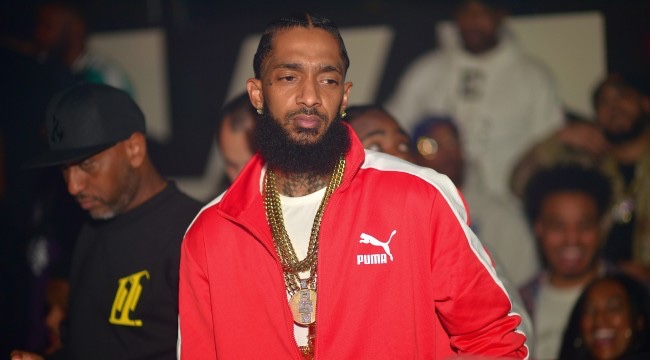 The road to Nipsey's Victory Lap wasn't the smoothest, but the Crenshaw rap veteran deftly navigated every bump and curve while carving out a brand new distribution and business model for aspiring independent music moguls. When he released a $100 mixtape, fans wondered if he was crazy, but then he sold through his entire stock, pocketing $100K in the process. When he doubled down with a $1000 mixtape that sold 60 copies in its first week, it was certified beyond all doubt: Nipsey Hussle is a music business pioneer.
Maybe that's why he took such offense when a television anchor cracked wise about Diddy's NFL purchase plans, taking the commentator to task via Twitter in an exchange that resulted in a (declined) offer for a charity boxing match. While it seems Nipsey is more inclined to take risks with his bank than his body, his live performance is still an energetic show that isn't to be missed. Check out the dates and venues for the Victory Lap Tour below.
6/4 –- New York, NY @ Irving Plaza
6/5 –- Silver Spring, MD @ The Fillmore
6/6 –- Boston, MA @ House of Blues
6/9 –- Atlanta, GA @ Buckhead Theatre
6/13 -– Houston, TX @ House of Blues
6/14 –- Dallas, TX @ House of Blues
6/16 –- Denver, CO @ Ogden Theatre
6/20 –- Tempe, AZ @ The Marquee
6/23 –- Los Angeles, CA @ Staples Center (BET Experience)
6/27 –- San Francisco, CA @ Warfield Theatre
6/29 –- Seattle, WA @ Showbox