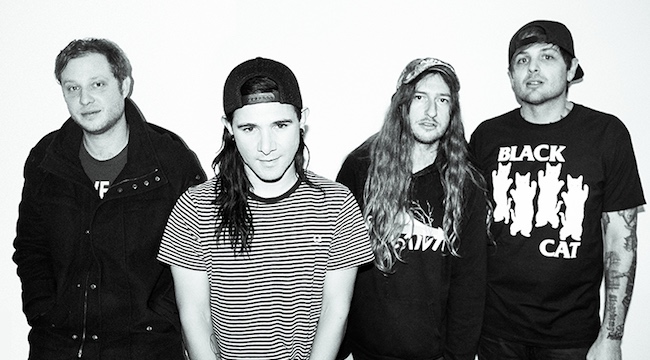 Before Skrillex became the king of dubstep, he was better known by his birth name, Sonny Moore, and as the vocalist of post-hardcore band From First To Last. He left the group in early 2007 to focus on taking over the world one wub at a time, but now it seems like he may be getting back with the band: In January, From First To Last released "Make War," the band's first song with Moore on vocals since he originally left the group. Now they've proven that the song was more than just a one-off thing, since they've just shared another new track, "Surrender." Stylistically, the song is clearly different from Skrillex's electronic work, as it lives in more emo and post-hardcore territory.
Moore teased the song yesterday, writing on Twitter, "I don't wanna make a big deal about it but I made a new song with my old band [From First To Last] and we decided to give it away for free in a few hours."
At the moment, it's not known what the future holds for From First To Last, although Moore seems excited to be getting the gang back together: Last year, he performed live with the band for the first time since he left the group in 2007.
Listen to "Surrender" above.
Skrillex is a Warner Music artist. Uproxx is an independent subsidiary of Warner Music Group.