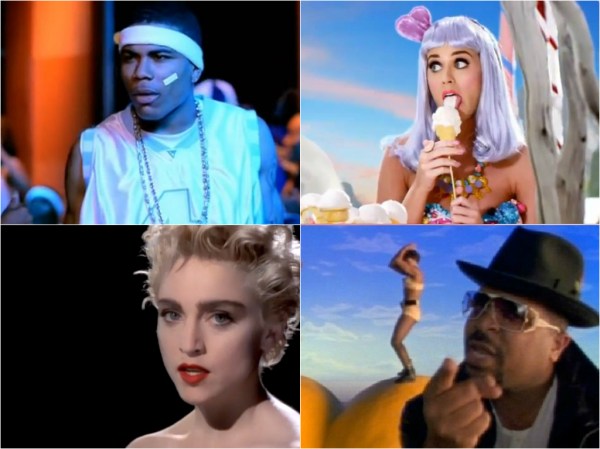 Ahh, the summer. School is out, the air conditioning is blaring, and everywhere you go, you can't help but hear that one same tune everywhere. We've come to know that song as the "Song of the Summer."
The folks over at Billboard have used their metrics to chart every such song in the past 30 years, and it behooved us here at UPROXX to rank these songs in order of their staying power and ultimate worth. Some are still amazing! And others are, well, not. Here is every Song of the Summer since 1985 ranked just for you. For your convenience, we've also put together a playlist of all 30 songs in chronological order. Make sure to follow UPROXX Music on Spotify.
30. Los Del Rio – "Macarena (Bayside Boys Mix)" (1996)
Two older Spanish men who got remixed by DJs in Miami and sparked a craze the world over. Good for those dudes, but it just doesn't stand the test of time at all. People hated it then, probably hate it now, and will continue to hate it in perpetuity.
29. Matchbox Twenty – "Bent" (2000)
Odd that of all the songs from 2000, "Bent" is the one that won the summer. The album it came from, The Mad Season, feels like the kind of CD you couldn't trade in to a record store because they have a pile of them already collecting dust. Well, if record stores took CDs anymore.
28. Iggy Azalea – "Fancy" (2014)
Somehow, we get the honest feeling that, we won't view "Fancy" with complete scorn and disdain in the future. For now, we are in the present, and Iggy Azalea's invented flow invites all of that baggage. Too bad Charli XCX couldn't give this song to anyone else on earth.
27. Steve Winwood – "Roll With It" (1988)
Let us be perfectly clear, there is no disrespect happening here to the god, Steve Winwood. He is amazing beyond words. But "Roll With It" is not even the third-best Steve Winwood song. It's really only down here by default. His own bar was too high!
26. Katy Perry – "I Kissed a Girl" (2008)
What could have been (and maybe could be for some younger formative listeners) a tune about gender-bending, fluid sexuality, or just plain old fun, comes off now as fauxmosexual pandering for the male gaze. It just seems gross and fratty, which is a shame. The song itself is such a great '80s hard-rock stomper.
25. The Black Eyed Peas – "I Gotta Feeling" (2009)
"I Gotta Feeling" is one of those songs you can't really hate or love. It's so aggressively neutral that it seeks to invite no feelings. It was invented to be played at every occasion because it's not really about anything. It's an upbeat placeholder, which we suppose is fine. They have better songs and worse songs — this is right in the middle.
24. Richard Marx – "Right Here Waiting" (1989)
Every summer technically needs two songs: The dance jam you hear everywhere and the sad song you can't get out of your head. Apparently, in the summer of '89, Richard Marx's overly saccharine "Right Here Waiting" was the latter. But to be fair, we're all sappy at least some of the time. And when we are, wherever we go, whatever we do… well, you know.
23. All-4-One – "I Swear" (1994)
Remember that stuff about sappy songs? "I Swear" is doubly sappy, but it's incredibly strong as a pop ballad and will appear on Time Life compilations for years to come. Also, most people don't realize that it's a cover of a country version which also went to No. 1 on the Hot Country Songs charts. In 1994, a version of this song was absolutely everywhere.
22. Heart – "Alone" (1987)
Nancy and Ann Wilson knew how to craft a rock ballad in their late '80s phase. "What About Love," "These Dreams," and "Alone" all prove that. But if presented with a choice, the riffier, badass Heart from the 1970s is definitely preferred. Still, "Alone" is pretty great on its own merit.
21. Robin Thicke – "Blurred Lines" (2013)
Perhaps we're in the minority here, but honestly, history will probably look favorably upon "Blurred Lines." As of now, it's stained with the stench of Robin Thicke's complete professional and personal meltdown. But if he manages to get back on his feet and be humble and conciliatory, people will enjoy his music again. Just a tip: No more naked women videos to invite any more problems, OK?
20. Christina Aguilera – "Genie In a Bottle" (1999)
Right in the height of TRL-mania, pre-Xtina Christina officially debuted with this line-towing pop hit. It's strange that, despite Britney Spears being the biggest pop star on earth at the turn of the century, she was always being beaten out by other artists. That's the rub, we guess.
19. Madonna – "Papa Don't Preach" (1986)
"Papa Don't Preach" being the song of the summer in 1986 truly breaks the mold. It's not a dance song and it's not a ballad, it's a serious and complicated song about being a young parent. But that was the true power of Madonna at the time, and the song's success showed how much she connected with her fans. And honestly, the song still holds up and is a great selection from her True Blue era.
18. UB40 – "(I Can't Help) Falling in Love with You" (1993)
We refuse to feel shame in liking UB40. REFUSE. Their reggae pop is fun and "(I Can't Help) Falling In Love With You" is '90s bliss. Whenever we hear the opening dulcet keyboards and vocals, it just brings to mind the blue, surveillance-style video from the Sliver soundtrack. (What soundtrack? Exactly.) It normally would be classified as a guilty pleasure, but we refuse that designation. No guilt should be felt when you feel such joy.
17. Eve feat. Gwen Stefani – "Let Me Blow Ya Mind" (2001)
Every once in a while, a cool and totally unexpected track slips through all the gates and makes it to the big time. With Dr. Dre's producing on the track, Eve and Gwen Stefani partnered up and basically dominated pop and hip-hop radio with this funky party cut.
16. Usher – "Confessions Part II" (2004)
Maybe we were wrong. People really do want pregnancy songs in the summer. Even still, "Confessions Part II" is such a relatable song, that people actually thought Usher had knocked up a mistress and wrote about it. Spoiler alert: Not true. Producer Jermaine Dupri actually claimed credit for the story and even that was different than what the song describes. Still, Usher had us believing, though.
15. Puff Daddy feat. Faith Evans & 112 – "I'll Be Missing You" (1997)
Tribute songs always endure, because people can miss who the song is about as well as people they've lost in their own lives. "I'll Be Missing You," in fact, still works in that way to this day. Back in 1997, The Notorious B.I.G.'s death was still very fresh in a lot of minds and this song helped along the way. It still remains one of the 100 best-selling singles of all time.
14. Carly Rae Jepsen – "Call Me Maybe" (2012)
While "Call Me Maybe" may seem like a very modern-day success story with its viral nature giving it life, that essence makes it a perfect song of the summer. The truly great songs to hold that title get passed around via word of mouth. And there was a version of this perfect pop confection in everyone's inbox or timeline in 2012.
13. LMFAO – "Party Rock Anthem" (2011)
Everything that was said about "I Gotta Feeling" earlier about being aggressively neutral is true of "Party Rock Anthem," yet LMFAO (may they rest in peace) were absolutely in on the joke. That's what makes this song endure so much longer. Instead of will.i.am's stern earnestness to create "the important music of the moment," Sky Blu and Redfoo know they are absolutely ridiculous and just want people to move. It makes "Party Rock Anthem" refreshing, versus "I Gotta Feeling" being so contrived.
12. Mariah Carey – "Vision of Love" (1990)
If you want to introduce an artist with a booming voice, there are fewer instances that worked better than "Vision Of Love." You could tell that someone with this much of a gift was going to last with all the runs and vocal gymnastics on this track. Now maybe we didn't know that Mariah Carey would sound like this in 2015, but still, those chops can't be denied.
11. Tears For Fears – "Shout" (1985)
While we don't exactly hear the summer in "Shout" (that's really more reserved for "Everybody Wants To Rule The World"), it really doesn't matter. It's such an iconic and powerful song that it probably took the summer of '85 by force. Even today, it doesn't sound dated. The new wave hit truly makes you stiffen up your spine and pay attention. So many songs wish they could accomplish what "Shout" does.
10. Bryan Adams – "(Everything I Do) I Do It For You" (1991)
Everyone knows Bryan Adams can spin a tune; he's got countless hits. Ask Ryan Adams about them (or don't). But the reason "(Everything I Do) I Do It For You" has stood the test of time is that signature gruff emotion in his vocals. When a ballad makes you forget how syrupy the lyrics are and just BELT the song, that's when you have a true hit. Bryan Adams knows just how to hit that sweet spot.
9. Nelly Furtado – "Promiscuous" (2006)
The 2000s as a decade featured a lot of folky women who stripped their guarded exterior to just have some fun. When Nelly Furtado linked up with Timbaland on 2006's Loose, it made for a dynamite collaboration rich with synths and busy drums. "Promiscuous," the album's jewel, capitalized on a perfect summer song trope: boy and girl parts in songs. This is one of those songs that, if you press play today, a year from now, or even a decade from now, it will still start a party.
8. Katy Perry – "California Gurls" (2010)
This is the Katy Perry we want to see. Fully in charge, flashy, funny, and fun. The reason her second album, Teenage Dream, broke so many records — like having eight top-five singles — is because audiences could see this was actually her and her vision. It came off as natural, well, as natural as whipped-cream boob guns can get anyway. But it was really her, and that helped connect with fans. A Snoop Dogg verse never hurts either.
7. Mariah Carey – "We Belong Together" (2005)
The torch song as a summer jam has existed since the birth of pop music in the 1950s, but few do it better than Mariah Carey. It's no surprise that she's appeared twice on this list; she's had 18 No. 1s on the Hot 100 chart, more than anyone else. "We Belong Together" is a fine addition to that history, gut-wrenching in its pleas to reunite with a lost love. It's a universal feeling of "we've all been there," and Mimi loudly and proudly takes us home on the track.
6. Brandy & Monica  – "The Boy Is Mine" (1998)
In terms of just plays, "The Boy Is Mine" was inescapable in the summer of 1998. Possibly out of all the songs on this list, we don't think any other track was more ubiquitous. It was everywhere. A perfect slice of late '90s pop R&B, it sort of hits all the sectors. Women like to win and men like to be fought over. And then women realize that they truly win when they don't fight over men and ditch the guy, and dudes get sad. But it all happens over the course of three minutes, so the pain is short-lived. It's all that you could want of a pop hit.
5. Sir Mix-A-Lot – "Baby Got Back" (1992)
Logic should dictate that "Baby Got Back" should have been left in 1992. It's kinda crude and simple. But some songs just transcend their faults and become iconic. Sir Mix-A-Lot's ode to butts is just one of those special gems that has managed to last more than two decades. And even become a hit again with Nicki Minaj. If you know every word to a song that's nearly as old as you are, that says something about its staying power.
4. Rihanna – "Umbrella" (2007)
Rihanna had already had some success in the summer with "S.O.S." and "Pon de Replay," but "Umbrella" made her a household name. The drum opening on the track is one of those moments that make you shoot out of your lazy state and get you ready to move. Perhaps the greatest track in her whole catalog, "Umbrella" is really the moment the world met Rihanna. It's crazy to see where she is now and look back at 2007 to see where she began. It's almost two different people, only because "Umbrella" still feels so present. It's timeless.
3. Beyonce – "Crazy in Love" (2003)
What makes a pop song truly last and move the needle? Here's the ultimate test: Are people leaving the dance floor when it plays, or are they running to it? We assure you, the former will never happen with Beyonce's "Crazy In Love." Plain and simple. Every wedding you will attend, every dance, every reunion, house party… it doesn't matter. This song is pure pop fire and pretty much will remain that way for the rest of our days.
2. Nelly – "Hot in Herre" (2002)
Now we are getting into total banger territory. Nelly's ascendance to pop stardom may have started with the undeniable street anthem "Country Grammar," but by the time 2002's Nellyville dropped, he was an absolute force of nature. "Hot In Herre" was being spun every place imaginable, and why shouldn't it have been? It's the ideal summer song. It's sexy, it's hot, it's fun, it's flirty, it's great to dance to, it's got the girl and boy parts made easy to sing along to. It has absolutely everything imaginable. There's only one song that could beat it.
1. TLC – "Waterfalls" (1995)
TLC was truly something special. "Waterfalls" in anyone else's hands would seem heavy-handed and much too sappy. But Chilli, T-Boz, and Left Eye were the ultimate cool girls, so when they spoke, everyone listened. When they make a torch song about losing someone to HIV and protecting yourself from moving too fast, it doesn't seem like it's parochial or paternal, it seemed like they were looking out for us. Also, you shouldn't be able to dance to sad songs, but you can dance to "Waterfalls." You can do Left Eye's rap and not even blink. It defies all convention and is still a perfect pop song. For any summer, for that matter.