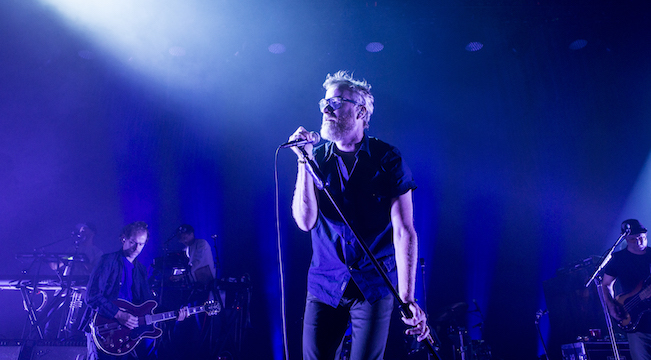 On Friday, The National will release their eighth album in 18 years, I Am Easy To Find. In some ways, it's very much what you might expect — a moody, slow-burn set that cuts brawny indie rock with avant-classical swells and esoteric electronic flourishes, creating a thoughtful backdrop for Matt Berninger's fractured, existential narratives about middle-aged urbanites. However, I Am Easy To Find is also quite unlike any record The National has ever made, integrating a supporting cast of female vocalists (including Gail Ann Dorsey and Lisa Hannigan) who frequently displace Berninger altogether.
The National's ability to carve out a distinctive sound, while also changing just enough to make each new album feel like a new chapter, has kept them at the forefront of mainstream, traditionalist indie music for more than a decade. While I Am Easy To Find affirms the National's continued creative evolution, it also marks the group's unofficial transition to a rarefied strata in modern indie. Simply put, there aren't many active rock bands in the early 21st century that have put out as many quality albums over as long of a period. The National, truly, is a rare breed.
While it seems strange to refer to National as a classic-rock band, they do have a deep enough catalogue now that warrants extensive exploration, as well as a thorough celebration. On the eve of I Am Easy To Find's release, I decided to count down my 40 favorite National songs. Making this list was both pretty easy (I could name a couple dozen worthy tracks that didn't even make the list) and very difficult (I now wish I could somehow put those tracks in this list). But, to quote my favorite National lyric, I believe it's a good mixture.
40. "Not In Kansas" (2019)
This instant classic from the forthcoming I Am Easy To Find references Annette Benning and Lifes Rich Pageant and likens the first two Strokes albums to the first two Godfather films. It is the most National National song ever. And yet it's also unlike any other National song before it. That is this band's magic trick.
39. "Lemonworld" (2010)
A favorite among National fanatics, "Lemonworld" is famous for being one of the most tortured tracks during the making of High Violet, requiring upward of 80 takes. (One of the working titles was "Wrath," which should really be the name of a National song in the future.) When I listen to "Lemonworld" I like to imagine that the sisters who make Matt Berninger want to sit in and die are Aaron and Bryce Dessner.
38. "American Mary" (2001)
This standout from The National's self-titled debut is most famous for being the URL of the band's website. Most National fans agree that the first record is the National's worst, though it might have the best album cover — drummer Bryan Devendorf lounges shirtless by the pool and looks like "Lost Weekend"-era John Lennon.
37. "Mistaken For Strangers" (2007)
One of my favorite stories from Lizzy Goodman's Meet Me In The Bathroom is about The National having a rehearsal space next to Interpol, and the band members having to walk through an Interpol photo shoot when Turn On The Bright Lights blew up in the early '00s. Anyway, "Mistaken For Strangers" always sounds to me like The National's attempt to write an Interpol song — turns out they're pretty good at it!
36. "About Today" (2004)
The Cherry Tree EP is a bridge between the National's early formative period and the "mature" era that commenced with Alligator. If "All The Wine" is the Cherry Tree track that points forward, "About Today" puts a cap on the Wilco-like trad-rock of the first two albums.
35. "Nobody Else Will Be There" (2017)
[protected-iframe id="ccf476af7d2b0db0b23b52d22618a4c7-60970621-76566046″ info="https://open.spotify.com/embed/track/7DRVOwHIJLIlAFG1pWYXoS" width="650″ height="380″ frameborder="0″]
The opening track from Sleep Well Beast perfectly sets the tone for the album's stark, middle-of-the-night contemplations about love and politics. It also includes the line "it's a subway day," which is superficially about New York but I'm convinced is actually a stealth joke about sandwiches. (Sandwich jokes seems like they would be in Berninger's wheelhouse.)
34. "Lucky You" (2003) and 33. "I Should Live In Salt" (2013)
These folky strummers, released 10 years apart, feel like cousins. Listen to them back to back, and you'll hear a boy-meets-girl story where the boy eventually gets annoyed when the girl plays the TV too loud.
32. "Anyone's Ghost" (2010)
A more famous track from High Violet is "Afraid Of Everyone," the start of Berninger's "domestic" period as a songwriter. "Anyone's Ghost," meanwhile, is a callback to the previous album, Boxer — over a drum pattern that's reminiscent of "Apartment Story," Berninger relates one of his last great "deranged loner" narratives. When The National play this song live, he always screams the line about telling his friends not to worry.
31. "Squalor Victoria" (2007)
If you hate The National, this song hands you the ultimate putdown: "I'm a professional in my beloved white shirt." If you love The National, this song hands you ultimate retort: "This isn't working, you, my middlebrow f*ck up."
30. "It Never Happened" (2003)
The jammiest song in The National's canon. It starts off in gently swinging Chris Isaak country-rock territory, and then at the 2:10 mark, The National blast into the stratosphere. It's an unusual track by The National's usual studious and restrained standards, but the "Dark Star" flourishes suit them.
29. "Green Gloves" (2007)
Wistful nostalgia alert: "Falling out of touch with all my / friends are somewhere, getting wasted / hope they're staying glued together / I have arms for them" is one of the few things that makes me miss my 20s, which ended the year that Boxer came out.
28. "Abel" (2005)
By the press cycle of Boxer, Berninger was talking about how he was tired of yelling so much on National albums. I suspect he was thinking of this track from Alligator, in particular. In time, he would find more nuanced ways to say, "My mind's not right." But the direct, shout-y approach still has a ton of power.
27. "Brainy" (2007)
My all-time favorite National song for driving. Nearly all National songs fall into one of two categories: Fast and slow. But "Brainy" is the only National tune that sounds both fast and slow. Listening to it feels like putting on cruise control when you're still in park.
26 "Dark Side Of The Gym" (2017)
[protected-iframe id="41629b404104319600b8e48f433b7656-60970621-76566046″ info="https://open.spotify.com/embed/track/1OdpIb0nzhDcqwkiYp0O1u" width="650″ height="380″ frameborder="0″]
The secret to The National's late-career longevity is that they're secretly a very good wedding band. (The Boxer cover was prescient, I guess.) "Dark Side Of The Gym" ranks with their very best slow-dance tracks. The enchanting spell doesn't break even when Berninger starts singing about anonymous castrati.
25. "Driver, Surprise Me" (2005)
[protected-iframe id="93ebdb2f93612a326c00c3095534288a-60970621-76566046″ info="https://open.spotify.com/embed/track/1O8xsmRwSYgdk4sNVyUUjJ" width="650″ height="380″ frameborder="0″]
This beloved B-side from the Alligator era has one of the best opening lines of any National song: "Put the pervert in a suit / take him out and light him up." It's basically a mission statement for the next National record, Boxer.
24. "The Geese Of Beverly Road" (2005)
The Springsteen-like specificity of this dramatic ballad's setting has turned the Brooklyn thoroughfare into a tourist attraction for National fans. When I visited many years ago, I didn't see any geese. However, I did run down the street like I was awesome, totally genius.
23. "Vanderlyle Crybaby Geeks" (2010)
Without question the best set-closing song in The National's catalogue. Live, it's performed without microphones, which works because Berninger has consumed enough wine by then to have a well-oiled drunkard's howl. Still, it's a little strange how "I'll explain everything to the geeks" became an arena-rock call-to-arms.
22. "This Is The Last Time" (2013)
"The National Crescendo" is one of the primary ingredients of National songs, to the point where detractors look it as a tiresome cliché. But when a National song builds properly, as it does in "This Is The Last Time," the grand build always delivers the emotional goods. Also: This song features one of Berninger's most memorable cocktails of intoxicants: "Oh, don't tell anyone I'm here / I've got Tylenol and beer."
21. "Secret Meeting" (2005)
Is this the best opening track of any National album? It's definitely in the running with another track that appears later on this list. Over the years, I've had many debates with National fans about whether "I had a secret meeting in the basement of my brain" is an incredible lyric or, in fact, the opposite of an incredible lyric. Let's just say I've held both positions in these arguments.
20. "The System Only Dreams In Total Darkness" (2017)
Given the dearth of guitar solos in The National canon, the six-string pyrotechnics at the climax of this song make "The Systems Only Dreams In Total Darkness" this band's equivalent to "Free Bird." Hopefully, Aaron and Bryce Dessner will once again unleash their inner Ed King and Gary Rossington in the future.
19. "Rylan" (2017)
I am happy to report that The National did not screw up the studio version of "Rylan" that appears on I Am Easy To Find. However, I still prefer the take the band debuted two years ago at Seattle radio station KEXP. In the studio, The National tends to scale back their most epic moments; live, as they do here, they embrace the full-on U2isms of "Rylan."
18. "Start A War" (2007)
The dynamic of most National songs is that the music (often spearheaded by Aaron Dessner) is subtle and restrained, providing a springboard for Berninger to be an emotional wild card. "Start A War" at first follows this formula — Berninger threatens to wreak havoc if he gets dumped over a plaintive guitar lick. But then the dynamic is inverted: The lyrics ultimately tell a tale of emotional impotence in the face of a crumbling relationship, while the music slowly devolves into a glowering throb.
17. "Baby, We'll Be Fine" (2005)
A defining song of The National's mid-'00s "anthems for working stiffs" phase. "Baby, We'll Be Fine" is like a twisted, after-dark version of The Office, with its scenes of post-work binge-drinking and clumsy hookups. Spilling Jack and Coke on a white collar is one of Berninger's most indelible lyrical images.
16. "Humiliation" (2013)
The National has always been way funnier than they get credit for, though in recent years the self-aware silliness in Berninger's one-liners have been easier to detect. "I was teething on roses / I was in Guns N Noses" is practically a dad joke.
15. "Bloodbuzz Ohio" (2010)
Leave it to The National to be ahead of the curve on writing uplifting songs about crushing personal debt. "I still owe money to the money to the money I owe" is the "I got debts no honest man can pay" of the post-capitalist era. Someone tell Elizabeth Warren to make it a campaign song.
14. "Runaway" (2010)
There are a lot of breakup songs, but there aren't many "we're probably breaking up, but I refuse to admit right now that we're breaking up" songs. But that's the kind of song "Runaway" is. The music exudes defeat but Berninger refuses to throw in the towel. "No I won't be no runway / 'cause I won't run." That's a triple-negative, which defies grammar but flatters The National.
13. "Walk It Back" (2017)
Sleep Well Beast is The National's marriage record, and it's also The National's "paranoia during a time of rising fascism" record. In "Walk It Back," these themes somehow merge into a single statement about Trump-era emotional shrinkage amid "the collapsing space." Also, there's another Berninger cocktail of intoxicants — weed with wine, a true formula for monster headaches
12. "Available" (2003)
The National unquestionably evolved into a better band over time, but it's a little sad that they'll probably never make a song this dumb, loud, and catchy again. "Available" sounds like a band from Ohio that got very drunk one night and tried to play "New Year's Day."
11. "Apartment Story" (2007)
This song invented Netflix and chill almost a decade before Netflix and chill. "We'll stay inside till somebody finds us / do whatever the TV tells us / stay inside our rosy-minded fuzz for days." It could be about a romantic couple hiding out from the outside world, or it could be about two friends who just want to get baked and binge-watch Friends for the weekend.
10. "I Need My Girl" (2013)
The most popular National song (based on streaming numbers) by a mile. It's also helped fatten the band's coffers: "I Need My Girl" is to premier-tier cable shows what The Black Keys are to beer commercials. Again, for all the arty, esoteric projects The National pursue, it's the hyper-direct love songs that keep the lights on.
9. "England" (2010)
The history of The National is that of a band that always seems to outlast buzzier and flashier contemporaries. While The National hasn't exactly outlasted Arcade Fire, they did kick their friends and one-time tour mates off their sweeping orchestral-rock corner with this bombastic highlight from High Violet. Not since the peak of The Moody Blues has a French horn sounded so rousing.
8. "Murder Me Rachael" (2003)
The saddest song for the dirtiest lovers on Sad Songs For Dirty Lovers. "Murder Me Rachael" starts off in a sullen, spiteful place, and it only gets more thrillingly pissed-off from there. Sometimes, I hear this as Berninger's homicidal Travis Bickle song — in that I suspect that he's saying "good-bye to pretty boy" into a mirror.
7. "Slow Show" (2007)
"You know I dreamed about you / for 29 years, before I saw you" is about as emo as The National gets. But the part that always puts a lump in my throat is when Berninger sings, "I wanna hurry home to you / put on a slow, dumb show for you and crack you up." It's the sweetest affirmation, outside of an Al Green song, of that mundane, everyday kind of love inherent to long-term relationships.
6. "Fake Empire" (2007)
It's virtually impossible to hear this song and separate it from that pre-Obama moment when America was on the verge of financial ruin and yet hopeful that tomorrow would be better. I suppose that makes "Fake Empire" dated, in a sense, though any period piece about 2007 is pretty much required to use "Fake Empire" to set the scene.
5. "Pink Rabbits" (2013)
The greatest of all "Berninger cocktail" songs. There was no such thing as a Pink Rabbit drink until this song existed, and now there are many National-inspired drinks. Liquor-related self-actualization aside, "Pink Rabbits" is just an excellent barroom ballad: "I was just soakin' my head to unrattle my brain." If Frank Sinatra were still alive, I could imagine him singing that line — with his tie undone, and a Pink Rabbit in hand.
4. "City Middle" (2005)
"I'm on a good mixture, I don't wanna waste it" is my favorite National lyric. "City Middle" is also my favorite "slow" National song. Lyrically, it's practically a party song, a call to paint the town red. But the dour music portends doom for the fun-seeker in this tale, who will probably end up wasting his killer mixture after all.
3. "Terrible Love"(Late Night With Jimmy Fallon version, 2010)
The version of "Terrible Love" that originally appeared on High Violet remains The National's biggest miscue, a tragic hobbling of one of their all-time show-stoppers. The alternate take released on the expanded High Violet edition is much better, in that it sounds like how The National play it live. But I still haven't gotten over the first time I heard "Terrible Love," on Late Night With Jimmy Fallon about two months before the album dropped. To this day it's the band's greatest TV performance. You can't find it on YouTube, so I'll forever be grateful to the Reddit user who preserved this crucial moment in National history.
2. "All The Wine" (2005)
The National's have a well-earned reputation for miserablism, which is what makes the triumphant "All The Wine" such a happy aberration in their work. Over chiming guitars and a swinging rhythm section, Berninger recounts all of the many great things that he has going for him, including: being put together beautifully, being a perfect piece of ass, having high beams on his back, having God on his side, and having an unbelievable wingspan. Because he's a festival and a parade, the motorcade has to go around him this time. Surely, this moment of contentment won't last in the National-verse, but in the moment, listening to "All The Wine" feels like being carried off the field after winning the big game.
1. "Mr. November" (2005)
Supposedly this song was partly inspired by John Kerry, who was the opposite of Mr. November during the 2004 U.S. presidential election. Which is to say, "Mr. November" is really a song about failure and the stages one must endure (grief, anger, more anger, screaming anger, catharsis) to survive it. Every time The National plays it live, "Mr. November" feels like an exorcism. Berninger enters the crowd, drinks are thrown, mic stands are abused, eardrums are shredded, and ultimate joy is achieved. Is there a more pathetic sentiment than "I used to be carried in the arms of cheerleaders"? Is there a more defiant rejoinder than yelling "I won't f*ck us over" a dozen times in a row? The National might make downbeat music, but the end result is always inspiring. "Mr. November" epitomizes that.
I Am Easy To Find is out on 5/17 via 4AD. Get it here.