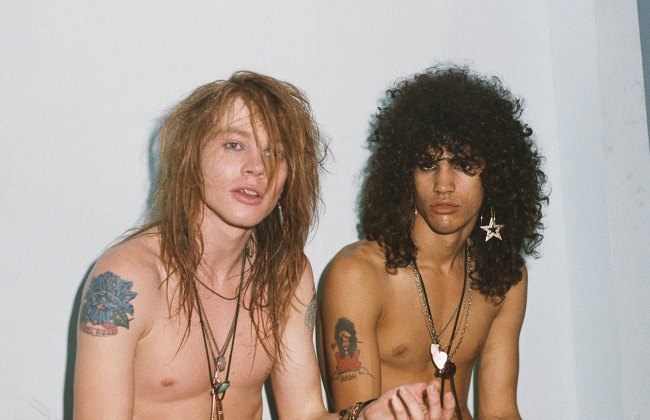 The most I've ever paid to see a single band (so, not a festival) perform live was in 2012, when a ticket for Guns N' Roses at New York City's tiny Webster Hall set me back $150. Was it worth it? Yes and no. The current version of the group is about as bastardized as they come, give or take a Smashing Pumpkin, but hearing Axl Rose's howls and groans to kick off "Welcome to the Jungle" is still a powerful experience. That was the "yes." The "no"? The set was 37 SONGS long (that's good for "My Michelle" and "Don't Cry"; not so much when Bumblefoot gets his own solo or Axl plays "Someone Saved My Life Tonight" AND "Goodbye Yellow Brick Road" on piano).
Plus, it's just not Guns N' Roses without Slash, no matter how many Bucketheads try.
The last time Axl and Slash shared the stage was in 1996, three years after the release of the pretentiously titled and inessential "The Spaghetti Incident?". Actually, that was the last time they even spoke. During an interview with Piers Morgan Tonight in 2012, Slash told the host, "It wasn't even me necessarily leaving the band, it was not continuing on with the new band that Axl put together that he was now at the helm of, which was the new Guns N' Roses. I was given a contract to basically join his new band, and it took about 24 hours before I decided, I think this is the end of the line." He then admitted that there's little chance the original band reunites in full.
It's hard to blame him.
Though this falls somewhere in between difficult and impossible to enforce, Axl has banned GN'R fans from wearing Slash t-shirts to their concerts.

On May 31 at the Guns N' Roses show at London's O2 Arena, a 18-year old fan named James Revell could be seen bare chested underneath his jacket because he was forced to remove his Slash shirt. When Revell talked to NME, he said, "I felt very angry because I was looking after my little brother at the time and felt as though my freedom to wear what I want had been taken away from me, however I did not react angrily as I didn't want to spoil the show for him." On top of that, the poor James Revell only got to catch three songs by GN'R because they took the stage so late. (Via)
Axl claims that his feud with Slash is based on his ex-bandmate being a "cancer…better removed, avoided, and the less anyone heard of him or his supporters, the better," and that Slash and bassist Duff McKagan did "damage to my ability as a writer." He added, "At the time of the [Use Your Illusion] tours, Slash and Duff said, 'You're an idiot, you're a loser.' I didn't write for years. I felt I was hindered for a very long time." Hence the 15-year wait for Chinese Democracy.
(He probably could have waited a few more decades. Or not do it at all.)
Slash tells a different story (as does #TeamSlash Charlie Sheen, who joked/not-joked that "it's quite fitting…Slash is getting a [Hollywood Walk of Fame] star on the very street that Axl Rose will one day be sleeping on"). He explained to Esquire that the split was a "quiet one," less a screaming match than two guys who were tired throwing in the towel. "But because there was so much attention on the breakup," Slash said, "it got built up into this monster that led to a kind of animosity that wasn't the focus for me. Neither one of us wants to be down each other's throats for no reason. At this point, I'm trying to put it to rest. So I try to avoid the subject." He did, however, write about Axl at length in his 2007 eponymous autobiography.
Slash listed three reasons for his breaking away from Guns N' Roses:
1. Steven Adler and Izzy Stradlin left, the former because of a drug addiction and the latter over not enjoying "the complications that became such a part of daily life in Guns N' Roses."
2. Axl being a confrontational douchebag. On July 2, 1991, during the infamous Use Your Illusion tour, Axl spotted someone in the St. Louis audience taking photos. He demanded that security take the guy's camera away, but apparently they didn't act quickly enough, and he jumped into the crowd to do it himself. After hitting a few fans, Axl climbed back on stage, yelled, "Thanks to the lame-ass security, I'm going home," dropped the microphone, and left. The crowd started feuding and fussing (the event is referred to as the Riverport Riot), leaving dozens injured. Axl was charged with inciting a riot, but "police were unable to arrest him until almost a year later, as the band went overseas to continue the tour." Charges were filed, but it ended there.
3. Axl demanding and receiving full legal ownership of the name "Guns N' Roses."
In the early nineties, Axl demanded and was granted sole control of the Guns N' Roses name. As to precisely where and when this happened, memories are fuzzy and contradictory, perhaps lost in the mists of rock & roll tour memory. Axl, backstage somewhere is said to have basically issued an ultimatum: He'd get the name of the band or he wouldn't perform. Papers memorializing this transfer were drawn up and guitarist Slash and bassist Duff McKagan signed them. (Via)
There's also the "Sympathy for the Devil" incident. Guns N' Roses recorded a cover of the Rolling Stones classic, which was used during the closing credits of the Brad Pitt-starring Interview with the Vampire. Proving that they're no Mick and Keith, Axl invited rhythm guitarist Paul Huge to play on the track, without Slash's permission. In his autobiography, he writes, "When I got a DAT of the song with Axl's vocals on it, I noticed that there was another guitar layered on top of mine in the solo. Axl had gotten Paul Huge to double over me. In other words, that guy copied what I was playing on another track and they layered them. It was like really bad plagiarism." That was the middle of the end for Guns N' Roses (the beginning was crappy-ass "My World," probably).
There's a bit more ugliness — including the time Slash told Canadian Radio, "At one point [Axl] said he was gonna do a solo project, then he decided his solo-project he could do with Guns, which I was like, after doing all those videos and this and that and the other, I was like: No. No, I don't wanna get involved in any kind of Stephanie Seymour ballads or any of that sh*t" — but the tl;dr version is: Axl and Slash had a combustive relationship that could only last so long. Their partnering, which produced some great music, was built on excess, but fame and doubt got to Axl's head and, blah blah blah, it's an ego-driven story you've heard a million times before.
The changes of them making nice, let alone performing together, are slim.
Rose said in a 2009 interview, "What's clear is that one of the two of us will die before a reunion and however sad, ugly or unfortunate anyone views it, it is how it is." (Via)
Then again: