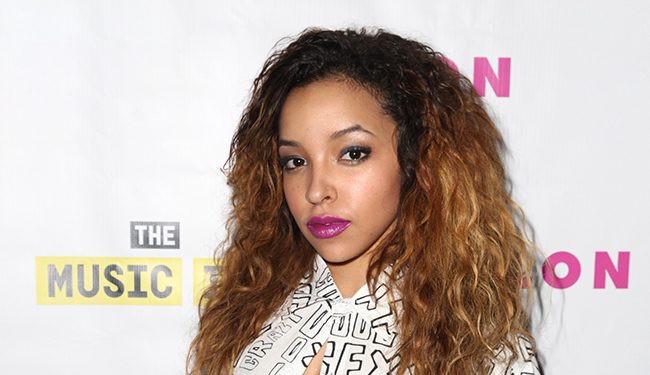 Tinashe's career has been an interesting one to follow. The talent is there, but it seems like the singer just can't reach the next level after making a huge splash in 2014 with the platinum single, "2 On" and her critically-acclaimed debut album, Aquarius.
Her surprise mixtape, Nightride, was released instead of her sophomore album Joyride which was scheduled drop November 2015 but was pushed back a year after many false starts that resulted in a year of wasted interviews and a tour cancellation. Soon after taking matters into her own hands and leaking Joyride's first single, "Party Favors," a frustrated Tinashe went on Snapchat and blasted her supporters for being "fake fans" because they weren't buying the single and calling in radio stations to request the record.
"If you don't have my song, you're not a real fan. Go get that sh*t. Right now. Play it every day. Why are you following me on Snapchat if you're not a real fan and you're not about that life?" the singer lashed out last year.
Tinashe later blamed Joyride's hold up on her record label RCA. In a chat with fans last February, she claimed the label was ignoring her in favor of labelmate, Zayn Malik, telling fans in a private DM, "They're focused on Zany lmao that's the real tea."

Joyride remains in limbo as Tinashe continues to butt heads with the same label Chris Brown once accused of not doing enough to promote his project.
To give fans an idea of how complicated it gets battling RCA for control over the direction of her music, the 23-year-old spoke with Lena Dunham as part of the actress' Women of the Hour podcast and exposed the sexism she's faced.
Tinashe said she was left in tears after traveling great lengths via plane, train, and bus to work with some of her favorite hitmakers only to have her ideas shut down. "I was so excited to go to Toronto even though it was in the middle of a record winter. It was my first time, and I'd be working with one of my favorite producers and some of my favorite local songwriters."
The singer said after listening to a couple of beats and catching a vibe, they started to work on new music that was turning out to be something she wasn't cool with. Tinashe said she tried to voice her opinion about the direction of the music not being in her wheelhouse but was ignored, adding, "My note seemed to be brushed off. Everyone else felt the concept was genius." A respectful Tinashe said she went along with everyone in hopes of being able to circle back to the idea, but it was a waste of time. She felt insecure as a newbie in the music biz "with no hit" to her name.
"My A&R from my record label was there, and I, as a new artist with no hit to my name, felt an unspoken pressure to allow everyone else in the room to take the lead. The night dragged on and on with the song feeling more like something I would never say."
As the night went on, Tinashe got even more uncomfortable with the direction the song was taking and could no longer hold back. She pulled her label rep to the side to voice her displeasure and describe her emotions. "I did not want to record this song," the singer recalled telling the label rep. "I didn't mean to be difficult or waste anyone's time but I couldn't as an artist get behind the lyrics." Rather than being understanding, Tinashe says the rep suggested she go home. "He turned to me and said, 'Well, then we can just go home.' At this point, I burst into tears."
The record label rep's harsh reaction left Tinashe feeling defeated, and she questioned to herself whether he would've received the same treatment if she was a male singer. "Why was I, as a young woman, treated as if I had won some sort of prize in being here. Maybe a beauty contest or a popularity contest, and not with the full respect as an artist?"
Not wanting to be seen as "ungrateful" and "stubborn" as she felt she was now being seen as, Tinashe wiped away her tears and "reluctantly" recorded the song she hated.
The whole experience was a learning lesson for the singer who still battles speaking out but is working on it. "I learned that if I couldn't trust in myself, and my own opinions, I lost all of my value as an artist. I lost what made music so magical to me: the ability to express my feelings. That is something I will always hold on to."
Listen to Tinashe's nightmarish story in her own words below.