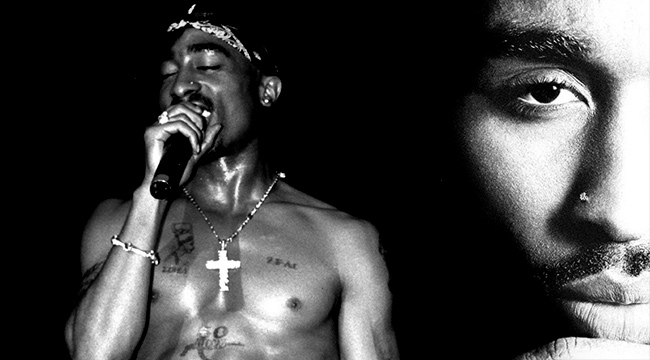 Recently, actor Mickey Rourke used TMZ to tell DJ Funkmaster Flex and anyone who talks down on rap icon Tupac to "come look him up" for a fight. Critics have long said that the adversarial "rap beef" climate feels as contrived as wrestling; leave it up to an actor who starred as a wrestler in a film to reinforce that theory. He's the latest former friend of Tupac to defend the slain rapper against posthumous barbs from the likes of Flex and LA-based music manager Wack100.
Neither of those men had much to say about Tupac this time last year, but as we near the debut of his All Eyez On Me biopic, out on June 19, Funkmaster Flex was compelled to do tearful Instagram livestreams calling him a liar. Wack, whose previous claim to fame was punching Miami rapper Stitches, is dissing the MC — and Afeni Shakur — at every turn despite managing rapper Game, who has always held reverence for Tupac.
Their exploits are further depraved when you consider that both of these men have affiliations with eOne Entertainment, the company that is distributing the All Eyez On Me movie through Summit Entertainment, and that also controls the Death Row Records catalog. Wack recently credited himself with getting the film permission to use Tupac's music with a phone call to eOne. He also recently claimed to have "executive producer rights" over the music — which presumably includes Tupac's catalog. Is the onslaught of criticism some form of twisted, reverse-psychology marketing?
At least Troy Ave and Boosie made no illusions about their intentions with albums respectively titled Nupac and Boopac. The Tupac Assassination movie series recently released yet another documentary which they claim has the answer for what happened between September '96 and March '97, when both Tupac and Biggie died. That movie's creators are currently at odds with the creators of the Murder Rap documentary because both sides feel they have the right death theory… until the next one pops up.
Pac is no longer here to have all eyes on him, but it seems like he's on everyone's mind. The perilous saga surrounding the deaths of him and Biggie is hip-hop's version of the quick succession of loss that took Jimi Hendrix, Jim Morrison and Kurt Cobain. They're all mysterious tragedies –- with an air of conspiracy — that have become apart of their respective genre's lore. Nearly every relevant hip-hop artist has name-checked Pac in some fashion since his death, but in the past couple months especially, his buzz is sky-high. The sad part is that the exploitation is coming from people who don't have much else going for themselves without riding the rapper's coattails to headlines. What's even sadder is that the needless controversy is morbidly commensurate with Tupac's complex legacy.
Even Shakur's most devout fans must acknowledge the descent he made after being shot and jailed in 1994. The man who is now in charge of Tupac's estate, Tom Whalley, is the same guy who refused to bail him out of New York's Clinton Correctional Facility. Tupac's Uncle (and Black Panther) Jamal Joseph recalled for AllHipHop.com that in jail, the rapper was reading and staying focused on seeing through his goal of uniting Black people against their true enemy: White supremacy. Joseph said that Tupac had sobered up and didn't want to pick up bad habits upon release, but he alleges the first thing then-Death Row Records Owner Suge Knight did as they rode to the airport after Tupac was bailed out was give him something to smoke and drink. He had a seizure that night from the shock to his system. It was all downhill from there.
Pac began a public campaign against his former friend Biggie, his boss Puff Daddy, and anyone affiliated with them. He railed against New York radio personalities who he said made fun of him while he was in jail. His anti-New York sentiment was so strong that he allegedly spurned meeting Kurtis Blow, who he had championed on his 1994 "Old Skool" record. He and Knight fostered a corrosive atmosphere that was no doubt a spectacle, but ultimately more tragic than anything else when you consider it lead to the loss of Biggie and Tupac. Biggie's mother, Voletta Wallace, has said that when the two legends crossed paths at the 1996 Soul Train Awards, Tupac told Biggie, "I'm just trying to make me some money."
His exploitation of street drama has since become a strategy for artists like 50 Cent, Gucci Mane, and now Troy Ave, who has used two shooting incidents in the past year as a means to affirm his "realness" to hip-hop consumers. Nupac's album art highlights the parallels of Ave and Tupac's lives, from their wheelchair-bound, post-shooting jaunts from courthouses to bullet-riddled cars. Tellingly, what was missing in the sensational juxtaposition was any reference to Tupac's militancy.
The reductionist marketing ploy is just the latest cherrypicking of the "Keep Ya Head Up" MC's legacy, whose untimely demise kept him from making the tangible strides he seemed capable of as a grassroots leader. Tupac realized that the wayward Black youth across the country in the '80s and early '90s were remnants of the Panthers, and he believed that he could become the unifying, electrifying Messiah-figure that former FBI Director J. Edgar Hoover feared. He developed an "in unity, there is strength" Thug Life code and set forth on a winding, art-imitates-reality journey that was cut tragically short, leaving behind way more questions than answers.
What would happen if he had united hip-hop –- including the east coast — through his One Nation album? What would have happened with his dream to break up the binary political system with a people-of-color dominated party? We'll never know, because he lost his way in the midst of an "east coast/west coast war" that fractured hip-hop in a similar manner to the COINTELPRO-orchestrated coastal rift that stifled his mother's Panther movement.
His potential was never realized, a circumstance which left the door open for today's self-serving opportunists to project their interpretation of his life, whether in hackneyed tributes, scathing criticisms, or speculative documentaries. The he run-up to All Eyez On Me has not been marked by loving recollections and unreleased music like Notorious was, or preceded by a brilliant viral marketing campaign like Straight Outta Compton, instead, the period has been tainted with embarrassing bickering between a host of previously irrelevant 40+-year-old men bickering and tossing threats of violence at each other via social media.
Near the top of hip-hop's "what if" pantheon is the recently reported nugget that after a year of waiting on his hip-hop dreams to materialize, Tupac had decided to move on and accept a position as a chairman of the New Afrikan Panthers in Atlanta. His friend and Digital Underground frontman Shock G said Tupac was set to travel south until Mr. "Humpty Hump" asked him to come on tour as a roadie for the group.
If he had taken that position, he may not have become a mercurial superstar, but he may have come closer to achieving the goals of Thug Life, and become the militant activist that this generation desperately needs. He may have found his way into the lyrics and hearts of modern-day artists in the same manner as other leaders of the Black liberation struggle, instead of as a figure of precipitous youth. In that scenario, his true brilliance could have radiated unimpeded, and there wouldn't be so many people trying to use his name in the furtherance of their own agendas.