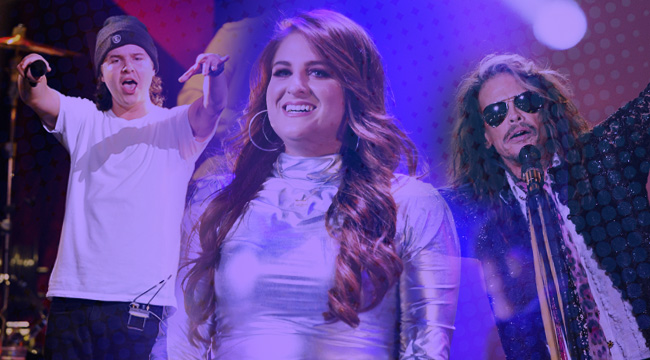 I have a theory about picking your favorite albums of the year, and it goes like this: It's never as hard as picking the worst song of the year. If you like something, you like it, and nobody can take that away from you. But to call something the worst, you need to do legwork. You must produce receipts. Your case can't be sidetracked by bad evidence or faulty testimony. It's imperative that you are accurate.
In 2016, there were lots of distractions from the search for the worst. There were songs that seemed like the worst because they were insanely popular, like the Chainsmokers' "Closer" and Justin Timberlake's "Can't Stop The Feeling." But while these songs are certainly hateable, they weren't the worst.
There were songs that seemed to be trying on purpose to be the worst, like Fergie's "M.I.L.F.$" and any number of tracks by Meghan Trainor. And there were songs so incompetent that they became sort of endearing, like Jacob Sartorius' "Sweatshirt" and Macklemore and Ryan Lewis' "White Privilege II." Again, these are all very bad. But they're not the worst.
Mediocrity on repeat is annoying and soul-killing. But mediocre goes back to being mediocre once you change the channel. Worst is something else. Worst is intrinsic. If worst falls in the forest and nobody hears it, it is still the worst.
There were five songs released in 2016 worthy of being called the worst. Ultimately, one of these tunes was just a little bit worst-ier.

5. Lukas Graham, "7 Years"
The first time I heard "7 Years," I assumed that Lukas Graham was some deluded megalomaniac who won The Voice. The audacity of this dude to self-mythologize while over. enunciating. every. word. floored me. Who does this motherf*cker think he is, talking about himself like he's Jay Z on The Black Album? Then I learned that Lukas Graham is actually a pop band from Denmark, and the profound badness of "7 Years" suddenly achieved full bloom.
4. Train, "Play That Song"
The Led Zeppelin of producing worst songs — and the Train of covering Led Zeppelin — Train couldn't wait until 2017 to unleash the insufferably cloying, "Heart And Soul"-biting first single from their forthcoming album. It feels like jumping the gun to include "Play That Song" on a list of 2016's worst songs, but perhaps it's best to appreciate its badness now, before "Play That Song" become a staple of every unwatchable rom-com movie trailer.
3. Corey Feldman, "Go 4 It"
It's possible that this song violates the rule about not trying to be the worst on purpose. But not including "Go 4 It" on a worst songs of 2016 list is like snubbing David Bowie's Blackstar on a best albums list. Rules are rules.

2. Le Tigre, "I'm With Her"
The saddest thing about this pathetic relic of the already distant pre-election era is that I bet Le Tigre would've tried 10 times harder at writing a pro-Hillary anthem if they had actually believed that Trump might win. Not only is this song an utter failure, it's a crushing reminder of so many other, more crucial failures.
1. Steven Tyler, "Red, White and You"
There were many bad songs released this year. But I didn't hear anything as cynical as Steven Tyler's would-be country breakthrough, "Red, White, and You." When Donald Trump decides to turn the Department of Transportation into a used car dealership, the song he will use to advertise "Crazy Trump's Crazy Dealz" will be "Red, White, and You."
"Red, White, and You" is the worst song of 2016 because it's hateable and incompetent and not at all endearing and also lazy and pandering and thoroughly transparent in its dishonesty. Steven Tyler is a fraud and he is not good at hiding it. Steven Tyler is a too-skinny rock and roll singer from the Bronx. He is not a good ol' boy from the south who cares about "the Georgia night" and "big machines" and "bad girls in cut-0ff jeans" and sweet potato pie and the Fourth of July.
Also, shout-out to the worst lyric of 2016: "We spinnin' on a roller coaster / a Free Fallin' into your yum yum." Congratulations, Steven Tyler. When you can out-corny The Weeknd, you truly deserve to be classified as the worst.