Nobody knows how to party like a country music crowd on a Friday night. It's something that many might scoff at, but you have to see it to believe it. I've always attributed this, perhaps unfairly, to the fact that country concert culture treats a night out more like a special event, not the three-times-a-week grind that many indie and hip-hop fans endure. For many country fans, a big concert is a chance to get dressed up, to pre-party with their friends, and to singalong at maximum volume to every single song. They are there to make a lasting memory, even if they drink so much they forget a solid chunk of the night.
This was the setting for Kacey Musgraves' very sold-out performance at the Greek in Los Angeles last Friday, her first of two nights at the venue. Celebrating her Album Of The Year win for her masterpiece Golden Hour with the most impressive tour of her career, many aspects of the evening felt like the prototypical rowdy, festive country concert. Except that it wasn't. Sure, there were ten-gallon-hats by the dozen in the audience, many of which illuminated in the darkness, but there were also flannel-clad indie fans and music generalists there because Musgraves' work transcends all typical genre lines. She'll always be a country artist in some sense, both in heart and in practice, but at this point, Kacey Musgraves has become a musical genre all to herself.
She established this fact early in her set, with her Neil Young-esque anthem "Slow Burn" opening things up by painting her within a heartland rock tradition that began long before she was born. Tracks like "Wonder Woman" and "Lonely Weekend" drift into breezier territory, easily akin to the VH1-approved rock that someone like Sheryl Crow could have released in her prime (conveniently, Crow also provided a workspace for Musgraves on her album). It wasn't until several songs into the set, when the laser lights and millennial pink glow faded that the Musgraves really showed her country bona fides, having her band reconvene in a tight front-stage formation to play older songs like "Merry Go 'Round" and "High Time." Here the band showed its chops and displayed bluegrass proficiency, satisfying both Musgraves' day-oners and anyone down to see expert musicianship on display. The crowd ate it up.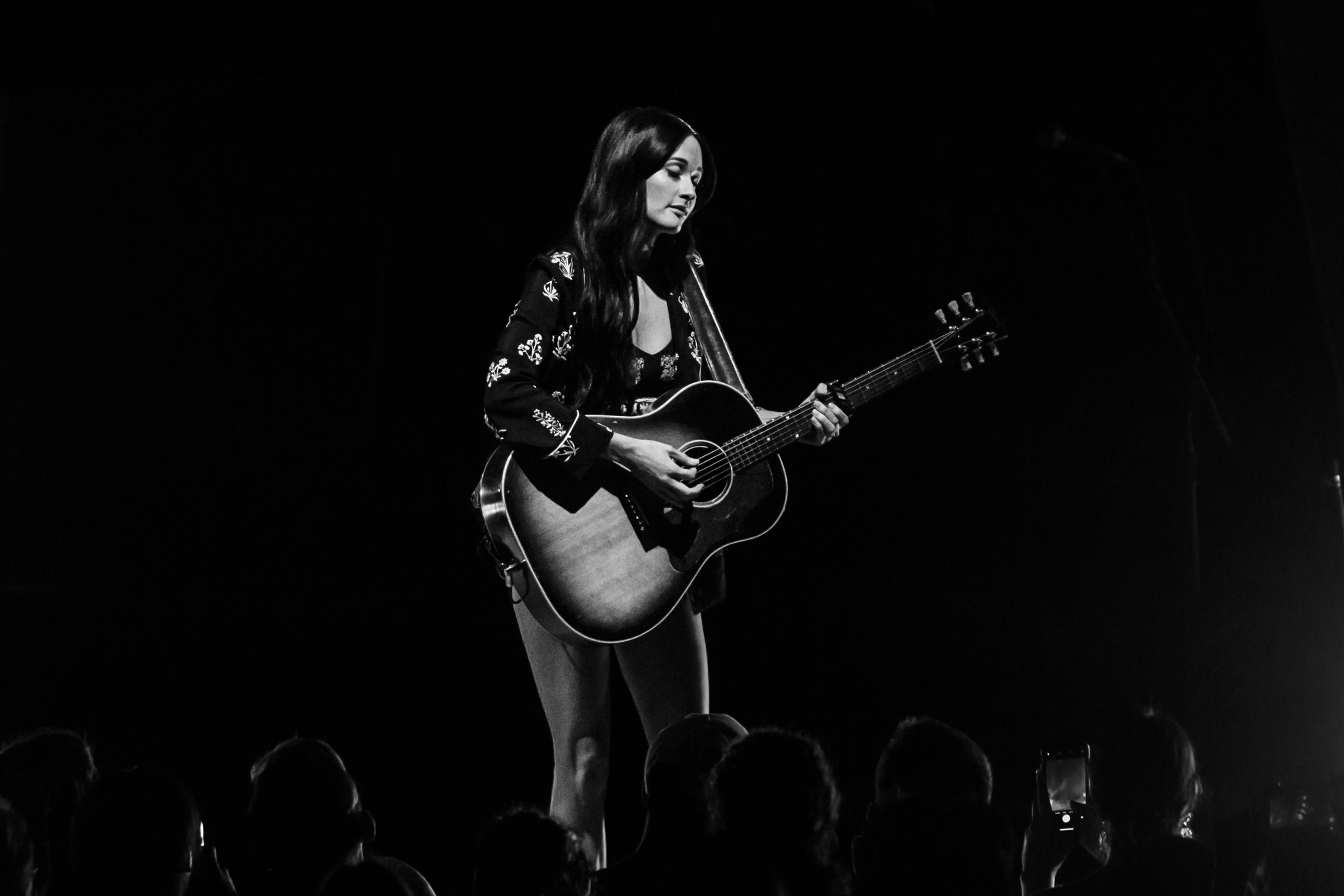 The fact that Musgraves is so free to pursue all her musical interests speaks to 2019 in general. Sure, during her thank yous to the crowd, she mentioned not getting radio airplay by the usual country outlets, which for sure has an impact on both her career and her general sense of feeling included. But we also live in a time where the radio's influence and importance are at an all-time low, where Musgraves can nab the biggest awards in both country music and music in general without these traditional avenues of support. The universe is screaming to Kacey that she's doing it right, that her instincts are correct and that fans are indeed reacting to the work that she's putting out. If the trophies and the critics lists and notoriety weren't enough, the fact that she could stop singing any of her new songs at the Greek and have the crowd capably carry on without her should surely provide evidence of her success.
And as much as Kacey Musgraves still identifies as country, moments of the performance struck as particularly interesting in their deviation from the norm. At one point, she mentioned her home state of Texas and heard a big crowd response. Musgraves seemed genuinely bewildered at the approval, telling them that she wasn't sure her it deserved such an ovation and asking "What has Texas really done lately that's so great?" Later, she thanked the audience for having the bravery to come out to a concert, underscoring the wave of gun violence that has hit public places in the last several years. For a strictly country audience, these could be seen as going against her base, but Kacey Musgraves is playing by her own rules. She doesn't have anything to fear from country radio, as they don't play her anyway. But it's hard to imagine her adjusting her personality for anyone. Kacey Musgraves is going to use her platform however she sees fit, and any fans that can't handle that aren't worth having.
The show closed with a pair of songs that best displayed who Kacey Musgraves is now, and perhaps where she is going. After getting the audience dancing with a faithful disco cover of "I Will Survive," and after hitting the huge emotional heights of the glorious "Space Cowboy" and "Rainbow," Musgraves ended the concert with one cover and one original. The cover wasn't introduced or explained, a kind of know-it-or-don't moment. For me, a thirty-something whose dad kept the radio dial locked on country radio on every childhood ride to school, the tune triggered the kind of deep-seated nostalgia that is only possible with music. It was a rendition of Brooks & Dunn's "Neon Moon," with its blanket-warm melody intact, but performed with a mirror-ball twinkle and Daft Punk-vocoder that she touches on in moments of Golden Hour. Everything that Musgraves champions felt married in the tune, but really it just felt like a celebration of great songwriting, the hill that Musgraves is willing to die on in her contemporary vision of music.
This was followed by her yeehaw-disco anthem "High Horse." With the crowd in the palm of her hand, she did an "everyone jump" moment, which might have been one of the wildest things the traditionally buttoned-up Greek has ever seen. With Musgraves showing that her run on the festival circuit has taught her a few new tricks, she left the audience singing along to the house music (appropriately Daft Punk's "Get Lucky") as they made their way to the parking lot. There was no box to easily put this evening into, as it celebrated the omnivorous musical tastes that often define Musgraves' own generation. She exists outside of these four walls, allowing for taste, musicianship, and emotional resonance to tie it all together. It's enough to make even the biggest skeptic say giddyup.