Listening to "Empire State of Mind" while driving past the Empire State Building was something XG always wanted to do. Now that dream has become reality.
"'Wow. This is New York!'" XG's main English speaker, Maya, shares the group's first impression upon arriving to "the concrete jungle where dreams are made of." "This is what we were all dreaming about!"
While it seems like their heads are in the clouds at the moment, the seven-member ensemble still has their feet firmly on the ground. They've come a long way figuratively and physically to where they are in their careers. But the fact they've done it in a year and some since their debut? Especially coming from a new and small company, and debuting during a time K-pop and J-pop markets are continuously expanding at a fast pace? Undoubtedly impressive.
"This may be a little too much information, but yesterday Jurin asked for permission to scream during rehearsals," Harvey, one of XG's young members, recalls giggling. Looking over to her leader, Jurin simultaneously mouths and reenacts the supposed loud "AH!", with her hands to her head, to express how she felt getting ready for their first ever US performance. The five other members sitting around them instantly laugh remembering what happened 24 hours ago.
"Because we were so tense!" leader Jurin explains in Japanese. "We were so nervous the whole time so we had to release stress and I just shouted and I felt better."
Tensions are running positively high, as smiles and loud laughs flowed out of a pretty packed press trailer at Forest Hills Stadium. But you can't tell how nervous Jurin, Chisa, Hinata, Juria, Cocona, Maya, and Harvey are behind the all the hair, glam, and bedazzled black and white suits that shine brighter than the clear skies and sun that day. (You couldn't even tell that Chisa and Juria overslept and woke up 5 minutes before call time, either. "It was jetlag!" Chisa says.)
Just last weekend, the group performed in their home country for KCON Japan for the first time ever, now they're three hours away before taking the main stage at 88rising's Head in the Clouds New York. ("It was our first time performing in our homeland Japan," one of XG's lead vocalists Hinata expresses. "We were honored and it was such a big stage, we were nervous but at the same time, it was a lot of an adrenaline-rushing moment. We really enjoyed ourselves.") Day 2 is sold out, and a majority of the anticipation and hype among attendees are for XG.
"No, it's crazy because I didn't know a lot of people are giving us so much love and support and it's– we're always so happy and grateful you know?" Maya pauses to find the right words to say. "We can't describe this in words right now. It's crazy — just crazy."
"The fact that we're performing here as a group," XG's charismatic young rapper Cocona begins to explain, "it was such a surprise, it made us so happy, when the decision was made that we were performing here. Everyone has been rooting for us, so we wanted to surprise and do our best."
All of the praise and record-breaking success the group has received has led to this moment. The crowd that filled the brims of Forest Hills stadium sang along to their 40-minute set, answering Chisa's question in "Shooting Star." ("Babe, if I give it my all, will it pay off? / Workin' overtime, no days off.") About 12,000 people reportedly gathered, and according to one of the group's main producers Chancellor, the septet were so overwhelmed with the love, they cried after getting off the stage. "We came here expecting to go to a festival," he says to me after their set. "But we weren't expecting this!"
Hailing from Japan, promoting in South Korea, all while performing in English is probably the literal cliff note version of describing XG. But there's obviously more where that came from. (You can check out the group's ongoing docu-series on their official YouTube channel for a glimpse of it all.) The seven members, who trained together for five years, from 2017 to 2021, traveled back and forth from Japan and South Korea all while learning more about their second home's culture, language, and entertainment industry. Then in January 2022, Avex Japan's affiliate entertainment company XGALX and the company's executive producer Simon Jakops, best known as JAKOPS, announced the debut of the seven-member girl group.
Finally debuting in March of 2022, XG hit the ground running with their single "Tippy Toes" and quickly became a standout act amongst the large roster of groups promoting in South Korea. Their women-empowering, Pussycat Doll-like follow up "Mascara" only supported the group's endeavor to be different and refreshing in a game where the Korean language or Konglish dominated. While the group proudly flexes their god-tier synchronization in performances, along with their impressive trilingual skillset (Japanese, Korean and English), what XG has proved is that music is absolutely one language. (However, it is worth noting that the group doesn't identify themselves as K-pop or J-pop. Rather, X-Pop.)
"So the name is Xtraordinary Girls that's what it stands for," leader Jurin begins to explain, especially for those who'd wish to dive into them. "So, we're a group of girls who want to think outside the box all the time. XPOP is what they call us and that's what really represents — how we mix R&B and hip-hop. This is original to us, we are unique in that we combine different genres. So, all this time we want to be 'Xtraordinary' because our possibilities are infinite. There's no end to our possibilities. That's what we want to tell the audience about ourselves."
Perhaps a video of Jackson Wang reacting to the group's viral GALZ XYPHER video earlier this year — then calling the septet "the future" — foreshadowed the abundant success the group was about to receive in 2023. Releasing their single-album SHOOTING STAR in January, with a lead single of the same name and their supporting track "LEFT RIGHT," the tides were turning in their favor. XG managed to enter the Mediabase Top 40 Radio Airplay Chart with "LEFT RIGHT"'s Y2K R&B sound and visual, making them the first Japanese female act to chart and receive airplay in the US for 10 weeks straight as of early May.
"We want to be ourselves and enjoy the moment," one of XG's vocalists Juria responds to charting. "We want to be XG the whole time. Our music has to be XG and the fact that we're being ourselves and the Western audience is accepting us is an honor and we're so happy."
The song's virality only followed when Jackson's Coachella set surprised the crowd with a remix of the track with R&B songstress Ciara. Weeks later, official remixes of both singles were released with Rico Nasty getting tapped to hop on "Shooting Star."
"When I heard her [Rico Nasty] voice I just screamed," Harvey, who sang her songs during her training period, said. "That was amazing." "We screamed!" Maya, follows up right after, talking about the "LEFT RIGHT" remix. "Those two legendary artists. We also practiced a lot of Ciara songs when we were training. 'Level Up' was definitely our song too!"
But amidst the influx of support from ALPHAZ, their fans, artist co-signs, and radio play, is there any type of pressure felt?
"For us, sometimes," Chisa honestly expresses. "We feel pressure and we get nervous sometimes but most of the time what we do is we enjoy the moment. We talk to each other about how we can have fun and that's how we stay motivated. For the future, our goal is to meet and entertain ALPHAZ all around the world. HITC has been a good opportunity for us to start meeting all the ALPHAZ in the world."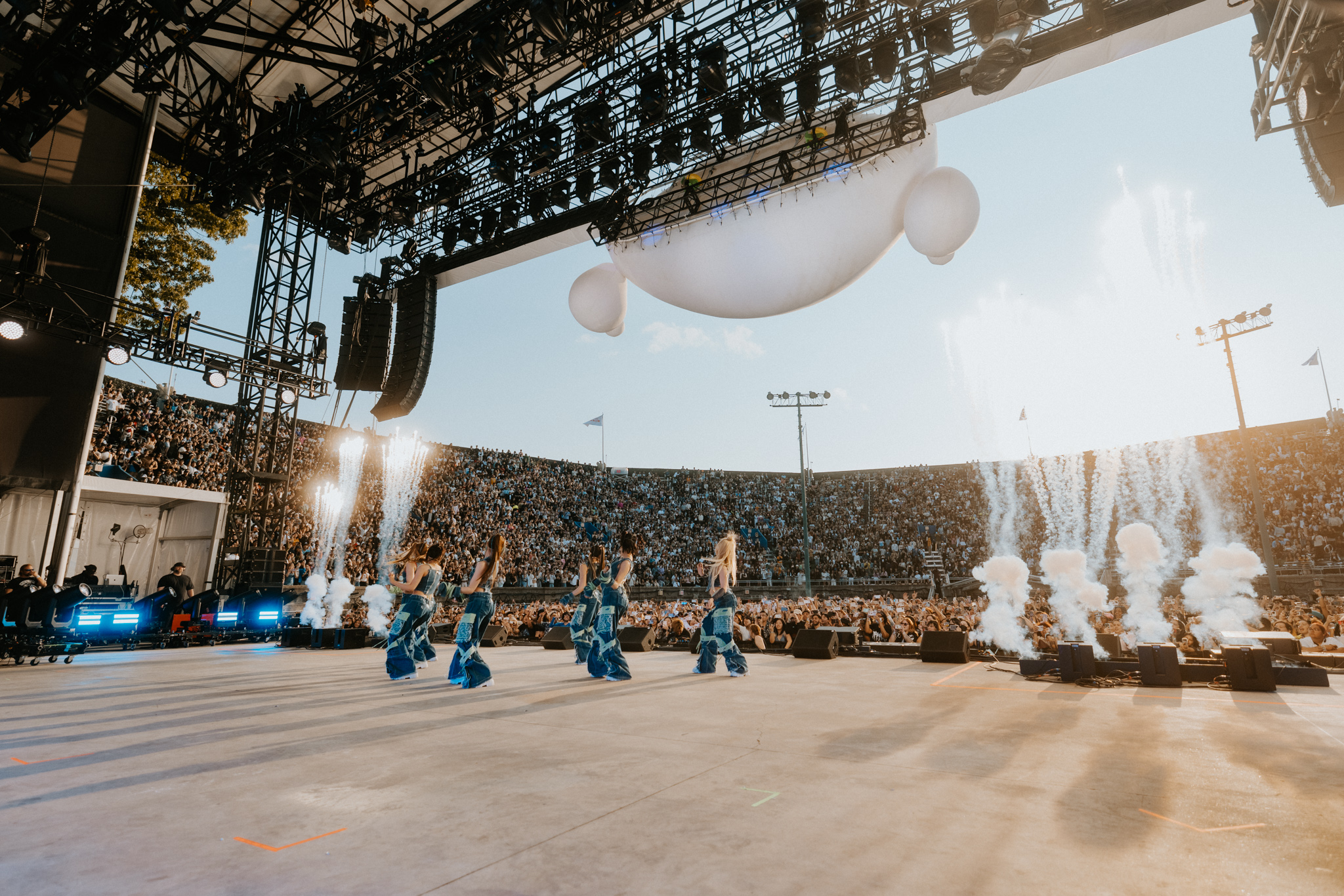 But whatever the pressure or nerves felt, XG has taken it to their advantage to show off the pinnacle of what makes them — them: teamwork.
"In our space meetings (team meetings), we always talk to each other about how our week was; to keep ourselves updated," Maya explains. "And if there are any problems, we have to solve them together and work things out. We want to show them our teamwork, how we communicate on a daily basis, how we build and create our synergy for our performances."
"This may sound serious but before we hit the stage, we're actually not serious, we just celebrate," Jurin says right after as she gestures huddling with the group. "We kinda just balance the seriousness and the joyfulness. Sometimes we fight and bicker, but we have to [go through it and] be serious to strengthen our bond that is only getting stronger and stronger. And that's good since it is all to achieve our goals."
With an album currently being worked on, all eyes are on XG waiting to make their next move. ("We have a lot of songs and you will love them, and I think we can show new XG," Chisa hints on the new music coming. "I feel like it shows more of XG's true colors, so I hope you guys are excited," Maya swoops in right after.) Whatever it may be, just like the story behind their name and their songs, the sky's the limit for pop music's shooting stars. Or rather, whatever is beyond the galaxies far, far away.