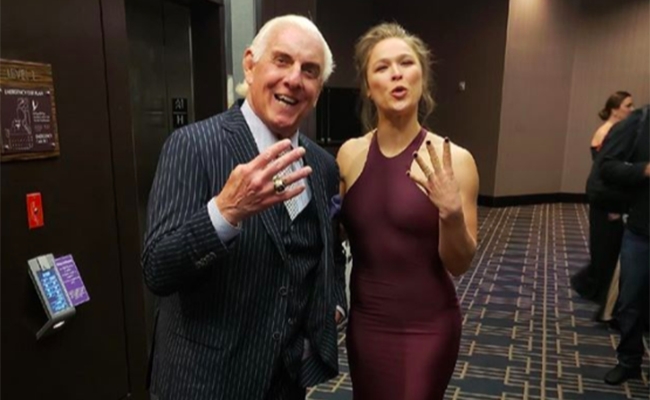 WrestleMania 35 in New York (New Jersey) is almost a year away, so take this with a grain of salt, but the new rumor is that the show's main event may already be locked in. According to a source speaking with PWStream, 'Rowdy' Ronda Rousey could be stepping into the ring against Charlotte Flair on the Grandest Stage Of Them All.
The women arguably stole the show at Sunday's WrestleMania 34 and a women's main event has been rumored for 35 for the past few weeks, with the most recent rumor suggesting it'd be Rousey vs. Asuka with Asuka's undefeated streak on the line. Now that that's no longer possible — and with Flair and Rousey coming out of a WrestleMania as two of its most talked-about performers — Flair getting the match instead makes a lot of sense.
To make it even better, you've got a built-in Four Horsewomen of NXT/WWE vs. the Four Horsewomen of MMA feud that's been brewing for months, and multiple instances of Ric Flair trying to promo the match into existence. Slick Ric even wanted the match to happen on top at WrestleMania 33.
We'll keep you updated as the rumor develops over the next year, and hope we don't have to hit you with, "sorry everyone, it's Roman Reigns vs. Brock Lesnar again" in the fall.