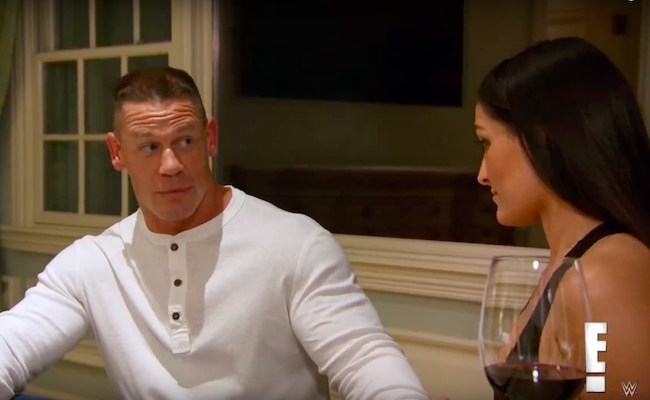 It's been just over a month since John Cena and Nikki Bella's six-year relationship came to a screeching halt. US Weekly broke the news that the Bella Twin had broken off her engagement with the Dr. of Thuganomics and moved in with sister Brie and her husband, Daniel Bryan.
What followed was a weekly update on reports from behind the scenes on what led to their breakup, how Cena was taking it and eventually an impassioned plea on live television for his former fianćee to take him back (yes, wine was involved).
Nikki Bella's response to day-drunk John was followed by her shooting down rumors that this all was a publicity stunt setting up either an in-ring marriage (I mean, who could top Macho Man getting hitched with Miss Elizabeth?) or something to drum up interest in Total Bellas.
E! — the same network that broadcasts Total Divas and Total Bellas — proceeded to publish a story detailing how the two were, indeed, back together and what exactly went down for Cena to win back Bella. (H/T 411 Mania for transcription)
A "source says the two stars are back together" and "that it certainly appears that John's media blitz to get Nicole back worked." They said that Nikki kept her engagement ring after they split because Cena wouldn't take it back so it could "be a reminder of their love."
Maybe there is hope for reconciliation, and hopefully we'll have some idea if it's going to work out in the next few weeks. Or you know, at SummerSlam. Who really knows these days.