We live in an advertising age dominated by product placement, celebrity endorsements, and every household device with a microphone snitching to your social media apps and resetting your ad algorithms in the most terrifying way possible.
In the past, WWE has partnered with a variety of companies to give us hilarious and, at times, frankly bizarre television spots. The Undertaker alone has been a commercial juggernaut, starring in everything from anti-drug PSAs to pro-getting Dominos delivered to a graveyard commercials (something you definitely shouldn't try at home. Or … grave). Even John Cena's mom has gotten in on the action. So it made us think — what brand synergy opportunities is WWE missing out on by not utilizing its current roster of Superstars and their equally hilarious and bizarre catchphrases?
We're still working to forget any and all Snickers ads, and WWE has already cornered the market on strange and occasionally deeply uncomfortable KFC promotions. We thought long and hard about what possible ways Superstars could try to sell us things. Could the Dudleys sell us home furnishings by shouting "GET THE TABLES … AT WAYFAIR.COM?" We also considered Styles being a spokesperson for Mark Z. Danielewski novels, but "Damn AJ Styles, are you House of Leaves because you are hard to follow" is less of an endorsement than it is just telling the truth. Without further adieu, here are the best* ideas we could come up with.
*use of the word 'best' being extremely subjective in this case

Braun Strowman for Curel Lotion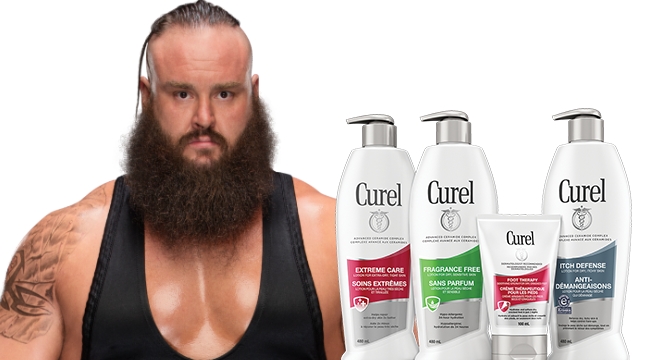 "Hi, I'm WWE Superstar Braun Strowman. Just because I'm the toughest wrestler WWE has to offer doesn't mean my hands have to match. It takes a lot of strength to flip over an ambulance, and I need the same kind of moisturizing strength when it comes to my skin. Curel's advanced ceramide complex kept my hands soft, even after days spent trapped in the back of a garbage truck. Dermatologist approved, Braun Strowman approved — get Curel and GET THESE HANDS."
Sasha Banks for Capital One
Once upon a time, Rob Gronkowski partnered with Capital One to teach us all about Gronknomics and high-interest savings accounts. The financial savant who can't seem to keep his tongue in his mouth loves to make appearances in WWE, so why not have Sasha Banks pop into a Capital One spot? Her name literally has the word 'bank' in it, this one's a no-brainer. Sasha Banks standing in front of an ATM, sassily cocking her hip out saying "And no fees? You can BANK ON IT at Capital One" is the advertising content we crave.

Seth Rollins and Becky Lynch for Glade
Seth Rollins went through a number of nicknames and catchphrases — some of them perfectly fine, and others being the Kingslayer. These days, Rollins really hit his stride with the aggressive but fun-to-yell "BURN IT DOWN." Becky Lynch has gone through a smiliar cadre of ill-advised phrases and nicknames, but has recently settled on INSPIRE THE FIRE. Either someone on the creative team has a serious issue with closeted pyromania, or or fire-based catchphrases are really hot right now.
Neither lend themselves to any kind of fire department PSA, so why not put that flame where it belongs — atop a scented candle! Rollins can pitch those 2in1 candles with "BURN IT DOWN…to the second layer for a scent surprise!" Lynch already has a full campaign just waiting for her with the injection of the word "inspire," and now that we've put it out there into the non-WWE universe we need it to be a real thing immediately.
Asuka for Allstate Insurance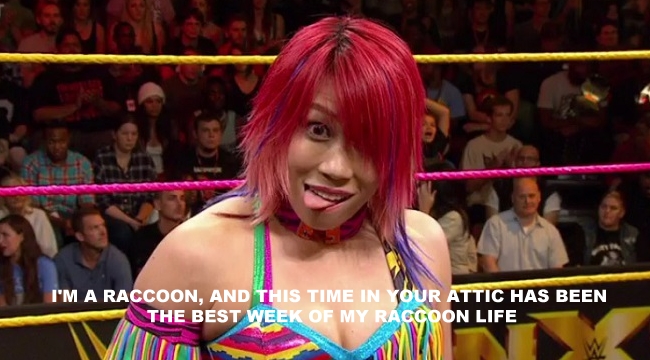 Asuka has not one but TWO catchphrases that are the perfect alarmist approach to selling any kind of insurance. You never know when disaster will strike. You could slip and fall and break your leg, Delta could (and will!) lose your luggage, or maybe you just accidentally let your house be in the path of a tornado.
She fits perfectly in with their existing campaign where the dude from Oz pretends to be an emotionally compromised teenaged girl, a raccoon, and many other things that could inflict mayhem on your car/home/life. MAYHEM is coming! MAYHEM is everywhere! TOMORROW BRINGS DANGER and NO ONE IS READY!

Elias for Dr. Scholl's Orthotics
WALK WITH ELIAS. That's it. That's the joke.
Roman Reigns for ADT
Roman Reigns is the BIG DOG, and BIG DOGS need BIG YARDS. If you don't have an actual big dog or Roman Reigns to protect your property, ADT is the obvious choice for home security solutions. Offering protection for your residence or small business, that shield (eh? Ehhhhh?) in the window reminds thieves that this isn't their yard, IT'S MY YARD. Note: This also works as a great — but all too late — promotional phrase for the film Gran Torino.
The Undertaker for Sleep Number
"Do you love your partner, but hate sleeping next to them? Does their restless leg syndrome keep you up at night? Are you tired of always being tired? After years of teaming with my brother Kane, I know all about what it's like to have an unpredictable and disturbing tag partner. With the new Sleep Number system, you can get a good night's sleep no matter what's going on beside you. Call now to find out how you can save up to $600 on a Sleep Number mattress so you can finally REST IN PEACE."

John Cena for Depend® Silhouette® Briefs
Okay, now hear me out. Now that John Cena is a mainstay on TODAY, his endorsement demographics are no longer limited to those 12 and under. Why not strike while the iron is hot and use the most polarizing WWE Superstar to market products to polar opposite ends of the age spectrum?
Depend® Silhouette® Briefs are those Depends made to look and fit like real underwear, so those with incontinence issues don't have to be embarrassed when out in public. Hoda and Kathie Lee are living proof that women of a certain age would love to have John Cena under their skirts, so maybe Cena could even be the voice of an animated brief. "Panty lines? Never. I'm the Depend® Silhouette® Brief, and YOU CAN'T SEE ME."