Going In: Happily Married Vs. Crushing Like Mad
Alexa Bliss and Braun Strowman are the great romance of the Mixed Match Challenge. He's definitely way into her, and she might be kind of into him, or she might just be manipulating him, or it might be some of both. Whatever the case, this angle has wonderfully displayed the acting talents of both performers, and made this tiny villain and enormous monster seem a little more human, which I'm always up for.
Aside from Braun's "going all the way" joke (driven home by Alexa's perfect side-eye), the relationship angle wasn't quite as overt this time as in Round One, but it doesn't need to be. Now that we're all on board with it, it's the subtext to everything they do. They beat Becky Lynch and Sami Zayn in Round One when Alexa hit a Twisted Bliss off of Braun's shoulders to pin Becky.
Naomi and Jimmy Uso, on the other hand, are a real-life couple. They seem to be a pretty stable and happy one, in fact, considering that Total Divas has a hard time coming up with a more dramatic plotline for them than "Jimmy's trying to be romantic but Naomi has a stomach ache." Naturally their real-life loving bond makes them less exciting than the pair whose relationship is a storyline.
In Round One, they put on a pretty great comedy match against Mandy Rose and Goldust, which ultimately led to Jimmy pinning Goldust. It's clear that Jimmy knows this match is a lot tougher, and in fact probably my favorite moment from this team in the whole tournament is in the pre-match promo, when Naomi brags that her husband doesn't fear Braun Strowman, and Jimmy makes a face behind her back that says otherwise.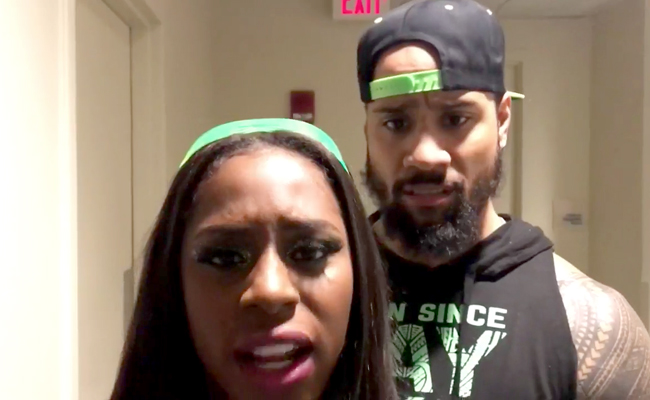 The Match: What More In The Name Of Love?
Protectiveness is a major theme of this match. Braun holds Alexa back when she tries to attack Naomi before the bell, and the image of him restraining her with one arm while she aggressively flails all four of her limbs is as delightful as it is impossible to capture in a still image. Then when it's time for the actual match to start, Naomi can't let Jimmy out of their corner, for fear that he'll die facing Strowman. Of course, this ends up backfiring when Braun attacks him from behind.