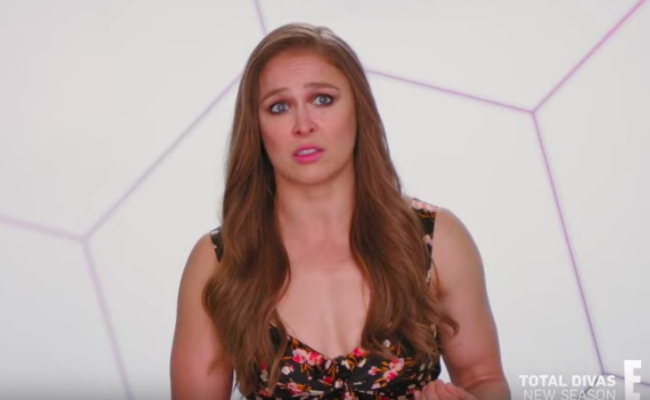 The first trailer for the ninth season of Total Divas has been released, and with it, the official reveal of this iteration of the show's always-changing cast. It was already reported that Sonya Deville and Ronda Rousey would be joining the show, and the teaser below highlights what both former MMA fighters will be up to this season.
Check it out:
Rousey's involvement with Total Divas, along with stuff like having WWE Superstars over to her farm to make a parody horror movie trailer, shows the former Raw Women's Champion maintaining a connection to the wrestling world as fans speculate whether she'll make a return to the ring.

Deville joining the cast fuels a different kind of speculation: How much is WWE willing to highlight one of their LGBTQ stars' sexual orientation and connection to the queer the community? Though showing Deville at Pride on Total Divas doesn't show support as overtly as a queer storyline on an actual wrestling show would, it does seem like a sign that maybe WWE could acknowledge the sexualities of their out Superstars beyond rainbow gear and the occasional supportive photoshoot.
Along with Rousey and Deville, the ninth season of Total Divas will feature returning stars Natalya, Nia Jax, the Bella Twins, and Carmella. It's Carmella who seems like she might bring the type of reality show drama Paige and Lana could be relied on in past seasons this time around. She mentioned on Instagram that, "this has by far been the craziest year of my life and there just happened to be cameras capturing all of it."
WWE sums up her storyline this season as, "After her recent breakup, Carmella is focused on what's important for her and her career. She is faced with backlash while trying to balance friendships and a new romantic relationship, putting both to the ultimate test." She recently broke up with Big Cass and is now dating Corey Graves, so it'll be interesting to see how this is portrayed in reality show form. Could we end up getting Graves on Raw, Smackdown, and Total Divas?
Overall, it seems like this season should deliver for Total Divas fans, with the new cast members drawing new eyes to the program.