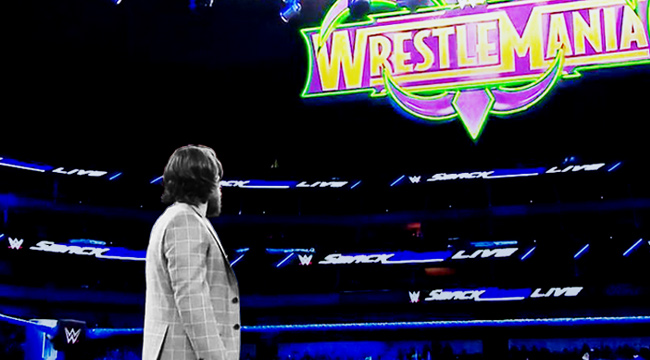 Previously on the Best and Worst of Smackdown Live: Asuka and Charlotte respected each other, AJ and Shinsuke also respected each other, and Kevin and Sami broke new ground in the fields of Shane McMahon Face Redness and Shane McMahon Weird Selling Noises.
Remember to follow With Spandex on Twitter and like us on Facebook if you haven't already and also you haven't #Delete[d]Facebook yet. You can also follow me on Twitter for sporadic wrestling content and sometimes pictures of a rooster that lives on my street. And remember to check out the new-ish With Spandex podcast, McMahonsplaining.
Hit those share buttons! Please spread the word about the column on Facebook, Twitter, and whatever other social media outlets you use. Be sure to leave a comment in the comment section below as well. Your help and participation means a lot, especially because we're on the Road to WrestleMania and stuff is actually happening on Smackdown!
And now, the Best and Worst of WWE SmackDown Live for March 20, 2018.

Best: You Deserve It
This episode of Smackdown began with the moment we'll remember it for: Daniel Bryan's speech about his return. A few hours earlier, WWE announced that Bryan had been cleared to wrestle after two years of retirement. The news blew up the wrestling internet. After what seemed like eons of watching this guy suffer in Shane McMahon Mutual Respect Purgatory, we now know we'll finally get to see him return to what he loves to do and what we love to watch him do.
Bryan's speech produced that special kind of professional wrestling magic that happens when the kayfabe dimension (the WWE Universe, in this case) and the actual real life dimension get so close we get The Cloverfield Paradox effect, if The Cloverfield Paradox was a good movie.
After a brief montage of the emotional rollercoaster that was Bryan's WWE in-ring career until now, the Smackdown Live GM entered the ring and gave an eloquent, sincere speech. He talked about his fight, physically and emotionally, to get cleared, which has been going on pretty much since he had to retire.