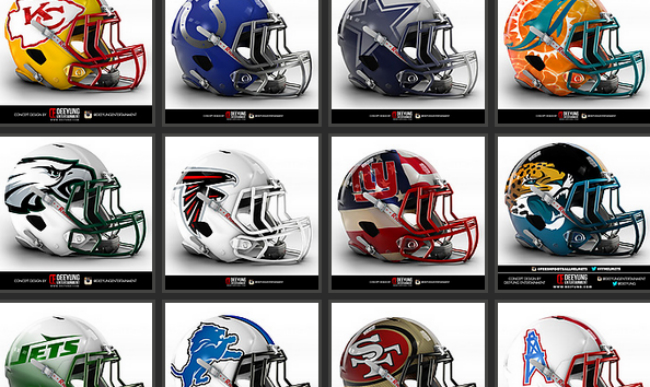 Alternate and throwback helmets took a bit of a hit in 2013 when the league understandably mandated that players wear the same helmets throughout the season to lessen the risk of head and neck injury, but a few teams found a way to keep the trend alive last season by simply changing the decals on player helmets to enable alternate looks. Which is good because alternates and throwbacks are a fun way to change things up, celebrate a team's history, and they also help fuel an estimated $1 billion merchandising revenue stream for the NFL.
If the league is looking to expand their selection of alternative design options in the near future, perhaps they should check out the work of graphic designer Dylan Young, who took it upon himself to play with a more than a few concepts for NFL team helmets and release the results on Twitter.
Some of these designs look like minor changes that simply pump up the size of the logo like the 49ers helmet, play around with the color scheme like the Saints one, or go old school with a twist like the Broncos helmet. Others go off the rails a bit, like the super busy Dolphins concept, the almost tie-dyed Jets helmet with the old school logo that makes this Long Island kid long for the days of Al Toon, and the Texans helmet.
Some of our favorites:
If you want to see more of Young's work, check out his Imgur page. If you want the NFL to put a large dog on the Browns helmets, maybe start a petition? Hashtag it? Yeah, that'll work.
(Source: Deadspin)