The sports film genre has always managed to inspire in ways that others have not. The formula is perfect: a group of misfits who have been told their whole lives that they'll never amount to anything find a strength through themselves and their teammates that helps them achieve the impossible. They make the catch, run over the finish line, and become the hero. A League Of Their Own is a perfect example of how memorable and fun this kind of movie can be, while also motivating it's audience to appreciate something bigger.
Directed by Penny Marshall, A League Of Their Own focused on two sisters, Dottie (Geena Davis) and Kit (Lori Petty), grappling with each other and finding a purpose. It was a sibling strife that felt real: Dottie, more talented and more beautiful, found value in the league and worked to hone her craft, but she didn't need it as badly as Kit. Long overshadowed by her older sister, baseball became the latest battleground for Kit to prove herself. Despite their mutual love and sisterly affection, the conflict between them was always beneath the surface and affected most of their choices on and off the field.
Part of the appeal of A League Of Their Own is the fact that it is rooted so deeply in actual history. While it was a fictional account of the Rockford Peaches and the rest of the All-American Girls Professional Baseball League, the underlying story is true: during WWII, Phillip K. Wrigley, chewing gum tycoon and owner of the Chicago Cubs, wanted to create a women's league as a wartime replacement for the usual professional baseball league. The rules were slightly different but it was similar enough to give people something to enjoy (and occupy themselves with) while many of their favorite ballplayers were off at war.
In the 25 years since the film's release, many of its cast members have gone on to do interesting things. While you probably know what Tom Hanks and Madonna have accomplished in the following decades, you may not be as up on some of the other Rockford Peaches, so lets look at what they've been doing and also celebrate some of the women that inspired the film.

Geena Davis — Dottie Hinson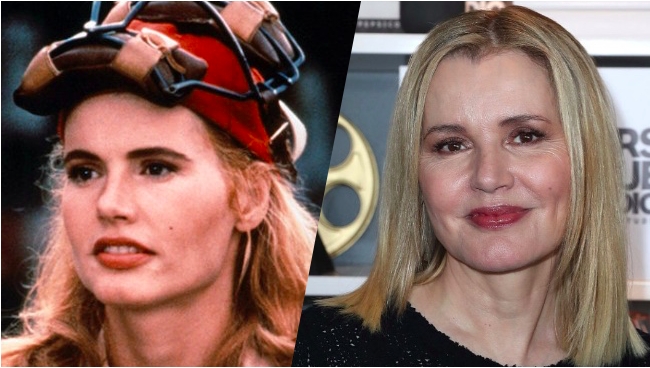 Geena Davis was a late addition to the cast after Debra Winger departed the role of Dottie. At the time, Davis was coming off of what would be one of the defining roles of her career (and the 1990s) in Thelma & Louise following star turns in Beetlejuice and The Fly. League would only elevate her further as one of Hollywood's top actresses, but the transition into big budget action fare like Cutthroat Island and The Long Kiss Goodnight didn't pay off at the box office. A switch to television also didn't pay off, with the short-lived Geena Davis Show, Commander in Chief, and The Exorcist scattered over the last 17 years, among other projects.
Off-screen, Davis took up archery as a hobby at 41 and became so adept that she was a prospect for the 2000 Sydney Olympics. She also founded The Geena Davis Institute On Gender In The Media, which works to create a more diverse creative landscape in television and film.