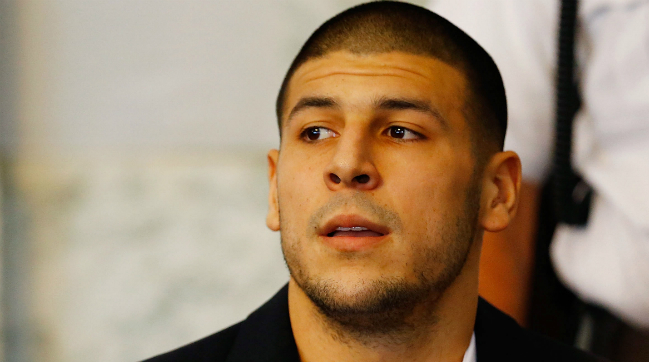 Former New England Patriots tight end and convicted murderer Aaron Hernandez had severe CTE, a brain injury that has been connected to playing football and is often found in its former players after their early deaths.
CTE stands for chronic traumatic encephalopathy, a degenerative disease that is caused by repeated blows to the head that cause brain trauma. The NFL and other football governing bodies have tried hard not to link the disease directly to football, but a number of high-profile former players have been diagnosed with CTE after their death, many of which come through some form of suicide.
CTE can only be diagnosed posthumously, but studies have shown that football players have a high propensity to have the disease when they are studied. A recent study found signs of CTE in the brains of 110 of 111 studied. Hernandez killed himself in his prison cell in April, less than a fortnight after he was found not guilty in a 2012 double murder trial. He had already been found guilty of the 2013 murder of Odin Lloyd and was serving a sentence of life in prison.
Doctors announced Hernandez's CTE on Thursday in a story in The New York Times.
Hernandez's brain was examined by Dr. Ann McKee, chief of neuropathology at the VA Boston Healthcare System and director of the CTE Center at Boston University. She developed categories to describe the severity of the disease. Those with Stage 3 of C.T.E., typically had cognitive impairment and trouble with executive functions like planning and organizing. Those with Stage 4, the most severe version of the disease, had dementia, difficulty finding words and aggression.

Dr. McKee said in a statement that Hernandez had Stage 3.
Hernandez was convicted of murder and took his life while in prison earlier this year. His suicide allowed doctors to study his brain and what they found was "the most severe case they had ever seen in someone of Aaron's age." Hernandez was 27 when he committed suicide.
The Times story notes that the findings may help the Hernandez family in a settlement with the NFL. If they choose to join the April 2015 class-action settlement, players who are 45 or younger and have CTE can get as much as $4 million. The family could argue for an exemption to join the settlement.
The Hernandez family also filed a separate lawsuit against the New England Patriots, which they released to the public on Thursday.
Attorney Jose Baez also announced the federal lawsuit against the team and the NFL, which is on behalf of Hernandez's daughter. He held a press conference at his office to discuss the suit on Thursday afternoon.
Hernandez was a promising tight end out of the University of Florida who was taken by the Patriots 113th overall in the 2010 Draft. He spent three seasons with the Patriots, joining with fellow 2010 draft pick Rob Gronkowski to form one of the most prolific tight end duos in NFL history.
His performance earned him a $40 million contract from New England. But the Patriots released him shortly after he was arrested in connection to Lloyd's death, a crime he spent the rest of his life in prison for committing.