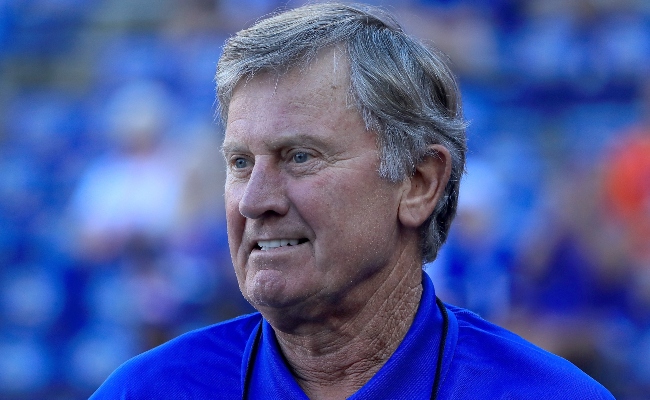 There's a gigantic void in the football calendar. Once an NFL season comes to an end on the first Sunday in February, fans of the spot have to go months before any college or professional games occur. There's the NFL Draft, and training camps, and the preseason, and spring games for college teams, but there's no football with any sort of stakes for half a year.
Basically, there's a big ol' gap in which an upstart football league could try satiate the desire fans have to watch real, live games during the offseason. The folks behind the Alliance of American Football agree, and as such, the nascent league will make its debut on Saturday evening.
What is the AAF? Well, it's a professional football league founded by producer and director Charlie Ebersol and Bill Polian, the longtime general manager of the Indianapolis Colts. It includes a whole lot of names that you know, whether they be players, coaches, or executives. Here's a video.

Seems like fun! The league has eight teams, will play a 12-week season, kicks off with a nationally-televised game later today, and will crown a champion in late-April. To get you prepared for the league, we recommend doing two things: 1) Listen to the Puntcast, and 2) Read on.
The league is broken down into an Eastern and Western Conference. The former is comprised of the Atlanta Legends, Birmingham Iron, Memphis Express, and Orlando Apollos. The teams that make up the latter are the Arizona Hotshots, Salt Lake Stallions, San Antonio Commanders, and San Diego Fleet. The coaches in the league are tremendous. They are:
Arizona: Rick Neuheisel
Atlanta: Former NFL and college defensive coordinator Kevin Coyle. This is a relatively new development, as Brad Childress was the team's head coach. However, Childress resigned a month before the season and Coyle (the team's defensive coordinator) got promoted. This also cost the Legends their offensive coordinator, Michael Vick, who transitioned into an advisory role two days before their first game.
Birmingham: Former Steelers and Giants defensive coordinator Tim Ryan
Memphis: Mike Singletary
Orlando: Steve Spurrier (this is the point where I reinforce that this league, objectively, rules)
Salt Lake: Dennis Erickson
San Antonio: Mike Riley
San Diego: Mike Martz

The players in the league are largely comprised of dudes who are either looking to extend their careers or looking to use this as a springboard to the NFL. The league has guys you might remember all over the place: Michigan star QB-turned-NFL running back Denard Robinson (Atlanta), Sugar Bowl MVP Travis Knight (Arizona), former No. 1 overall recruit Trenton Thompson (Arizona), All-American outside linebacker Scooby Wright (Arizona), Kick Six hero Chris Davis (Birmingham), All-American running back and top-3 NFL Draft pick Trent Richardson (Birmingham), ex-No. 1 QB prospect in the nation Christian Hackenberg (Memphis), Giants and Ravens safety Will Hill (Orlando), Vikings running back Matt Asiata (Salt Lake), Iowa State two-way star Joel Lanning (San Antonio), and a whole lot more.
Sports fans are suckers for second chances, and the AAF provides a whole lot of them. Naturally it's up to the players — and, in a way, the coaches in the event they have aspirations of returning to college or the NFL — to take advantage of these, and it really would be a blast to see someone go from an NFL burnout to an AAF star who earns another shot.
As for rules, the league is more or less doing everything you might expect, but there are a handful of little twists. Here's a run through by Rich Ohrnberger, the former NFL offensive lineman who's on the call in San Antonio.
You can read more about the defensive rules pertaining to blitzing here, and those kickoff rules might be familiar to some as a variation of the system proposed by Greg Schiano.
The AAF's full schedule can be viewed over at CBS Sports. All games will be televised on one of CBS, CBS Sports Network, NFL Network, or B/R Live — the league's debut games (Atlanta at Orlando, San Diego at San Antonio) will be on CBS and kick off at 8 p.m., meaning your local television provider will decide which game you're going to check out. The other two opening weekend games are on Sunday, with Memphis visiting Birmingham at 4 p.m. on CBS Sports Network and Salt Lake heading to Arizona at 8 p.m. on NFL Network.