One quote sticks out among the rest:
"Five years from now we'll be saying, 'That was the day the Browns turned around,' " Savage said on Saturday night. "Either that, or 'Boy, that was the day Savage screwed up the whole thing.' "
Brady Quinn barely played in 2007, through no fault of his own. The Browns caught lightning in a bottle, at least as much as the Browns have been able to since they returned in 1999. Derek Anderson proved to be a capable starter for that year, allowing Quinn to bide his time and learn the offense, and Cleveland went 10-6.
The following season, things went off the rails. The Browns went a familiar 4-12, Savage sent that incendiary email to a fan, and following the season, Savage and Crennel were out the door. This proved to be a death sentence for Quinn's hopes in Cleveland, as well. New regimes typically don't want anybody's holdovers.
"When you're a quarterback especially," Savage said, "if you lose your sponsorship, you're fighting an uphill battle. I will go to my grave thinking if I could've survived in our organization – usually the rule of thumb is that a general manager is going to get two coaches, and I got one with Romeo – if Brady had the support from within the organization directly to the owner, then I think his story could've turned out quite a bit differently. He's had other chances, and he's been with other teams, but it's been more of a tryout where he's not the guy. There's such a difference when you're just trying to find your footing vs. being told hey you're our quarterback. He's the most star-crossed, high profile player who's a good guy that I've ever been exposed to. We'll never have the answer to why it turned out that way. He deserved better than what happened with him."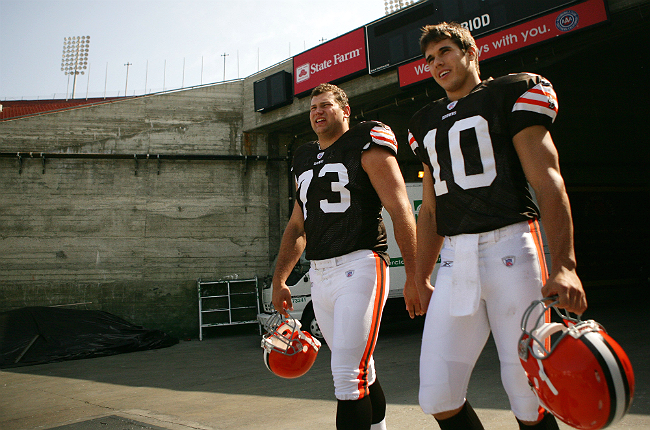 "All you can control is your attitude. I feel very grateful and fortunate to be drafted by the Browns."
~ Brady Quinn
With Eric Mangini in as the new head coach, Quinn and Anderson would go through a highly-publicized quarterback battle. The Browns won five games, and Quinn was shipped off to Denver for Peyton Hillis and a couple picks in March of 2010.
"By now even the tainted innocence of 2007 is long gone," Peter Pattakos, who runs ClevelandFrowns.com said. "There's the small handful of exceptions to the rule (Thomas, Alex Mack, Joe Haden), but what we're talking about is a dysfunction that's cut across a decade and a half, and multiple GMs, head coaches, and ownership groups. At this point you hear something like, 'that guy would be great as long as he doesn't end up someplace like Cleveland,' and it's nearly impossible to say it's unfair."
After two seasons with Denver, Quinn bounced around the league, playing for Kansas City, signing contracts with Seattle and the Jets, playing for the Rams, and giving it one more go to try and make the Dolphins roster in 2014 after becoming an analyst with Fox Sports.
He participated in the veteran combine in March of this year, and there are still whispers he may try and make one more comeback.
Quinn still reflects kindly on his draft experience, and considers the move the Browns made to get him to be a highlight even if the draft itself is just one moment in a long and hard series of moments that lead to playing in the NFL.
"It's a starting point," Quinn said. "Everyone makes the biggest deal about it. There are a lot of things that are out of your control. You can't control where you get drafted. You can't control a lot of those sorts of things. All you can control is your attitude. I feel very grateful and fortunate to be drafted by the Browns. I grew up a Browns fan when I was young. To have that opportunity and to have them trade back up to get me was literally a dream come true. It didn't work out the way I hoped it would, and that has a lot to do with the situation and circumstance, which is a lot of cases in the NFL."