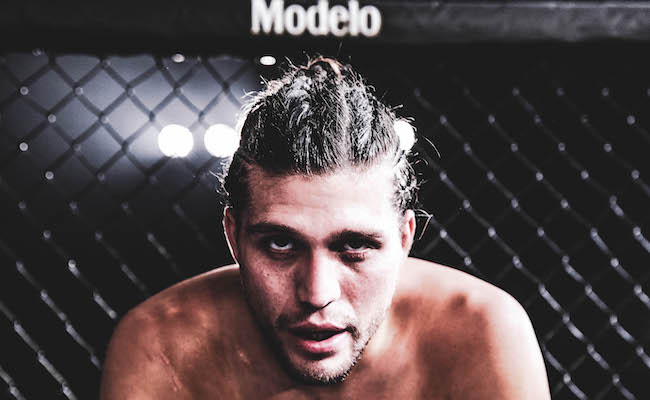 Brian Ortega's life has taken its fair share of twists and turns, from fighting for his life in the streets of Harbor City, Los Angeles, to fighting for the UFC featherweight title inside the Octagon.
Uproxx Sports spoke with Ortega recently through Modelo, as his journey and fighting career fits seamlessly with their campaign, proving it doesn't matter where he came from, it matters what he's made of.
"(Modelo and my story) go perfectly together," Ortega told Uproxx Sports. "There's always going to be my dream. There's always going to be future generations growing up. All these generations have dreams and goals. That's why I feel like this message is important. At the end of the day, we're telling people never give up, always keep going forward. Like Modelo says, always keep that fighting spirit strong no matter what you're going through. Through all the adversity in your life, just keep moving forward."
For Ortega, continuing to channel that fighting spirit means battling back from the first real setback in his UFC career. Coming off a knockout victory over Frankie Edgar in March 2018, Ortega's shot at UFC gold ended in a doctor stoppage ahead of the fifth and final round back in December. His battle with Max Holloway was one of the best of 2018, and the No. 2 contender is already eyeing his return to the Octagon only two months removed from his devastating loss.
"The only fight I care about is a rematch or a fight that will get me there. That would be, I think, Jose Aldo," Ortega said.
Ortega caused a bit of a ruckus when he tweeted "Well let's start negotiating" after Aldo's TKO victory at UFC Fight Night 144 in early February. He admitted that tweet was directed at Aldo with hopes of setting up a showdown sometime this summer.
"Absolutely, let's negotiate, let's get this on paper," Ortega said. "From what I've heard, both parties like the idea. Let's make it happen. Let's give fans the fight they want to see. He wants to retire this year at the top. And that's where I want to be, at the top. So I think it's a perfect fight. I want to fight the best, and with our positions being No. 1 and 2, we should fight each other. I would love to see it this summer. I'll be ready by this summer."
While Ortega has his eyes on earning a second opportunity to battle Holloway for the featherweight crown, he's not taking the prospects of an Aldo fight lightly.
"His striking is amazing. He's a black belt in jiu jitsu, he doesn't really get taken down. This guy has a lot of threats," Ortega said. "People counted him out after the Conor (McGregor) fight and the Max fight, but this is the guy who reigned the featherweight division for the longest time. He's a legend I looked up to growing up that I'd love to fight."