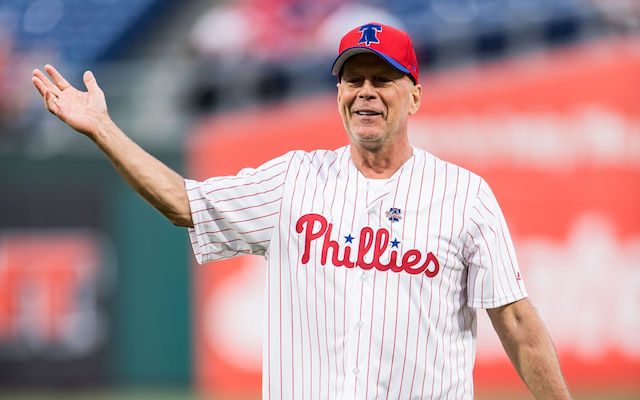 You'd think Bruce Willis would have built up some goodwill with the City Of Brotherly Love, what with him being a lifelong Philadelphia Phillies fan and all. The city even stands as home base and setting for his character in"Unbreakable, a probably-still-underrated film directed by noted Philly native and 76ers season ticket holder M. Night Shyamalan.
Philly sports fans are notoriously tough though, and that includes on their own kind. And on Wednesday night, the Philly faithful turned quickly on Willis after he bounced his ceremonial first pitch in front of home plate before the Phillies took on the Milwaukee Brewers.
Willis was cheered on his way to the mound, fan heartily booed the actor after his pitch didn't make it to the catcher's glove through the air.

As far as first pitches by celebrities go, Willis's throw was far from the worst. Have we forgotten Milwaukee Bucks guard Pat Connaughton, who was actually drafted as a pitcher by the Baltimore Orioles in 2014, and how hilariously bad his attempt was earlier this year? Have Phillies fans seen 50 Cent's infamous disaster? Apparently not.
Willis' wife Emma hopped on Twitter to defend her husband, quote-tweeting another user who said that the fans were simply yelling "Bruuuuuuuce" in celebration of the "Die Hard" star. When you hear the Philadelphia sports fans are a ruthless bunch, this is why.