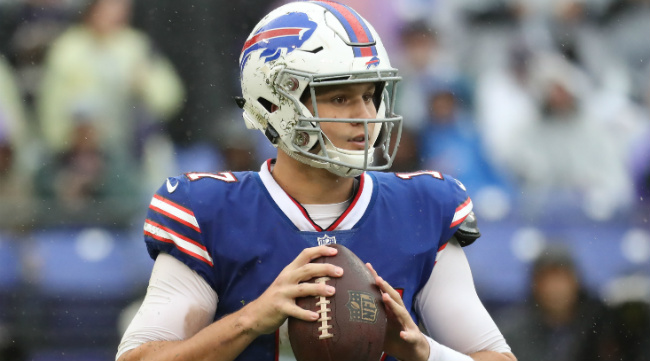 NFL teams generally take one of two approaches to how they handle their rookie quarterbacks. Some, like the New York Jets with Sam Darnold, shrug and say "let's go for it," throwing their rookie out there during their first game of the season and letting them learn that way. Others, like the Cleveland Browns with Baker Mayfield or the Arizona Cardinals with Josh Rosen, decided to take a more pragmatic approach, giving them the chance to sit and learn behind a veteran before they get their chance.
And then there's the third approach employed by Buffalo Bills, which traded up to draft Wyoming signal caller Josh Allen, a prospect who boasts considerable upside but is universally viewed as a project under center. The Bills apparently believe that projects take one game, because Allen will start their Week 2 matchup against the Los Angeles Chargers, per Chris Mortensen of ESPN.

Buffalo seemed ready to let Allen sit and learn this year, as the team brought veteran quarterback A.J. McCarron and second-year signal caller Nathan Peterman into training camp. However, the team traded McCarron to the Raiders, while Peterman didn't exactly inspire confidence heading into the season based on how he performed last year. Those concerns about Peterman's preparedness to start looked to be true on Sunday, as he went 5-for-18 with 24 passing yards, no touchdowns, and a pair of interceptions in Buffalo's 47-3 loss to Baltimore.
It makes sense that the Bills don't want Peterman under center against the Chargers, as he faced the team last year in his first start and was historically bad, going 6-for-14 for 44 yards and five interceptions before getting pulled at halftime. Still, throwing a rookie out there is a bold move, especially because that rookie is viewed as someone who has wrinkles to iron out and didn't impress in the action he saw during Week 1, either (Allen went 6-for-15 with 74 yards in relief of Peterman against the Ravens).
An optimist might say this is a good thing, as it lets Allen grow by getting game reps as opposed to having him stand on the sideline. A more pessimistic person, meanwhile, might be perplexed at how things got to this point for the Bills, which made the decision to press the reset button this offseason after making the playoffs for the first time in 17 years last season.