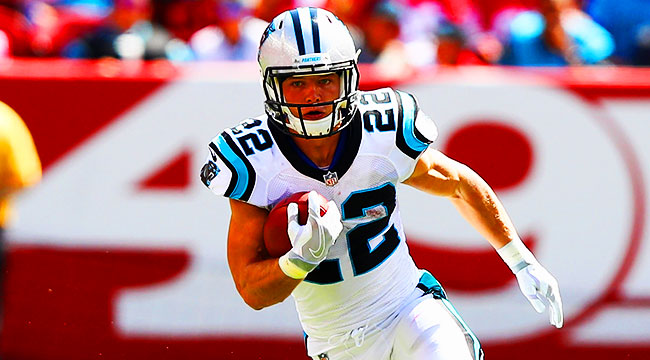 It's been a whirlwind season for Carolina Panthers rookie Christian McCaffrey. The Stanford product is on pace for 98 receptions on the season, which would place him in a tie for second in franchise history for receptions in a single season.
Off the field, McCaffrey has a passion for gaming, specifically Call Of Duty. Like many fans of the series, McCaffrey caught on early with Call of Duty: Modern Warfare and hasn't stopped going since. Also like most gamers, McCaffrey finds ways to get his gaming in whenever he gets the opportunity.
McCaffrey was recently a part of the beta test for the new Call of Duty: WWII. After the test, he became one of the main spokesmen for the game. He recently sat down with Uproxx and discuss what life is like as a rookie and how competitive multiplayer games get among NFL players.

How'd you get into Call of Duty?
I'd been playing since I was a kid with my three brothers. Growing up in Colorado, whenever it gets too cold or it's a summer day, me and my three brothers when we'd have nothing to do in the mornings, we'd get up and play Call of Duty. That's kinda what we did, so I'd been playing Call of Duty forever and fell in love with the game.
So what was the first game that got you hooked to the series?
I think Modern Warfare was the oldest one that I played that really got me hooked.
What was the highest level of prestige did you reach in a Call Of Duty game?
Oh man, I think I got to seven in Modern Warfare 2.
Wow…
We played a lot, man.

So since you're a huge Call of Duty fan, can you tell me the best dorm story involving the game?
Oh man, we played a lot. Me and my roommates, we would play against each other, I don't know if there was a specific story but there were a couple of controllers broken in frustration.
Tell me about one of those times where a controller was broken
It's basically game on the line, only one more kill was needed to win the game. Obviously I end up getting the game-winning kill. My buddy, I'm not gonna mention any names or embarrass him. One of my roommates stands up throws the controller against the wall, breaks the controller, and walks out the door. But he bought a new controller, so it was all good.
Was a TV ever in danger with these competitive matches?
The TV was never broken. We knew the TV was the most valuable piece, but there were definitely a lot of almost fights, particularly with one of my roommates. We had a lot of fun playing.
So who's the player on the Carolina Panthers that would surprise people that is into Call Of Duty?
Devin Funchess.
Have you and him had a chance to play?
I haven't played with him yet, I just know that he plays and he's good.
What was beta testing Call of Duty: WWII like?
It was great, it was a lot of fun. I got to play with Jordan Payton, aka Legion, who's a big-time gamer. So we got to test it out. And what makes it so great is that it goes back to old school, boots on the ground World War II. It's why I fell in love with the game and why I liked it so much. It's back to old, team based and fast based gameplay.
How many people have asked you for free download codes?
(laughs) A good amount, actually. They thought I was getting it on Tuesday, so a lot of people have asked me.

So how many times have you had to say no?
I don't respond. I don't respond unless they get the game so we can play.
What's your favorite mode in this year's edition of Call of Duty?
Allied vs. Axis. It's a completely new way to play Call of Duty. It's very team based, you can't go off on your own and try to kill people, that's not really how it works.
Switching things over to the professional football side of things, what's the one thing you wish you would've told yourself before the season started?
Oh man, I think I would've told myself to just enjoy it more and not get too worked up or stressed about it. Just enjoy the moment and have fun with it.
What was it like first meeting Cam Newton?
See man, everybody expects there to be some kind of big story. Cam is Cam, it's who he is and he's the same person all of the time. He's very friendly, very outgoing, and he has a lot of great energy. He's a good dude, there's not some elaborate story.
What's the biggest shock to the system between the NFL and college football?
You know it's not crazy different, it's 11 guys on 11 guys playing football and that's how it'll always be. Everybody's always gonna be bigger, faster, stronger, and more experienced. But you got guys like that on your team as well, so it's not like you're at a complete disadvantage. And you can obviously tell who's got more experience. But really you prepare the same, you watch the same amount of film, just on different guys, you take notes, you lift, you get treatment. It's just at the highest level, everything kinda upgraded a little bit.
You're on pace for 98 receptions, which would be third all time in franchise history, how does that make you feel?
I would love just to win, at the end of the day I've accomplished a lot in college and a lot of individual statistics but none of it makes me happy unless we're winning. So I wanna win, that's first and foremost. That's if I have 98 catches, or if I have two, or if I have 1,000. I wanna win.
'Call Of Duty: WWII' releases today and is available for the Playstation 4, Xbox One and PC.