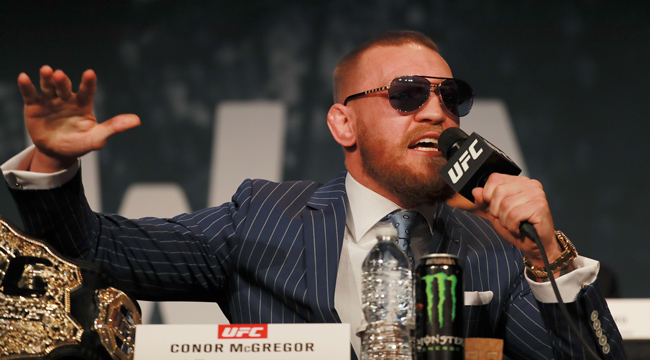 With just over a month to go before Conor McGregor and Khabib Nurmagomedov face off at UFC 229 on October 6, there's been a noticeable lack of trash talk going around for the superfight. But all that may be about to change, as McGregor took his first big shot at his opponent (and his father) since the fight was announced.
"Abdulmanap Nurmagomedov, I can see you," McGregor wrote on Instagram, referencing Khabib's father and coach. "Cowering behind fake respect. Just like your middle child. A quivering coward."
The attached image? A screenshot of the infamous bus attack moment that seems to show Khabib Nurmagomedov reacting in fear.
Just an hour earlier, McGregor had expanded on "fake respect," writing "I have true respect for the Vainakh soldier. Eye to eye respect. Always be aware that when respect is given out of fear, it is fake. It is the cowards safest first step towards treason."

The Vainakh are a people of the Northern Caucusus which includes Dagestan, where the Nurmagomedovs are from.
"When land is on the line, there are no limits," McGregor continued. "So there must be no hesitation. Stand strong and stay ruthless! Forever and always."
This is undoubtedly just the first of many altercations we can expect leading up to Oct. 6, and for those waiting for one of the most entertaining aspects of any McGregor fight — the face-to-face press conference — you won't have to wait much longer. According to UFC Tonight, McGregor and Khabib will come together for a "fan and media event" in early September. No date or location has been locked in, but wherever it ends up, let's hope the UFC hires enough security to handle the madness that's sure to come along with it.