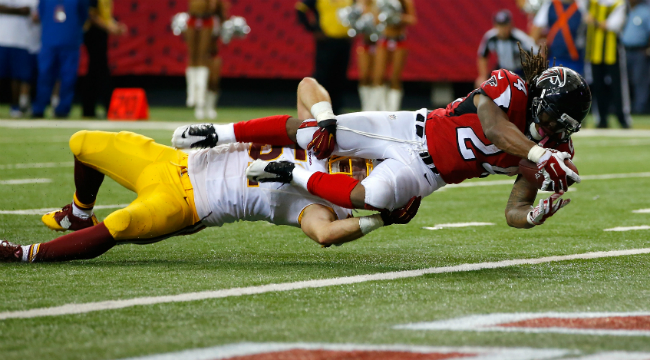 If you've ever needed a Sunday to sort out your will, Week 8 is here to accommodate! Yup, it's one of those weeks with six teams on bye, two teams sent to the London sorrow mines for a breakfast clash and a shiny new basketball season coming across as a lot more fun. On that exciting note, let's look at our daily fantasy football options, shall we?

Quarterback
Invest in Carson Wentz: North Dakota football galoot and guy that possibly still has TruckNutz on his pickup, Carson Wentz is basking in the glow of clocking four touchdowns against Washington on Monday Night Football. On Sunday, the Eagles host a winless 49ers team that's been lit up by opposing quarterbacks all season long in fantasy. Featuring a not unreasonable $7,200 DraftKings salary in Sunday daytime action, Wentz has morphed into a somewhat unlikely MVP candidate this season and you can use that to your advantage against the NFL's J.O.B. Squad equivalent. Or you can use this information to put your brain in his body for your own deep secret reasons. Either way, bon chance!
Avoid Matthew Stafford: A showcase game for Detroit in primetime? What could go wrong? *smacks large 40 oz of rat poison out of the hand of your average Lions fan* Matthew Stafford had a bye week to process an ugly three-interception performance versus the Saints and now he returns to the field in Pittsburgh against a Steelers defense that's second only to Jacksonville in shutting down fantasy QBs this year. Stafford will be healthier now that he's had Week 7 off, but don't count on a return to form until after Week 8.
Consider Case Keenum: You wouldn't trust a man named "Case Keenum" to do a lot outside hosting a country radio roundtable on Riverdale, but he might be a sneaky value for your squad in Week 8. Serving as the starting QB for the injury-depleted Vikings, Keenum travels to scenic London (imagine how many Olive Gardens they have!) to take on the Browns and a defense that's been friendly to opposing pivots. All three previous games at Twickenham Stadium have been one-sided affairs and if that trend continues it's likely to work in Minnesota's favor. Keenum's not in line for a monster game, but an extended think might be warranted. (Side Note: No Craig David appearance this year? That's bullsh*t, NFL.)

Running Back
Invest in Devonta Freeman: The Falcons sh*t the bed so hard in their Super Bowl revenge game against the Patriots in Week 7 that the springs broke and all hell is breaking loose in Atlanta. The upside for fantasy jackals like you and I is that Devonta Freeman seems poised to rush, receive and humiliate a vulnerable Jets defense this Sunday. Freeman hasn't hit paydirt in a while and squares up against the 8th most generous opponent for fantasy RBs. Expect a TD or two in picturesque East Rutherford.
Avoid Duke Johnson Jr.: Have you been enjoying the 2017 rise of Duke Johnson Jr.? Fantastic. Now put those feelings away in a box within your soul and burn it until there's only grey nothingness left. Just for this week, though. Johnson, who could still stand to get more touches and targets, has the joy of facing a Vikings defense that's only given up one TD on the ground and has been all around nasty to star backs in their contests. It's not a favorable contest, so feel free to snuggle up to the big fat Avoid warning.
Consider Joe Mixon: The Bengals have upgraded from miserable to Bengals-y (read: miserable but with an optimism twist) since their early season nightmare, which at least makes games like the upcoming Cincy/Indy class a smidge sexier. Cincinnati hosts Sunday's clash which has Joe Mixon in a state of catlike readiness to expose a Level 1-1 rushing defense. The Bengals rookie has been impressive in his (comparatively) limited action and the Colts have the league's worst points against average. Mixon, a $4,700 bargain, could be in for a scoring bonanza. Who doesn't like bonanzas?

Wide Receiver
Invest in Demaryius Thomas: After a difficult matchup against Chargers star cornerback Casey Hayward, Demaryius Thomas and the Broncos should bounce back and see some handsome totals against a Kansas City football club that's given up 13 passing touchdowns. Admittedly, Denver looked lousy against Los Angeles in trying to get their offense going, but the Chiefs are so damaged on defense that Amari Cooper emerged from Witness Protection to filet KC's pass protection for 200+ yards and two touchdowns with a still banged-up Derek Carr getting the ball to him. If the Broncos can't make the most of this situation, it's time to scream and panic.
Avoid Marvin Jones: To reiterate: watching Pittsburgh's defense will have you grinding your teeth into a fine powder. For pretty much the same reasons as I listed for ducking Stafford, you'll want to avoid Marvin Jones against an unforgiving Steelers pass defense. The upside for Jones is that unlike Stafford, I can't imagine him screaming "DANG IT!" after spilling a plate of buffalo wings on his "going out" shirt. That's a victory, isn't it?
Consider Devin Funchess: It's taking a while, but Carolina is still sorting out a functional version of their desired "new" offense. At least they have Tampa Bay pick apart in Week 8 and that means good things for Devin Funchess (who had eight targets in Week 7) against a Bucs D that has averaged the second-most fantasy points given up to wide receivers. Plus, who doesn't want to impress a giant make-believe pirate ship full of people at a major sports stadium? I know I wouldn't. Don't forget, Funchess racked up 26 and 18 points respectively in matchups against beatable secondaries like New England's and Detroit's. History may repeat itself.

Tight End
Invest in Jason Witten: Welcome back to fantasy chat relevance, Jason Witten! After a Week 3 and 4 dry spell with back-to-back sub 2.0 fantasy point totals, the veteran Cowboys tight end has looked great in his last two outings (including four catches on four targets and a TD against San Francisco) and should keep the trend going against NFC East arch-rivals Washington. There hasn't been a team that's given up more yardage to tight ends in 2017 and with the Cowboys offense looking in fine form, that means Witten's value (currently a marvelous $4,200 price point) continues to rise.
Avoid Zach Miller: Traditionally a trip to New Orleans inspires all sorts of fantasy lineup wet dreams, but the Saints are no friend to opposing tight ends. TEs have amassed a grand combined total of 236 yards against the Saints defense and that's in a season where they've already faced top tight ends like Gronk, Kyle Rudolph, and Martellus Bennett. Zach Miller is reliant on Mitch Trubisky and a recent string of strong outings to counteract this phenomenon. It will not.
Consider George Kittle: If you can look past the "guy with the name of a crime novel's murdered substitute teacher" factor, George Kittle has some appeal as a high risk/high reward tight end in Week 8. The Eagles have given up four TDs to opposing TEs this campaign and while Kittle's numbers have been frustratingly all over the place, he has an excellent opportunity to bask in fantasy glory in Philadelphia and take advantage of the injury hell their hosts are trapped in. This could all be for nothing if San Francisco's offense looks like dried puke again like last week, but fudge it dog life's a risk, etc.
Have a great footballo, everybody!