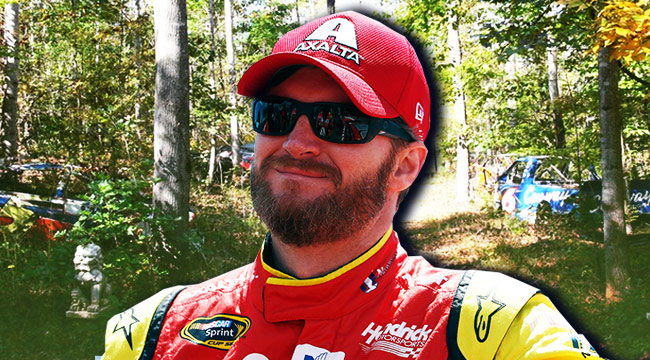 MOORSVILLE, N.C. — Dale Earnhardt Jr.'s sweeping estate is impressive, but someday it'll be gone. Someday we will all be gone, with our buildings left behind, and relics in our place to tell the stories of who we were and what we accomplished. One such monument to Earnhardt's past sits through the trees a few hundred yards away from Dale's house on a hill which overlooks his 300 acre "Dirty Mo" property.
It's a working, functioning Wild West town, like one you'd find at a Six Flags. It doesn't get much use anymore outside of corporate events, and like most things on this earth it is destined to deteriorate and be swallowed by nature. That's perfectly fine with Dale. He's long moved onto new interests, and he has a healthy respect for nature's ability to reclaim its territory.
"I'm fascinated with nature taking over," Earnhardt says. "When we're gone, somebody's gonna run into this. When I bought this property this whole area was woods. It'll probably be woods again someday. Wouldn't it be cool if someone stumbled onto this?"
A few years back Dale started looking online at abandoned amusement parks and then racetracks. He tracked them down and started visiting as many as he could. Some still have the outline of the track, while others are so overgrown that you can't tell at all when you're there. It takes an overhead satellite image to notice there used to be anything there at all.
When he was younger he lived across the street from Dale Earnhardt Inc. and after he and the crew would finish working, they'd hang out. Hangouts led to later hangouts. And those eventually became parties. Junior got tired of cleaning up the next day and having to live in a party house (as we all do), but he still wanted to provide a place for everyone to blow off some steam.
Somewhere along the way the idea of the Wild West village came into play, and Dale having the means and the land to do so, made it happen. It started with the saloon and the hotel, but then came the jail, and facades of other buildings.
"Only one guy ever had to spend a night in the jail," Earnhardt says. "He just needed to go to bed."
There's even a church built from an old playhouse where two of his friends got married. He used to spend all kinds of time out there, and the bar in the saloon is still fully stocked. As he got older, the village wasn't used quite as much and he moved on. He became fascinated with those luxury treehouses after watching a show about them, and got plans to build his own.
The crew, always up for a challenge, took those plans and ran with them. The result is an impressive structure still within sight of Dale's house, complete with power, a gas fire pit outside, a full kitchen, and a TV. He still uses it to get away when he doesn't have time to truly have a getaway. And his dog Gus, a year and a half old brown Irish Setter, dutifully follows him up the stairs as he shadows him everywhere else.
Dale's connection to nature is always present, and it's because of this that Mountain Dew invited me out to tour Earnhardt's property with him and share his interests. Whether from building a replica gas station and go kart track so his friends could have races (while others chilled in a tour bus painted to look like the team bus from Bull Durham), or taking his Airstream an hour north to the first campground he and his fiancee Amy see to stay overnight, it's not so much needing to escape as it is wanting to capture that mindset. It seems impossible to turn off Earnhardt's mind. Like most folks who race anything, there's always the desire for control, and it's not easy to relinquish that. So he finds ways to trick himself into relaxing, even if he's still active and thinking the whole time.

Dale took up deer hunting about five years ago and recently bought a big plot of land with Martin Truex Jr. in Ohio. Dale Sr. was a big hunter and took Junior, but the son never really bought in when he was younger. Truex and Earnhardt get out there a couple times a year, and have a trip scheduled for early November. But it's not the act of hunting itself with which Earnhardt finds satisfaction. He doesn't love the final shot or processing deer. Instead it's everything leading up to it that he enjoys most. The planning. The preparation. The plotting. The mapping. Watching the deer's patterns. The process itself and the discovery of knowledge is the joy for Dale, and the camaraderie is just an added bonus.
The Earnhardt crew started a basketball team a few years back, and they play in the Dirty Dome, a repurposed garage that used to be home to Dale Jr.'s operations. His parents used to have their offices in the building across the street. In the Dome is everything from his Airstream and a variety of winner's circle checks, trophies and driving suits to sheet metal off his cars (including part of the vehicle from his first Xfinity race in 1996 he recently found on eBay) and an extensive collection of football helmets. There's even a car that used to belong to the family as a knock around vehicle that Dale bought from his dad for $2,000. It's still one of the only cars Junior worked on and restored himself.
The group has a draft and plays weekly on Tuesday nights, keeping records and stats and even bringing in a ref to make it more official. Dale says he "sucks" and usually is drafted in the fifth or sixth round (out of seven), but he's just there to have fun.
He's admittedly a bit shy, even if he's an absolute pro in front of the camera or in public settings. He knows how to turn it on and off, as most elite athletes have to by nature. But he surrounds himself with friends and big personalities. He draws energy from that, and it helps him play the straight man and get in astute observations or one-liners.
After a bit of time he warms up, and it's when he lets his guard down that you see the real Junior. That's why he's so engaging in commercials like the spot he recently shot for Mountain Dew in which he plays a talking deer head. The partnership between Dew and Earnhardt is a comfortable and fitting one, especially with the brand running its recent "Answer The Call Of The Wild" campaign which features a strong emphasis on the great outdoors. The shoots take a bit of time, and after a few takes he'll offer up his thoughts and suggestions about how to make it better. Dale even stepped in with some TV coverage during the Talladega race on Oct. 23 (he is still sitting out due to symptoms from a concussions he suffered in June), as his No. 88 car ran with a fitting TrueTimber camo paint job.
The more comfortable Earnhardt is, the more his analytical — but sometimes scattered — mind can get going.
"I need a hobby," Earnhardt says. "A goal. A challenge."
Dale's unique mind shows in his various curiosities. He's much more than a collector; he gets fixated on particular times, places, or objects and strives to devour as much as he can to understand and grasp it fully.
"I get these obsessions with an item," Earnhardt says. "For the longest time it was helmets. Now it seems to be old sheet metal that I ran or dad ran or something connected to my past. But yeah, I collect a lot of stuff. I move off one thing, and then I get on another kick. It's never the traditional stuff. It's things that have no real value other than what I think it means to me or my racing past. I guess I'll give it all to my kids someday."
That's why there's an archive of his dad's racing history from the '70s and early '80s, model cars and magazines and more, in the attic of the Dirty Dome. Or when he had the ability to get the old Phillips 76 ball from Wilkesboro or the radio tower from Talladega, he had to do it. Or how the Metrolina Speedway sign, from the track where Dale Sr. cut his teeth and that means so much to his family, made its way to his driveway.
And that's how Junior ended up with a car graveyard not far from the Wild West town. He's not sure how many cars are there now, it must be upwards of 100, but he has his guys keep bringing them in. Wrecked cars from Juan Pablo Montoya and Jimmie Johnson and plenty of other racers litter the path in the woods, allowed to sit and rest in solitude. It's a much more deserving fate for the cars than to be pressed down and thrown away.
And someday, when they're overgrown and nature swallows them whole, someone like Dale Earnhardt Jr. might come looking for them.