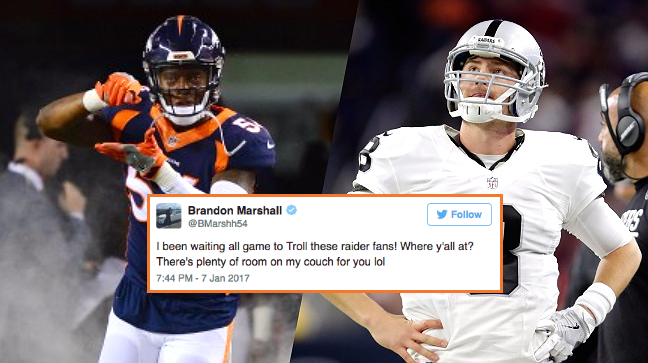 Things didn't go so well for the Raiders on Saturday. Forced to play rookie quarterback Connor Cook in their first playoff game in 14 years, the game started poorly for Oakland thanks to a freakish interception by Houston's Jadeveon Clowney and it was all downhill from there.
The final ended up being 27-14 in favor of the home Texans, ending what was once a very promising season for the Raiders. That fact wasn't enough to please one of Oakland's biggest rivals, though, as the Denver Broncos took to Twitter to rub it in.
First, there was this from the official team account:
Then linebacker Brandon Marshall took things to the next level. After having fun with Raiders fans all game, he tweeted this:
And quickly retweeted all of these:
If you dare to take a look at Marshall's mentions, you'll see that he definitely struck a nerve with Raiders fans. We'll see if he similarly tries to incite Chiefs fans when they play next weekend.