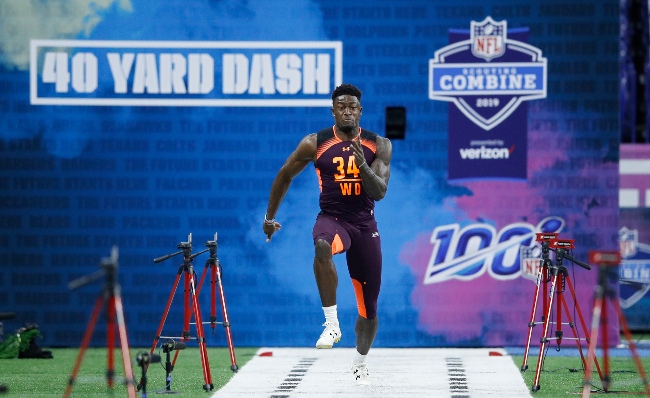 D.K. Metcalf had the potential to fly up NFL Draft boards during his redshirt sophomore year. He caught 39 balls for 646 yards and seven touchdowns as a redshirt freshman at Ole Miss, and through six games in 2018, Metcalf was a bit of a matchup nightmare. Then, he suffered a season-ending neck injury that required surgery, casting some doubt on where he'd end up going should he declare for the draft.
Well, Metcalf decided to go pro, and then this picture hit the internet, and a rocket got strapped to the young man's back.
All eyes were on how Metcalf would perform at the NFL Draft Combine, because this young man appears to be chiseled out of marble. Things started out well when he measured at 6'3 and 228 pounds with 34 and 7/8-inch arms and 9 and 7/8-inch hands. There was also a report that he was 1.6 percent body fat, which seems impossible, but it was on Twitter, so it legally cannot be a lie.

Then Metcalf performed a pair of tests: the bench press and the 40-yard dash. On the former, Metcalf threw some serious steel, tying Arizona State's N'Keal Henry for the lead among all receivers with 27 reps.
On the latter, Metcalf showed off wheels that are absolutely terrifying considering his physical profile. His 4.33-second 40-yard dash was tied for the third-fastest time among all receivers at the Combine, and is the sort of things that will leave opposing defensive coordinators up at night.
In a really cool moment, an emotional Metcalf was caught on camera speaking to his mom following his 40.
Wanna see what a looks like when a human this size also boasts a 40.5-inch vertical? Well, here you go, friend.
Obviously this stuff doesn't indicate he'll be successful in the NFL, because we've seen plenty of crazy athletes play wide receiver and lack the refinement to have a lengthy career. Still, Metcalf has the size, speed, power, and athleticism to make teams salivate, and now that he's healthy, the hope is he'll be able to refine all of this en route to becoming a gigantic problem in the league.