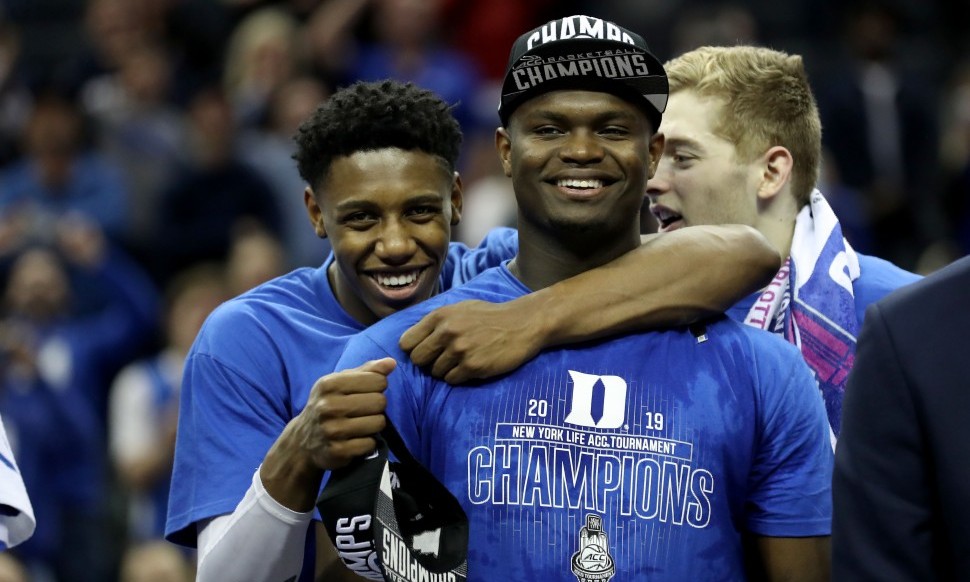 I started looking at a ranking of the last 25 NCAA men's basketball champions recently, and my favorite team of that era — the 2010 Duke Blue Devils — showed up 24th, which irked me enough to stop going through the list. Here's where it's probably relevant to mention that I attended Duke from 2007-2011.
It's unsurprising that a team that produced Mason Plumlee as its best NBA player doesn't fare so well from a historical reckoning, and it's that level of talent that likely prompted Mike Krzyzewski to change course this decade towards a new kind of Duke team. As a result, the Blue Devils that begin the NCAA Tournament on Friday couldn't be less like their 2010 counterparts, save for some familiar faces on the sideline.
The current iteration of Duke starts four freshman, while the 2010 crew had two first-year players getting sparse amounts of bench minutes. That team had three senior starters, and this team's fourth-years are so anonymous that they couldn't even get on the court during senior night.
But most importantly, the Blue Devils of 2010 were regarded much like the teams that had preceded them in Krzyzewski's tenure; they were hated, even without the star power of Christian Laettner or Shane Battier. It didn't take a Cinderella like Butler to make Duke a villain — that title was already implicit. Now, Zion Williamson and co. are a villain insofar as the uniforms they wear, but there's a likability that this team possesses that is not normal for a Blue Devils squad. And though it is nice to not constantly have to defend my particular rooting interests, it does feel a little strange.

My Duke fandom has been jokes about Joe Mazzulla being a proto-Jason Kidd, Grayson Allen tripping people, or the Lehigh or Mercer upsets. Even in better times, it's been references to the Scheyer Face or block-charge calls that seem to favor the team in blue and white. The most SportsCenter-worthy highlights of the 2010 title run were missed shots by the opposing team.
These days, the Blue Devils inspire more joy than animosity. We're all inundated with videos of Zion's dunks, or R.J. Barrett's fast-breaks, or even Tre Jones' defense. As someone very emotionally invested in their success, it's a bit nervy watching how often they rely on individual brilliance over team basketball, but there's no denying that Duke is fun. In previous years, rooting for Duke would have to be explained away. At this point, Zion is reason enough. He has made it so college basketball's evil empire is, instead, a team that people actually enjoy watching.
With all due respect to Barrett and Jones and Cam Reddish, none of this happens without Zion. Once he moves on to the NBA, whatever good feelings exist because of him will head out the door, and that will be fine.
Since Coach K decided to open a one-and-done factory, it's been harder to fall in love with these teams because the best players come and go too fast. It takes some time to even figure out who's who during the conference schedule, and once you've really gotten attached, everyone has declared for the draft.
What made 2010 was so special was having players who had suffered first-weekend losses and humiliating upsets grow from those experiences to become champions. Even in 2015, Quinn Cook had lost in the first round twice before winning it all. Zion and his freshman cohort don't have any heartbreak. There is no denying that winning a title is meaningful to this group of players — Zion literally wouldn't be playing right now if that didn't matter to him. But the successes of these Blue Devils don't feel as profound or cathartic as they were for Lance Thomas or Jon Scheyer.
I don't mind that outsiders enjoy this Duke team. Zion literally feels like a hero descended upon the masses to unite us all, someone who has risen above the most hated brand in college sports and instead become its most beloved figure. He is bigger than any one program. He belongs to everyone. I would have hated sharing the 2010 Duke team; that team was ours.
When the one-and-done rule ends, perhaps Krzyzewski will want to build the program around upperclassmen again, and the sort of generational talent like Zion won't pass through Durham again. For this year, though, watching the precocious Blue Devils feels different for everyone.