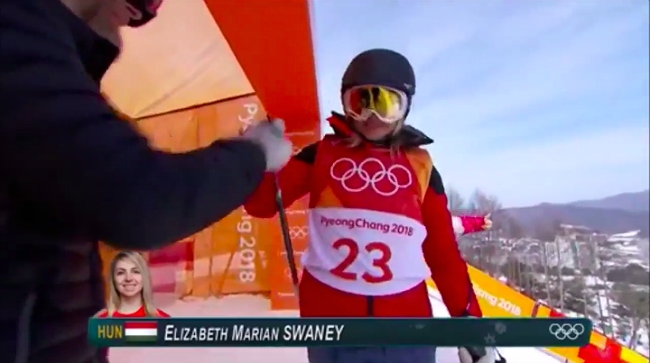 Elizabeth Swaney is a 33-year-old skier from Oakland, California who made the 2018 Winter Olympics with Hungary. She didn't have the best run on the halfpipe on Monday, but you can certainly argue she had the most aesthetically interesting one.
Swaney made some waves on President's Day when she took a ski run that looked, to quote a Courtney Barnett song, Pedestrian At Best. There were no major tricks, not a lot of air at all, and honestly, it was about as minimalist as a ski run has ever looked in an Olympic event.
Those unfamiliar with her background wondered exactly what was going on when she hit the course, and there's certainly an interesting story behind the run. But first, let's check out what Swaney can do on the slopes.
Back and forth. Back and forth. Back and forth. On and on and on.
In a way, it's mesmerizing to see her do… not much of anything out there at all, really. I've been skiing three times in my life, and I'm pretty sure about an hour or so into my fourth time I could muster up the courage to at least do that on a half pipe.
So what's the deal here? Well, according to the Denver Post, Swaney is one of the oddest stories of this Olympiad. Basically, Swaney just kept showing up until enough things happened that she made the Olympics, essentially by sheer force of will.
Swaney, who said her grandparents came from Hungary, earned her Olympic berth more from attending World Cup events than actually competing. Women's pipe skiing World Cups rarely see more than 30 competitors, so it's not hard to meet the Olympic requirement for a top-30 finish. At last December's World Cup in China, when most of the world's top skiers were competing in the Grand Prix at Copper Mountain and Dew Tour at Breckenridge, Swaney finished 13 out of 15 competitors, her best career finish.
"The field is not that deep in the women's pipe and she went to every World Cup, where there were only 24, 25, or 28 women," said longtime FIS ski halfpipe and slopestyle judge Steele Spence. "She would compete in them consistently over the last couple years and sometimes girls would crash so she would not end up dead last. There are going to be changes to World Cup quotas and qualifying to be eligible for the Olympics. Those things are in the works so technically you need to qualify up through the system."
In other words, this might be the last time you see this kind of run at an Olympics, but it is inspiring in a way. Swaney, for the record, has a much less cynical view of her participation here.
"I'm just trying to do the best for myself and represent Hungary as best as I can," Swaney said. "I really hope to inspire others in Hungary to take up freestyle skiing and I hope that contributes to a greater number of people out there freestyle skiing."
It's just further proof that if you keep working at something long enough, even if you're probably not supposed to be there at all, you can do just about anything in this world.
Have you checked out our wrestling podcast?