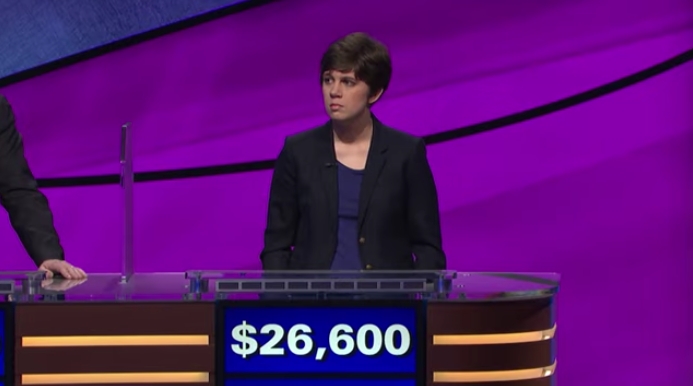 There is a new Jeopardy! champion, and her name is Emma Boettcher.
The librarian from the University of Chicago managed to topple the 32-time champ James Holzhauer as he was seeking to break Ken Jennings' record of $2.52 million won on the show on Monday night. Boettcher played a near perfect game, taking down both Daily Doubles in the Double Jeopardy round to open up a lead on Holzhauer, much in the way the champ had done to so many of his opponents previously.
In Final Jeopardy, the librarian didn't miss on a Shakespeare question, earning north of $46,000 and becoming a household name in the process. That begs the question of exactly who is Boettcher and how she was able to take down the machine that was Holzhauer. She is, obviously, brilliant, but like Holzhauer understands the importance of game play as well. Helping in her understanding of where to attack the board and strategy is her graduate work at the University of North Carolina, where she did her Master's thesis on Jeopardy! questions.

If you'd like to read 70 pages dissecting how trivia question difficulty can be quantified, as well as the factors that make questions difficult, you can do so here. Here is the premise from the top of the paper:
In numerous contexts, including community question answering systems, school exams, and trivia competitions, a need to assess the difficulty of questions arises. This study examines what features predict difficulty in the realm of trivia questions, considering features related to readability and the question's topic as potential contributors. Using clues from the game show Jeopardy!, the study finds that features relating to a trivia question's length, the inclusion of audiovisual media, and its constituent noun and verb phrases have a significant impact on the clue's difficulty. Based on these findings, this study proposes that finding more nuanced ways to depict the amount of information in a trivia question would lead to further advancements.
It's suffice to say Boettcher came into her Jeopardy! experience well-versed in the show and the types of trivia questions that would be posed to her. Having pored over questions and analyzed them in detail clearly came in handy, as did here general intelligence and knowledge of a wide variety of categories. She spoke with Tracy Swartz of the Chicago Tribune on Monday following the TV debut of her upset and explained that she had tried out four times for the show before making it on.
She also said she didn't believe the producers when they introduced Holzhauer and said how much he won, but despite her "denial" of his dominance, it didn't affect her one bit. Now, it's her turn to do what few have been able to, which is follow up a shocking upset performance on the show with a second win.