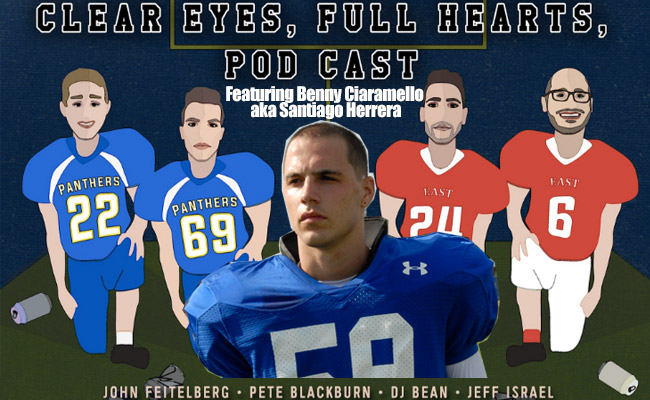 With the cast of Friday Night Lights getting ready to reunite at the ATX Television Festival in Austin this weekend, this is as good a time as any to take a look back at the series that chronicled Texas high school football like no other. We're celebrating the show's upcoming 10th anniversary by taking an in-depth look back at each season with a five-part podcast series this week.
The Clear Eyes, Full Hearts, Pod Cast series puts four FNL superfans in a room to discuss the show's characters and plot points in season-by-season roundtable format. From its beautiful, triumphant moments to the hilarious and infuriating imperfections, it's all broken down by myself, DJ Bean (WEEI), John Feitelberg (Barstool Sports) and Jeff Israel (Funny Internet Man).
Each episode will also feature an interview with a FNL cast member. Monday's episode featured a breakdown of season one alongside a discussion with Zach Gilford, who played the role of Dillon Panthers quarterback Matt Saracen.
The roundtable continues Tuesday with a breakdown of season two, which is undoubtedly the strangest and most unpredictable of the show's five seasons. A writers' strike cut the season short by more than a handful of episodes and left the show in a sort of limbo.
Some season two topics:
Corrina Williams vs. Tami Taylor: Who is the best mother on the show?
The rise and disappearance of Santiago
The story of two best friends' search for shark DNA in Mexico
Matt's relationship with Carlotta
The Swede: Hot or not?
Billy Riggins establishing himself as a not smart person
Landry's dad being a great father and a horrifyingly bad cop
We're also joined by Benny Ciaramello, better known as Santiago Herrera — the troubled teen who moves in with Buddy Garrity and joins the Dillon Panthers after being released from juvie. Though a short-term stay on the show, Santiago was a strong central character during the second season. (Interview starts at 51:30.)
Ciaramello discusses his process and approach with Santiago, as well as how his own personal experiences and characteristics helped him transform into the character and immerse himself into the world of Friday Night Lights. We talk to him about his role on the show, which abruptly ended with an open storyline at the conclusion of season two, and he provides some insight into why his character was abandoned, as well as how he was able to come to grips with it as the show moved on.