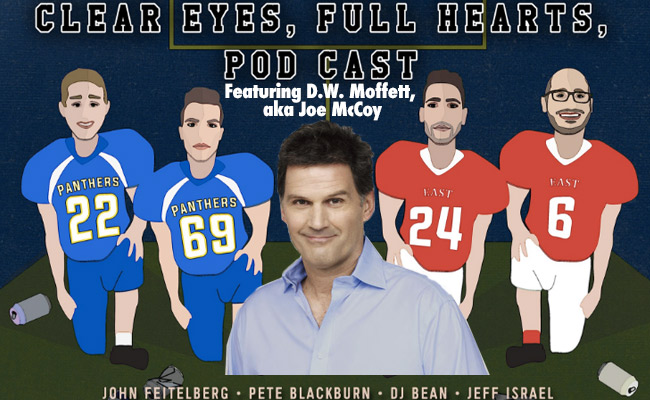 With the Friday Night Lights cast reuniting in just a few days, we're celebrating the show's 10th anniversary by taking a deep dive into its five-season run with a weeklong podcast series.
Clear Eyes, Full Hearts, Pod Cast carries out an in-depth examination of FNL in a season-by-season format. Each episode features a roundtable discussion about key characters and plot points from that particular season, as well as an interview with a cast member from the show. From the beautiful, triumphant moments to the hilarious and infuriating imperfections, it's all broken down by myself, DJ Bean (WEEI), John Feitelberg (Barstool Sports) and Jeff Israel (Funny Internet Man.)
On Thursday's episode, we remember season four, which essentially is a new beginning for the series. Most of the series' key players from seasons one through three have graduated and gone off to college, while Coach Eric Taylor relocates to East Dillon High School. Taylor's new gig with the Lions helps introduce a bunch of new characters, including Vince Howard (Michael B. Jordan).
Some season four topics:
Landry always trying to "kick the long field goal"
The magnificence of Billy Riggins as a main character
Keeping Matt around for the sake of keeping Matt around
J.D. McCoy completing the transformation to full-on douchebag with one simple fashion statement
Was Coach Taylor right to forfeit the Lions' first game?
Why did Lyla go to Matt's father's funeral? Were those two even friends?
Tim Riggins' 12 minutes in college
Luke Cafferty's ignorance and low-key racism
Season four's guest is D.W. Moffett, the actor who portrayed the role of Joe McCoy, the abusive father of quarterback prodigy J.D McCoy. The elder McCoy was arguably the show's greatest villain, so we talked to Moffett about his punchable face and what it was like to play the guy who divided Dillon in two. He also explains the behind-the-scenes reasons for the disappearance of the McCoy family and discusses his relationship with Kevin Spacey. (Interview starts at 44:35.)
Previous episodes:
Season four will be discussed on Wednesday with another special guest. You can subscribe to and review the podcast on iTunes or hit me up with feedback on Twitter (@PeteBlackburn), as well.