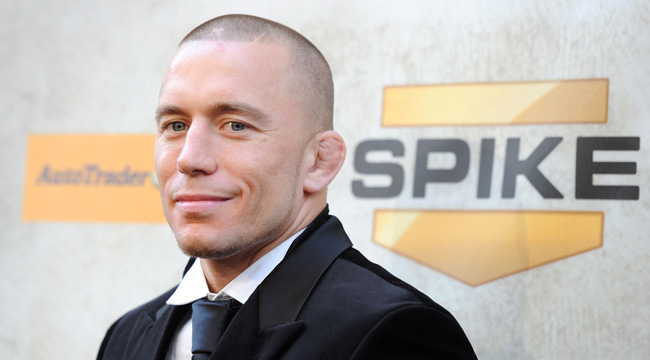 Rumors of a Georges St-Pierre comeback have been swirling since the former welterweight champion and pound for pound great went through a 'test camp' last November. Since then, several people close to GSP have chimed in saying they think he'll return to the Octagon, and soon.
When asked if he thought Georges would fight in 2016, his head trainer Firas Zahabi said yes. Renzo Gracie, who trained Georges through his early career, also said St-Pierre was "coming back for sure." And now we've got some pretty convincing words from Kenny Florian, who co-hosts UFC Tonight and has an ear to the ground regarding a lot of backroom UFC dealings.
"He is coming back," he said on The Fighter and the Kid podcast. "Yeah, this year, end of this year. It won't be for UFC 200, but I think after that he will … maybe in for the New York card. It could be at 170. I think it's probably going to be non-title fights that he is interested in."
A potential fight with Conor McGregor was brought up – which was rumored leading up to McGregor's fight with Nate Diaz but shot down by UFC brass as untrue.
"That's what I think was supposed to happen," Florian admitted. "That would have been over two million pay-per-view buys. That would be the biggest UFC pay-per-view fight of all time. Hands down. Maybe that's why Conor wants to fight at 170 against Nate. Maybe that's the fight he wants."
It's an interesting possibility and certainly makes sense as a reason why McGregor seems to want the Nate Diaz rematch at welterweight. Previously, we just had to go on the idea that Conor is a maniac who wants to avenge his 170 pound loss at 170 pounds. Is it so hard to believe he's a maniac that wants to fight Georges St-Pierre at 170?
Even with everyone saying Georges wants to come back, it's still a long way from a done deal. The fact that UFC president Dana White continues to question GSP's desire to fight implies the two haven't come to an agreement on payment. And it sounds like St-Pierre is waiting for the right opponent that excites him. If it's not Conor, who else is there? Anderson Silva? Current welterweight champ Robbie Lawler? Who knows.