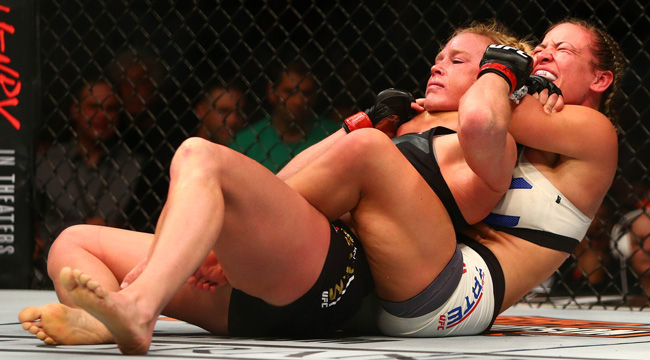 Somewhere in California, Ronda Rousey is having a very bad weekend. Following her devastating headkick knockout loss in November, the whole world wanted to see how she'd do in a rematch against Holly Holm. Pundits and insiders alike reckoned that she'd have to completely overhaul her training to defeat the new "undefeatable" champion. The UFC began putting together plans to have the two fight again at UFC 200 in what would have undoubtedly been one of the biggest fights in the history of the sport.
But instead, Rousey decided to take time off and concentrate on her Hollywood career. Once it was clear she wasn't going to return any time soon, the UFC reluctantly booked Holly Holm vs Miesha Tate as the co-main on a hastily put together supercard starring Conor McGregor. Holm would get more exposure, and the eventual Rousey rematch would become even bigger. Win, win! Except nothing in mixed martial arts ever seems to work out that easily.
Instead, Tate pulled off a major upset, submitting Holm with a minute-and-a-half to go in a fight that Holm was clearly winning on the scorecards. The UFC has a new women's bantamweight champion, and a much more complicated situation to sell when Rousey decides to return to the division. Leading up to the fight, Tate said she'd ruin Rousey's rematch. Here's how she did it.
Tate came out with a similar gameplan to Rousey, but completely different execution. The goal: to take Holm down and submit her. But where Rousey charged in to try and initiate a clinch up, Tate stayed far on the outside, moving left to right and never standing in front of Holm. She played a patient game, lulling the now former champion by not shooting a single takedown in the first round. It probably cost her on the scorecards, but paid off in the second when Holm threw a left and Tate ducked under it, dragging her opponent to the ground.
From there Tate's superior wrestling became apparent as she attacked with ground and pound and kept Holm pinned to the mat, forcing her to give up her back. The final minute of the second round was a desperate one for Holm as Tate worked to secure a rear naked choke, forcing her arm under Holm's neck and nearly forcing the champion to tap. But Holm managed to break the hold and survive the round.
Back in her corner, Tate's expression looked far from jubilant. Rather, she looked like she knew she'd just missed what might have been her best shot at victory. And over the next two-and-a-half rounds, Holm nearly proved that to be true. The patience that helped set up Tate's pivotal second round takedown was also destroying her on the judges' scorecards. While she was doing a good job of staying outside the range of Holm's punches, the champion was still connecting with a constant stream of sidekicks and keeping out of Tate's grasp.
Tate's takedowns became more desperate in the fourth and fifth rounds, while Holm shrugged them off or sprawled out to defend them with growing ease. The sense of victory that Holm was cultivating from the third round onward was becoming almost overwhelming, but halfway through the fifth round, it happened: Tate lunged in wildly and tackled Holm with a shot that was more football than mixed martial arts. Holm almost got back to her feet but Tate hooked a leg around her and pulled her back to the canvas.
The two scrambled toward the cage and suddenly Tate was on Holm's back. Tate got her arm under Holm's neck again and locked up a tight rear naked choke. Holm staggered to her feet and desperately tried to flip over and dislodge Tate, but it was no good. Tate's grip only tightened, and after some reflexive pawing at the air, Holm lost consciousness.
It was a shocking turnaround in a fight that was clearly going Holm's way on the scorecards… until Tate turned the fight, the division, and the UFC's plans for a Rousey comeback on its head with her submission win. The invincible rub that Holm had gotten off beating Rousey is now gone, and so are a lot of pay-per-view buys for the eventual Holm-Rousey 2 main event.
It's said ad nauseam that styles make fights, and Tate's wrestling ability and grit were always a danger to Holm – that may have been why the UFC was so reluctant to set the fight up in the first place. Holm's coaches put together a solid plan to deal with it, but in the end it proved to be too defensive. Without a Rousey-like opponent bullying forward, Holm wasn't able to put together any combinations or stagger Tate, who was never in any serious trouble, except on the judges' scorecards. That gave her 25 minutes to pull off her strategy. It took her 23 minutes and 30 seconds.
So once again, the myth of the unstoppable UFC fighter is destroyed, and we're left with another reminder that every puzzle can be solved by someone with the skill and determination to do it. Miesha Tate is the new UFC women's bantamweight champion, and Ronda Rousey will have to face her for a third time if she wants her belt back.