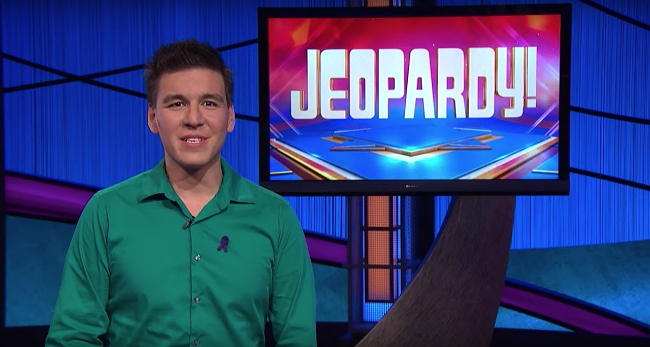 In the 191st episode of Jeopardy!'s 35th season, the returning champion is dethroned by a new contestant. That's happened hundreds of times over the years on the show, and without context, it's an unremarkable sentence. But when the champion is James Holzhaueur, winner of more than $2.4 million in 32 games, the story is far more impressive.
Holzhauer's reign on the show has completely changed what is possible on Jeopardy! in the minds of a lot of the show's biggest fans. The numbers tell the story: Holzhauer averaged $75,364 over 33 games, just shy of the $77,000 that was once the single-day record for the show. That kind of sustained run had some insane performances with bold bets and big paydays. Oftentimes, he won running away.
But it's important to note that Holzhauer never got burned by betting big. When he missed a "true" Daily Double early in his run, he quickly gained it all back and entered Final Jeopardy with a runaway victory. He was never too aggressive or made a fatal error, because every move he made was calculated. The closest fault you could give him on Monday was when he stayed in the Historical TV category instead of hunting for the second Daily Double right away. Emma Boettcher, who eventually dethroned Holzhauer, got control of the board, found DD3 a few questions later, and Holzhauer found himself chasing the rest of the way.
Still it's incredibly difficult to criticize his strategy, one which made such logical sense and worked to such perfection for so long. Even his final wager in Monday's Final Jeopardy was a calculated decision, and ultimately the right one. The problem was that Boettcher played too well and, for the first time in 33 games, Holzhauer wasn't in the lead before the final question.

What made Holzhauer's reign so impressive is that it usually didn't matter what anyone else did when he was on the stage. He blitzed the game so quickly that it was often over by the first commercial break, and the people who studied years to reach the stage and maybe get to speak were set adrift before we learned a somewhat interesting fact about them after some ads for insurance. It was magical to watch him work, the only tension left whether he'd get a chance to break his own records.
But Monday's show featured two extremely good contestants on the show alongside Holzhauer. Jay Sexton memorized the entire "Genius" edition of Trivial Pursuit as a child. Boettcher literally wrote her thesis on whether a computer could predict the difficulty of a question on Jeopardy! These are all brilliant people, all obsessed with trivia who have prepared years for this one moment in time. Holzhauer's life seemed built to dominate Jeopardy! — high intellect, obsessive trivia knowledge and the experience to know when to bet big — but that isn't the only formula that achieves the same goal.
And this time, it mattered. Sexton came on strong in the Double Jeopardy and took away chances for Holzhauer to mount a comeback, taking $11,000 of non-wagered money into Final Jeopardy. And the biggest moment of the game was when Boettcher found the first Daily Double of Double Jeopardy. Holzhauer had found the first Daily Double on the first clue of the game, an unfortunate bit of luck for him because he could only wager $1,000. But Boettcher, with $7,600 early in Double Jeopardy, went all-in. The move drew whoops of approval from the crowd, sensing that someone was giving Holzhauer a run. And she got it right to take the lead, $15,200 to Holzhauer's $12,600.
Holzhauer clapped when she doubled up, and Boettcher quickly continued to play a style similar to the reigning champ — starting at the bottom of the $2,000 questions and working her way up and over to other categories. In an interview with the New York Times, Boettcher revealed that she hadn't seen Holzhauer play before, but that her all-in wasn't that big of a gamble: like Holzhauer, she knew already knew how often she got Daily Doubles right from all the times she played along at home, testing out different pairs of shoes and fake signaling devices to get a feel for what it would be like on stage.
The similarities are eerie but not unexpected, because Holzhauer isn't the only contestant to prepare like this or conceive of an aggressive playing strategy. What made Holzhauer so impressive was just how well he executed it, and how he made other players look incompetent in the process. In 33 episodes on Jeopardy!, the other two contestants on the stage with Holzhauer only got close to beating him three times. The first time, he won by a mere $18. The second time a contestant played Holzhauer's style with one exception and the champion buried him for it. The third, which happened on Monday, didn't make the same mistake.
After the episode aired in most markets, Holzhauer congratulated Boettcher on the win and hinted that she might be embarking on an impressive run of her own. He noted Boettcher had to play a "perfect game" to beat him, and while that may sound like a humblebrag, it's absolutely correct. No contestant got a question wrong in the Jeopardy! round, and only Sexton stumbled on a single question in Double Jeopardy. All three got Final Jeopardy correct. That's 18 straight correct answers from Boettcher, a "true" Daily Double and a smart bet in Final Jeopardy to knock off one of the most impressive players in Jeopardy! history.
"As soon as the game was over," Boettcher told the Times, "I turned to the guys and I said, 'I'm so proud of us. This is so rare. Look at what we did.'"
Boettcher is right to be proud: it was an incredible game. After 32 shows where Holzhauer looked unbeatable, she made the pro sports better from Las Vegas, Nevada, look like what he was in the end: just an ordinary contestant on Jeopardy! Holzhauer had to scrap his way to Final Jeopardy chasing someone who took calculated risks that paid off and controlled the board for much of the game. Holzhauer will be remembered for far more than that, but on Monday — for a least a little while — he was forced to play the game just like everyone else.