For more than a round and a half, Rose Namajunas (9-4) dominated the challenger to her UFC strawweight crown, Jessica Andrade (20-6), in the main event of UFC 237.
In her home country of Brazil, Andrade was picked apart, unable to counter quick enough as Namajunas snapped jabs and hooks across her face. As she attempted consecutive takedowns, Namajunas seamlessly escaped, truly controlling the pace of the first round.
Everything changed in the second, as Andrade attempted yet another takedown. Namajunas followed the game plan, keeping her hands locked in a Kimura position and blocked the slam attempt. But when Andrade slipped her hands ever so slightly, she was able to pick Namajunas into the air and slam her on her head, knocking the champ out instantly.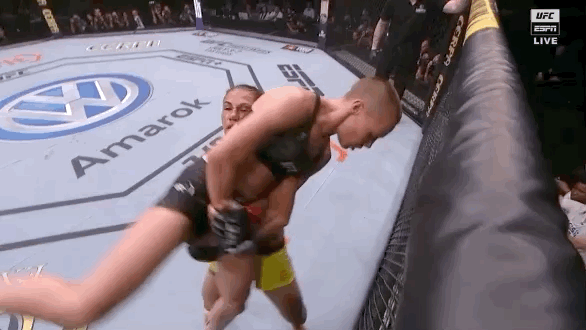 After the loss, Namajunas mentioned having a "weight" lifted off her shoulders. But as Daniel Cormier pointed out in post-match commentary, we're uncertain whether she was talking about decompressing after the lead up to fighting in Brazil or dropping the pressure that comes with being UFC champion.
The championship victory was the first in Andrade's career, and redemption for her 2017 title fight loss against Joanna Jedrejczyk. Andrade won three consecutive bouts after that loss, defeating Claudia Gadelha, Tecia Torres and Karolina Kowalkiewicz.
Namajunas's loss — her first since 2016 — snapped a three-fight win streak, where she earned a submission victory over Michelle Waterson before consecutive championship wins over Jedrejczyk.